The Content Of The Article:
Whether tautly upright, overhanging over a bend or growing in a ball: each ornamental grass has its own growth habit. While some - especially the low-growing ones - work best in larger groups, the beauty of many higher species only comes into their own in individual positions. If you plant them too tight, they often lose their expressiveness. Of course, you can always plant any ornamental grass individually or as a group according to your personal taste. It is worthwhile, however, if one gives the individualists among the grasses the necessary space, because they can not only form beautiful eye-catchers in the bed, but also bring peace and structure into the plantation. And the beauty of most solitary grasses: If you cut them back only in the spring, they are still striking figures in the garden in winter.
Ornamental grasses for the individual position
Among the ornamental grasses, there are a number of species that unfold their full splendor only in individual position. In addition to the varieties of the Chinese Miscanthus (Miscanthus sinensis), this also includes the giant miscanthus (Miscanthus x giganteus), which can reach heights of growth of up to 3.50 meters at optimal locations. Somewhat smaller are the miscanthus varieties 'Malepartus' or the green and white striped 'Strictus' with heights between 160 and 200 centimeters. With their upright stalks and the arched overhanging leaves, the Chinese assistance is extremely decorative. Above all, the varieties remain stable throughout the winter and sometimes reestablish themselves after heavy snowfall, for example the variety 'Silberfeder'. If you love ornamental grasses, you should not do without the planting of a miscanthus.
When the leaves of the Eurasian Wheatgrass (Panicum virgatum) turn slowly in autumn, it looks like a small beacon in the bed
Similarly striking is the pampas grass (Cortaderia selloana), but it has a slightly different growth habit. Here, the up to 250 centimeters high inflorescences stand out clearly from the only about 90 centimeters high, spherical leaf head. In contrast to the miscanthus, it is also somewhat frost-sensitive. It needs a very well drained soil and should be tied in winter to protect the heart of the plant from moisture.
The garden riding grass (Calamagrostis x acutiflora 'Karl Foerster') with its upright, almost straight row of flower spikes, which can grow up to 150 centimeters, shows a completely different shape. Because of its growth form, it is suitable as a scaffold builder and also good for group planting. Here it fits in particularly with modern and formal design styles. To the same genus belongs also the diamond grass (Calamagrostis brachytricha, often also as Achnatherum brachytrichum in the trade), which remains somewhat smaller with one meter height, with its feathery, silver-pink flower spikes but visually very impressive.
A particularly striking feature is the bicoloured Chinese 'Strictus' (Miscanthus sinensis), which can reach a width of 1.20 meters
The Lamprey grass (Pennisetum alopecuroides) also has many fans thanks to its pretty, soft flower spikes. You can barely pass him without touching the "Puschel". There are next to very small remaining varieties and those that are up to 130 inches high and form perfect hemispheres with amazingly long Blütenrispen. If you were to plant them close together, their effect would be completely lost. Apart from just looking good, the lamp-cleaner grass with its overgrown growth in perennials is often used as an optical mediator.
An upright growth form with high flower stems, however, has the tall pipe grass (Molinia arundinacea), whose varieties 'fountain', 'Skyracer' or 'Karl Foerster' can reach a stately two meters in height. This grass should be placed maximally in a group of three plants, because otherwise the filigrane blooms would perish. The grouse (Panicum virgatum) also has an upright habit. It particularly captivates with its different, striking leaf colors from brown red to bluish green to bluish violet, depending on the variety. For example, the variety 'sacred grove' with blue-green and 'Shenandoah' with brownish foliage and purple tips, which in autumn assumes an intense red coloration, is especially recommended.
The group of ornamental grasses, which form very tall flower stems, also includes the giant feather grass (Stipa gigantea). In contrast to the other solitary grasses mentioned, it is evergreen and thus an eye-catcher all year round. With its loose, oat-like flower spikes it conjures a touch of elegance and lightness in every planting.
The most beautiful ornamental grasses for the individual position
Start photo gallery
8
Show all
The most beautiful ornamental grasses for the individual position
The diamond grass (Calamagrostis brachytricha) is a very decorative ornamental grass for moderately moist soils and sunny locations. It prefers nutrient-rich soils and is happy about a fertilizer in spring
The fine flower spikes of giant feather grass (Stipa gigantea) bring lightness into any plantation
The lamp cleaner grass 'Hameln' (Pennisetum alopecuroides) is only about 80 centimeters high, the spherical growth predestined it but for a solitary position
In order for the fine, long flower panicles of blue-rayed oat (Helictotrichon sempervirens) to fully develop, they need plenty of space
The garden riding grass 'Karl Foerster' (Calamagrostis x acutiflora) provides vertical structures in the bed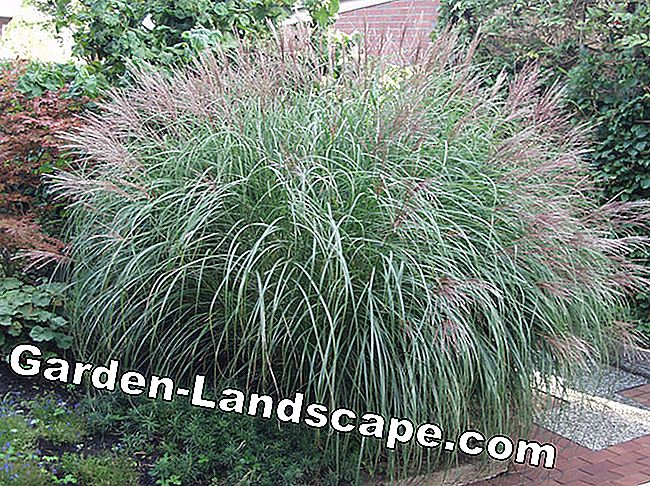 The varieties of the miscanthus (Miscanthus sinensis) develop into powerful shapes
The flowering spikes of the pampas grass (Cortaderia selloana) are extremely stable and give off a charming picture in the winter with hoarfrost
The filigree flowers of the switchgrass (panicum virgatum) surround the leaves of the ornamental grass like a fine veil
Create beds and gardens with solitary grasses
So that taller types of grasses are perfectly staged, they not only need the optimum space in the bed, but also partners who want to flatter them perfectly. Because of their stature height, solitary grasses are placed in the middle of the bed or in the background, so that they do not hide the view of the other plants. Even a single copy attracts attention. Several, regularly planted grasses bring peace and order to the bed by repeating it. They then form the framework of planting. For this you usually use the upright growing species such as miscanthus, rodent (Panicum virgatum) or garden riding grass (Calamagrostis). If you do not spread your ornamental grasses loosely, but put them in a row, they give the plantation a formal character. Ornamental grasses also set a special course when planted at prominent points in the garden, for example at a bend, at a pond or directly at terraces or seats. Because of their loose growth, they also create beautiful contrasts with architectural elements such as walls or stairs.
Video Board: MattyBRaps - Little Bit (feat. Haschak Sisters).