The Content Of The Article:
Thanks to a fireplace, you do not have to freeze even on cooler days on the terrace. Here are three options and their differences.
Who waits in our beautiful country for the perfect terrace weather, is often disappointed. Nothing is as uncertain as the weather forecast, at least it seems to me that way. Either you find out that the sun never shines at the desired time, or you can arrange with a bit colder temperatures.

In an earlier post, we've already given you some tips on how to enjoy cool autumn days in the garden. Today we are dedicated to the fresher summer evenings. More specifically, it is about a fire pit on the terrace and what opportunities you have. After all, who would like to move into the house freezing when it's just so cozy in a sociable group?

Safety first!
No matter which fireplace you will choose, first a word about safety. Almost all variants are open flames. So check before use that there is enough distance to other objects. Even upwards, the fire must have "free rein." Please bring in any awnings! Pavilions also do not have a fire pit and always think of your neighbors. Who has a terrace apartment, but lives in a tenement, should opt better for a radiant heater. Inquire also always on site, which approves the public order office etc. to open fireplaces on the terrace.
1. Fire bowl on the terrace - cosiness pure
A fire bowl is exactly what the name implies - a bowl in which a fire is kindled. Hobby gardeners and terrace owners like to build their own fire bowl, but in the meantime, there are countless models in the trade that perfectly serve their purpose. Fire bowls bring coziness and, above all, warmth. The advantage: You can sit, depending on the size, with up to 8 guests around the fire bowl (keep sufficient distance). This cookie then reminds of good old campfire times.

Only wood belongs in the fire bowl! Best suited is well-seasoned, dry hardwood, such as beech or oak, as it has a longer burning life than softwood. You can also use fruit tree cut from the garden, but never use your fire bowl as a waste incinerator. Remember the smoke! To light up, use the best impregnated wood wool, for example from mokan.de. Or have you ever thought of making your own lighters, for example from egg carton and wax? The instructions are available on luckk.de.
2. Terrace stove - permanent heat
The second way to make it on the terrace really homey, is a patio stove. The main feature is that all models have a chimney. As a result, the smoke can rise to the top and does not bother you and your guests. The fact that the stove is almost completely closed gives you more control over the fire and thus more safety than with an open fire bowl. Terrace ovens are available in a variety of shapes, from bulbous round to pyramidal narrow stretched upwards. Originally, the popular heat sources come from the Mexican area, where they were used for food preparation. Even today, there are models made of terracotta that you can even paint yourself.

Somewhat more modern and also heat-resistant are the variants made of cast iron, see ofen.de. The material has the advantage that it does not burn through and keeps the heat long-term and even. And cast iron terrace ovens have a preference over the terracotta models - they are weather-resistant and can stay out in winter. Even if a patio stove seems expensive at first glance, the purchase will pay off in the long term. Heated is also here with seasoned, dry and above all untreated firewood. The patio oven usually has feet, but for safety reasons, it can not hurt to have a fire-resistant surface - especially in wood flooring.
3. Barbecue Fireplace - 2 in 1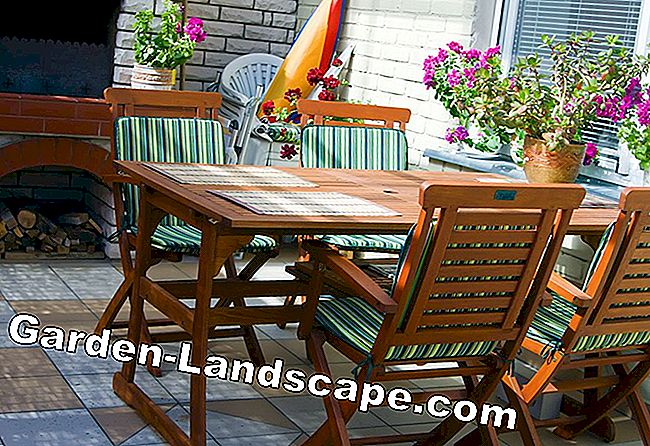 First of all, a barbecue is permanently installed. You should therefore be clear in advance about where the best place for this fireplace is. You may also need permission from your chimney sweep, so it's best to ask first. A barbecue does not only make something visually, it is also ready to use in no time at all. With this model, you kill two birds with one stone, because you can grill it as well as generate cozy warmth.

Like a patio oven, a grill has a smoke-free hood. The main advantage is certainly the 2 in 1 function. If you want to use the fireplace as a stove after grilling, just pop it up with wood. Because of its "construction" heating is also possible in bad weather, ie rain, largely problem-free.Depending on the construction, a barbecue also offers plenty of storage space for barbecues and Co. And by the way makes a barbecue even a visually excellent impression.
Fireplaces in comparison - short overview
fire Pit

set up quickly
mobile use
central heat

heavy smoke
not usable in rainy weather

terrace stove

Smoke pulls upwards
Heat resistant and weatherproof
mobile use
safe combustion

fireproof pad recommended
depending on the model a bit expensive

barbecue

Grill and heat possible
optical highlight
not transportable
stable construction

must be built firmly
not transportable
Video Board: Pro Tip: Building on Expansive Clay Soil.