The Content Of The Article:
Plan flower beds properly
If you create a new bed, you should take enough time to plan ahead - this saves a lot of work afterwards. Facilitate the selection by setting a theme for the whole bed or for each season. Romantic flower beds in soft pastel or discounts in cheerful country house style with rich red, yellow and orange tones are particularly popular.
It is best to first select the plants you would like to use and set their position and quantity on a drawn bed plan. A clever distribution of plants makes the difference between a very passable and a really impressive flowerbed. The simplest principle is a strict arrangement of stature heights - from the small plants at the front to the high flower stars in the background. Such a strict height graduation is often found in large discounts in parks, in the garden, they have a little out of fashion. Instead, the arrangement of plants looks attractive on attractive beds - but it is not!
The focus of a bed are magnificent plants, such as tall perennials such as larkspur, flaming flower and peony, climbing plants on obelisks such as clematis and trumpet flower or shrub and Hochstammrosen. Optimal is a slightly offset from the center of the bed to the rear offset location. Suitable companions are half-height perennials such as cranesbill or fine beam. They fill the gaps between the flower stars and should harmonize with the same flowering time in color with these. In large beds it is very appealing if the companions in several small groups (3 to 7 plants each) are distributed irregularly on the surface. The supply remains reserved for compact plants, which should be as robust and long-lasting as possible.
A mixed flowerbed with ornamental shrubs, perennials, annuals and biennials can be seen all year round
Year round beautiful: mixed flowerbeds
Plant the great variety: In the mixed flowerbed shrubs and perennials, onion and summer flowers find place. Through staggered flowering you can create a color range that lasts from spring to fall. Mixed beds (often referred to as "mixed border" in English) also fit in small gardens and front gardens if you choose compact growing plants. As a screen at the garden border are mixed beds that are sufficiently deep (about three meters) and in the background provide space for tall shrubs. To save space, you can set up a climbing frame in the bed background and let grow up by climbing plants. The bed becomes so much narrower.
Mixed beds are ideal for slightly rising terrain, such as a slope or the transition between the terrace and the garden. Here, the plants can present themselves optimally, their height differences are additionally emphasized by the terrain. When planning a mixed bed, you should pay particular attention to balanced height grading.
Flowering shrubs form the basic structure
If you want to create a mixed flowerbed, you start with the planning first with the selection of flowering shrubs. For smaller beds in addition to compact species such as Spierstrauch and scented dwarf lilac are primarily ideal for shrubs in spherical or conical shape. Book and privet can be easily kept at the desired height by regular cutting. In large beds, garden marshmallow and summer lilac are shown to advantage.
Roses are properly staged with the appropriate accompanying plants such as the spider flower (Centranthus) and the digitalis (Digitalis)
Roses in the flowerbed
Roses are classic elements of mixed beds. In particular, the English shrub roses of the breeder David Austin offer a large selection of long-flowering varieties, which remain nicely compact with a height of about one meter. With their delicate flower colors, they fit well in beds that are subtly decorated in pastel shades. A nice sight also offer small trellises, which are covered by climbing roses. For example, an obelisk that is completely covered with rose petals in the middle of a flower bed is an excellent eye-catcher.
Perennials guarantee flower fun for many years
When looking at the flowerbeds of many gardens, it quickly becomes clear that flowering perennials dominate here! This is no coincidence: the perennial flower stars unfold their colorful splendor in contrast to summer flowers over several years, sometimes even decades. In addition, they usually take up much less space than flowering shrubs. With the selection of flowering shrubs you can draw from the full.However, before planting, it makes sense to know well the location conditions of the planned bed: Is it mostly in the sun or in the shade, is the soil loose and fast dry or loamy-heavy and often moist? If you consider these conditions, you will find ideal stowage combinations that thrive over many years and hardly work.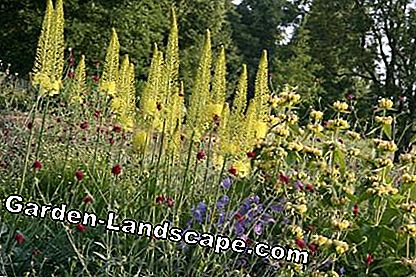 Summer flowering bulbous flowers such as the steppe candle (Eremurus) are a beautiful addition to perennials
The largest flowers promise sunny places with a nutrient-rich, loose, but never too dry garden soil. Here are the most high-quality perennials such as larkspur, flaming flower, peony and coneflower well. Standing in front of the bulging displays of a garden center or a well-stocked perennial nursery, the decision is not so easy. Do not be tempted to take a little bit of everything with you. Because when planting a perennial bed applies: less is more! Concentrate on one or two magnificent perennials that set the tone, and choose color-matching lower companions.
When choosing perennials, look for a long-lasting flower. For example, yarrow, sunbeam, phlox and maiden eye are recommended. Blue-flowering perennials such as catnip and cranesbill are good partners for roses. Foliage plants such as milkweed, lady's mantle and purple bells and ornamental grasses complement the colorful flowers and retain their charm throughout the season. Together with small evergreen shrubs such as the book and Japanese husk (Ilex crenata) they bring peace to the bed.
While the shrubs begin to sprout in the spring, bulbous flowers like tulips are already causing first splashes of color in the flowerbed
Onion flowers open the flower season
Especially in spring bulbous flowers are irreplaceable: grape hyacinth, tulips and crocuses take over the first flower layer. They are an ideal complement to any flowerbed as they take up little space and significantly extend the flowering period. Therefore, it is worth reserving larger areas for the bulb flowers already when planting a bed. Spring and summer flowering plants are already laid out in the fall in autumn, autumn bloomers are planted in summer. In groups of seven to 15 plants they come into their own and set a first peak of flowering. However, it is important that they are not in the front line, so that the foliage that turns yellow after flowering is covered by perennials. Later in the year, you can use the areas that are populated by bulbous flowers in the spring to sow colorful summer flowers.
A modern alternative to large bulb flowers in the flowerbed are many single onions at irregular intervals. Particularly elegant are the early-summer flowers such as the steppe candle (Eremurus) and large ornamental species between similarly tall ornamental grasses or perennials with airy flower spikes, for example meadowsweet (Filipendula purpurea), spurge (Centranthus ruber) and common lady's rue (Thalictrum aquilegifolium). Low onion flowers such as Scilla, Grape Hyacinths (Muscari) and Allium moly are not only perfect for the bush and bushes. In large numbers, they form colorful flower carpets in the bed. To do this, place the bulbs close to each other at a distance of about five centimeters. Noble summer flowers such as lilies, dahlias and some tall exotic plants are especially valuable for flowerbeds. However, they are so distinctive that they steal each other with magnificent perennials such as sun hat, phlox or summer marguerite. As a discreet companion, use deciduous shrubs with gray foliage, such as European Rowan (Artemisia), Kitchen Sage (Salvia officinalis), or Wool-Ziest (Stachys byzantina).
Annual summer flowers invite you to experiment
Summer flowers are an inexpensive and fast alternative for flowering garden beds and a real stroke of luck for every garden owner. Pure or in a mix with perennials they inspire with great colors and varied shapes. Your big advantage: You can try new varieties every year and give your mixed bed a new coat again and again.
As fillers between long-lived perennials and shrubs, the flowering summer guests are welcome. Summer flowers grow and bloom only for a summer. In contrast to the perennial garden plants they die in the autumn after the seed formation. But they bloom all the more lush and for weeks, often even months. And they are available in innumerable variations: whether snapdragons, marigolds or decorative baskets - shapes, stature heights and color variants leave little to be desired. That brings variety to the garden. Beets, colorful in one year, next year in violet-orange or all in white - this is no problem with summer flowers, because every year you can try out new species, flower colors and combinations.
Annual summer flowers such as snapdragon (Antirrhinum) or sun hat (Rudbeckia) provide bright colors in the flowerbed in summer
The greatest variety is offered by sowing summer flowers yourself.This succeeds reliably in the greenhouse, but also on the windowsill. In the room you can start breeding in March. The alternative are young plants from the gardener. Cloves, lobelia, petunias, ornamental tobacco and many others are also available as preferred plantlets. Some summer flowers can be sowed directly into the bed from April. These fast germinating and uncomplicated representatives include, for example, nasturtium, calendula, sunflower, ornamental squash or vetch.
An exception are two-year-old summer flowers, such as the Marian bellflower, the daisy or the forget-me-not. They are sown in the summer, overwinter in the bed and flower the following year. Summer flowers can be used to create colorful and rich flowerbeds. As a flower band, the perennial flowers make splendid, for example along paths or as borders. If you reserve a whole bed, you can combine it to your taste.
The best effect is obtained by matching the colors of the flowers and using plants with different stature heights. For the Beetrand are suitable low species such as Hardy Lieschen, Tausendschön or carnation. Medium growth heights offer sage, beard thread, straw flower or scarlet lobelia. For highlights in the bed provide spider flower or veil verbena with stature heights of 100 to 150 centimeters.
Between long-lived perennials, roses, shrubs and evergreens, summer flowers can be used to create new, flower-filled eye-catchers every year. Here is a soulful tuning of the plants are particularly important so that the eye-catching summer flowers stealthy permanent guests in the bed not steal the show.
A beautiful flowerbed for every season
Who cleverly combines ornamental shrubs, flowering plants and bulbous flowers, can look forward to the year over always new flowers in the bed. Our bedding proposal covers an area of ​​13 square meters. In addition to numerous shrubs stands in our bed especially the snowy Scythia in the eye, which is characterized by beautiful flowers and an interesting autumn color. Variety brings the planter into play, which can be replanted again and again according to the seasons.
Start photo gallery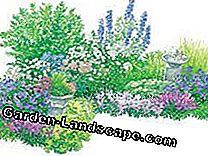 4
Show all
A beautiful flowerbed for the whole garden year
Spring: Daffodils in different yellows determine the picture in spring. Most perennials present only a few tender leaves, but lungwort and Lenzrose are already in full bloom. The white flowers of the snow sorrel also set beautiful accents
Summer: Starting in June romantic blue, pink and white flowering perennials play the main role in the same bed. The high snow erythia (Abeliophyllum) and the miscanthus (Miscanthus) form the green frame
Autumn: In the autumn, sun briar, stonecrop and cushion aster make for late blooms. Larkspur and steppe-sage bloom after the pruning in the summer already for the second time albeit a little more modestly. Also, the miscanthus now shows its silvery inflorescences
In our bed the following flowers are planted: 1 Snow Sorcerer (Abeliophyllum distichum, 1 piece), 2 Lungwort (Pulmonaria saccharata 'Mrs. Moon', 8 St.), 3 Larkspur (Delphinium Elatum hybrid 'Blue Whale', 2 St.), 4 perennial sunflower (Helianthus microcephalus, 2 pcs.), 5 miscanthus (Miscanthus sinensis 'silver-feather', 1 h.), 6 flaming-flower (Phlox paniculata-hybrid 'Pax', 2 h.), 7 daffodils (each 5-7 Piece of a variety, distributed in the bed), 8 sun broth (Helenium hybrid 'Waltraud', 1 p.), 9 Lenzrose (Helleborus hybrid 'Atrorubens', 3 p.), 10 star thumbler (Astrantia major, 6 p.), 11 Maiden's Eye (Coreopsis lanceolata 'Sterntaler', 3 h.), 12 Autumn Meadowhills (Sedum telephium 'Herbstfreude', 2 h.), 13 Magnificent Cranesbill (Geranium x magnificum, 5 h.), 14 Columbine (Aquilegia vulgaris Hybride 'Superba', 3 h.), 15 Catnip (Nepeta x faassenii, 5 h.), 16 Steppe Sage (Salvia nemorosa 'Blue Hills', 5 h.), 17 Cushion-Aster (Aster Dumosus hybrid' Lady in Blue), 3 hours), 18 Peach-leaved Bellflower (Campanula persicifolia 'Grandiflora Alba', 2 ea.), 19 plant-growing bowls with alternate seasonal planting, 20 Pyreneean Cranesbill (Geranium endressii 'Wargrave Pink', 3 ea), 21 Lady's Mantle (Alchemilla mollis, 4 ea)
Plant flowerbeds
The best time for the bedding plant is spring, when the ground has already warmed up a bit. If you want to convert a part of the lawn into a bed, first remove the sods and dig up the ground. The sods should be completely removed, as they can lead to dryness and waterlogging if undermined undermined. After digging, the best way to improve humus-poor sandy soils is to use a portion of mature compost. It is distributed on the surface and worked flat with a cultivator. Heavy loamy soil becomes looser with the addition of compost. In addition, you should also incorporate coarse sand to improve the water permeability. Tip: If possible, allow the prepared soil to rest for about a week before you start planting. During this time, most of the weed seeds that have reached the surface during tillage sprout.The young seedlings are removed with a hoe or cultivator. Newly expelled root pieces of greed and couch grass should be completely removed before planting.
Now lay out the perennials or summer flowers according to the planting plan and then correct the planting distances again if necessary. Tip: As a guide, it has been proven to place a square meter grid over the plant plan and to transfer the grid lines with light sand to the bed surface. Cover each plant with water shortly before inserting and immerse the root ball in a bucket of water until no more bubbles appear. With a small hand scoop, you now lift a hole, put the bale to the top in the ground and press it lightly. A water jet from the watering can removes the last larger cavities and allows the new bed to grow quickly.
How to properly care for your flowerbed
mulching
A floor cover in the bed called mulch layer has many advantages: It protects the floor from the effects of the weather such as drought, heat and cold. In addition, the bottom layer is slowly decomposed by the microorganisms and enriches the soil with humus. Another effect is the weed suppression. Chopped pine bark even contains substances that inhibit the germination of weed seeds. But not every plant appreciates soil cover: bedding plants, roses and summer flowers prefer a so-called open soil. Perennials, grasses and ferns that grow in the forest and at the edge of the forest, on the other hand, are used to covering the ground - after all, autumn foliage at the natural site has the same effect. Before mulching you should always fertilize the entire area with horn shavings. The decomposition processes in the mulch layer cause that the nutrient supply in the soil is scarce and the plants show deficiency symptoms. The problem mainly occurs with low-nitrogen materials such as bark or chopped wood. Less composting bark has a nitrogen-depleting coverage.
Support perennials
Many magnificent perennials carry large flowers on long flower stems through years of intensive breeding. Unfortunately, many breeders did not take into account the stability, so there are some species that regularly fall apart under the weight of inflorescences. Typical examples: Perennial Peony, Larkspur, Turkish Poppy and Sun Bride. In rainy summers, the danger is particularly great, as the raindrops complain the flowers in addition and the wind does the rest. Always plant endangered species in wind-protected locations in front of hedges or house walls. Fertilize the plants little, especially a high nitrogen content promotes growth and reduces the stability of the stalks. If necessary, you can stabilize the flowering shoots with special peristaltic supports from the specialized trade or attach individual stems to thin bamboo sticks. Tip: For safety reasons, cover the ends of the bars with wine corks or plastic caps, as they are easily overlooked when weeding and can injure our eyes.
Higher-growing perennials such as larkspur or phalaenopsis are more stable if they are additionally supported by a perennial ring
to water
If the rain lasts longer than a week, you should water the flowerbeds with the garden hose. Although the plants do not budge immediately, their beauty suffers greatly as the flowers and leaves wither quickly. "Rarely but abundantly" is the most important casting rule. Water once or twice a week, but enough to allow the water to penetrate the entire topsoil. The reason: The roots follow the moisture. If the water seeps only a few centimeters deep, the roots concentrate in the topsoil and the plants are all the more susceptible in the next dry period. It's best to water your beds in the morning. The soil is still wet from the dew and absorbs the water better. In addition, the plants do not suffer a cold shock after the nightly cooling. With a pouring stick, you supply each individual plant with water without wetting the leaves. This reduces the risk of fungal infections and saves water, because not so much evaporates. For larger beds circular or rotary sprinklers provide good services, but do not distribute the water so targeted.
Fertilize
The fertilizer shelf in the garden center always causes confusion, because the selection is huge. In the flowerbed with few products: Acute nutrient deficiency eliminates a fast acting mineral fertilizer. It contains all the important nutrients, but its nitrogen content is quickly transferred from rainwater to deeper soil layers and can pollute the groundwater. Meanwhile, there are products whose nitrogen keeps longer in the ground (for example, blue grain Entec). If you want to provide your plants with natural nutrients, you should use horn shavings. They are made from slaughterhouse waste and mainly contain nitrogen. Hornbeams are taken out as early as possible in autumn, since they first have to be decomposed in the soil. Somewhat faster is finely ground horn semolina.Long-term mineral fertilizers release their nutrients dosed over a longer period of time. The individual granules are enclosed by a resin shell, which slowly decomposes in the soil.
pruning
By the end of September, the first bedding plants will turn brown and unsightly. Nevertheless, you should still wait with the pruning. If you cut off the not completely withered leaves early, weaken the plants unnecessarily. These operate namely a kind of nutrient recycling by storing the still usable substances in their roots. Only when the foliage is completely brown, this process is complete. As a rule, you can start cleaning up the bed in late autumn, from around mid-November onwards. Cut the bedding plants back to the ground with a hedge trimmer and remove all plant remains from the bed so that you can chop the surface flat again before the beginning of winter. Then cover frost-sensitive species with a leaf layer.
Wild shrubs in partial shade and shade are cut back - if at all - only in the spring, since they do not need any tillage. For evergreen plants such as some cranesbill species, Bergenia, Christmas roses and elven flowers, a pruning is generally not necessary. Tip: Ornamental grasses such as the miscanthus and bedding shrubs such as stonecrop, globe thistle and lantern flower carry their dry seed until well into winter. Covered by hoarfrost, these have a very special charm and should therefore remain until spring. Even the feathered garden guests do something good, because the perennial seeds are a nutritious winter food for birds.
winter protection
Many perennial flowering plants and all bulbous flowers retreat to the ground in winter to avoid the frosty temperatures. Although most are completely hardy, some have problems especially in wet winters. As a precaution, protect species like Montbretie and Alstroemeria with a thick foliage cover. Woody plants such as lavender and many rock garden plants such as sand-flower, silverwort and milkweed suffer from dehydrating winds during snow-free winters. It is best to bring it with a cover of fir-spruce through the cold time.
Video Board: 5 Tips for Planting a New Flower Bed // Garden Answer.