The Content Of The Article:
Flower dogwood are imposing plants that come along with a beautiful flower. Read here, which are the most beautiful varieties and how they are planted.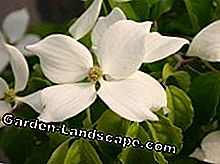 Flower dogwood are probably one of the most beautiful garden shrubs, because they not only come with an imposing flowering, but also bloom for a long time. Depending on the variety, the flowers are either white, pink, purple or red and can reach palm size. The great thing: due to its size, you can plant the flower dogwood separately and get a real eye-catcher in the garden.
There are so many different types of dogwood shapes, so there should be something for every taste or size of garden. In addition to smaller varieties, there are also varieties that grow into a tree and can be up to six meters high. Which varieties look especially nice and how they are planted, we explain now here.
Various types of dogwood varieties presented
Red flower dogwood:
The red flower dogwood charm pleases its owner with a pink-white, 12-centimeter-sized flower, which forms a nice contrast to the green-white foliage.
While the bloom is admired from May to June, the dogwood shines again with a striking, purple foliage color in the autumn. The red flower dogwood is offered in various breeding forms, which usually come up with a stature height of up to 3 meters, but proliferate broadly in the width.
Chinese flower dogwood:
Location: Sun to partial shade
Taut upright in growth
Growth height: 300 - 500 cm
See more pictures
Already from May to the beginning of July, the Chinese flower dogwood shines with its white flowers, which then brings raspberry-colored and raspberry-like fruits.
While it comes up with a green leaf coloration from spring to summer, this turns again in autumn into a pretty red, which underlines its attractiveness again.
The Chinese flower dogwood grows stronger than its Japanese relative and reaches in optimal conditions a stature height of up to 5 meters.
Japanese flower dogwood: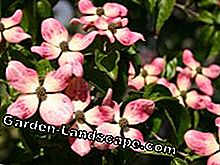 Location: Sun to partial shade
wide, but rather upright in growth
Growth height: 200 - 350 cm
See more pictures
The flowering phase of the Japanese flowerbed starts only at the end of May to June and also comes with impressive, white flowers (diameter about 8 - 9 centimeters), which are often covered with a pinkish touch when repainting.
Its growth form distinguishes it from the other varieties of flower dogwood in that it grows steeply and less bulging in width.
American flower dogwood:
Location: Sun to partial shade
slowly but broadly spreading in growth
Growth height: 150 - 250 cm
See more pictures
Already very early - from April already - shows the American flower dogwood a pure pink flowers, which is why he popularly as redskin referred to as.
In the fall, this shrub will then come up with scarlet fruit that will make a nice contrast to the discolored purple foliage.
Plant the flower dogwood
Due to their fruit formation, all the flower dogwood bars require a sunny and, depending on the variety, once in a while a partially shaded, light-flooded location and a slightly acidic soil condition. After the individual shrubs can grow up to 5 meters, you should plan a single position in the garden, which also shows their beauty better.
" Tip:
The soil around a flower dogwood should always loosen up and enrich with compost in spring and autumn. If necessary, you can also administer fertilizer at any time.
Furthermore, all flower dogwood bars do not tolerate pruning! Only kinked or dead branches should be removed carefully from the shrub. If you trim the flower dogwood itself, then this will prevent the new shoot in the spring and thus also the flowering.
For the most part, all varieties of the flower harlequin available in the garden shop market are also hardy, which is why they are ideally suited for cultivation in our climes. On the less hardy dogwood trees you should do without.
" Tip:
However, you can confidently plant the so-called carpet dogwood (up to 20 centimeters tall) as ground cover in the garden.
Video Board: Flowering Dogwood - Cornus florida - How to grow Dogwood Tree.