The Content Of The Article:
The name flower dogwood is well chosen because it is the huge flowers that distinguish the wood from our native dogwoods. The large shrubs from North America (Cornus florida and Cornus nuttallii) or Asia (Cornus kousa) are so densely dotted in May and June that the leaves are barely visible. Strictly speaking, however, there are no flowers, but showy bracts, botanical bracts that point the insects the way to the inconspicuous center - the real flowers. The bracts are white or pink. It may take a few years for the flower dogwood to bloom in full splendor and the bracts to reach final size.
Convertible beauty
Not only at flowering time is the flower dogwood a gain for the garden. It usually grows multi-stemmed and develops into a large shrub or small tree with tree-shaped branches. The elegant growth comes in single position to the best advantage. The bright foliage of variegated varieties such as 'Celestial Shadow' can play its full beauty when other trees provide a dark background. After flowering, many varieties of Asian flower dogwood bear cherry-like fruits. Although they taste bland, but look all the more beautiful. A second pollinator shrub nearby prolongs the fruit decoration. With colorfully colored foliage, the flower dogwood says goodbye to the winter.
From October, the flower dogwoods show another of their many qualities: the beautiful autumn color. Depending on the variety and location, it turns out yellow, orange or bright red
Location and ground
Flower Dogwoods need a sunny or partially shaded place and prefer acidic, humus rich soil. The soil should be moist but not too wet. If the water outlet is bad, a drainage layer of gravel should be applied before planting. It may also help to plant the dogwood on a small hill to improve the water drainage. Asian flower dogwoods are more tolerant of the soil and are therefore increasingly planted. In order to keep the root area cool and moist, the tree disc can be planted with low-competitive soil coverers such as the foam flower. Mulch also fulfills this purpose, but bark compost is better than bark mulch. It is applied to the tree pulley in spring after spreading a few handfuls of horn shavings there.
Growth and cut
Low-growing varieties such as 'Wolf Eyes' reach a height of about three meters and are also suitable for small plots and front gardens. Strong growth like 'White Fountain' or 'Butterfly' take up more space. After 20 years, they reach a height and width of six to eight meters. Japanese flower dogwood generally grow weaker than the Chinese variety (Cornus kousa var. Chinensis). Flower dogwood are cut tolerant, but develop best when they are allowed to grow freely. If a cut is necessary - for example, because the space is scarce - this should be done directly after flowering. So the dogwood can form new buds in late summer. Then the flowers will be guaranteed next year as well.
In summer, the Asian flower dogwood bears pretty red fruits
Attention, leaf spot fungus!
The American flower dogwood Cornus florida and Cornus nuttallii place high demands on the location. Heavy and loamy soils, waterlogging or too high a pH-value are bad for them. The weakened trees are susceptible to the fungal disease anthracnose. This leaf-spike fungus can change from leaves to shoots and stems in humid weather, killing the entire shrub. The Asian flower dogwood (Cornus kousa and Cornus kousa var. Chinensis) and hybrids like the 'Venus' variety are more adaptable and resistant to the fungus. They are therefore the better choice. The other flower dogwood are only suitable for the sandy-humus and acidic North German soil.
Beautiful flower dogwood species for your garden
Start photo gallery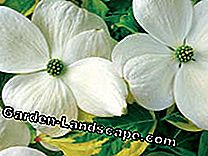 6
Show all
Beautiful flower dogwood varieties for your garden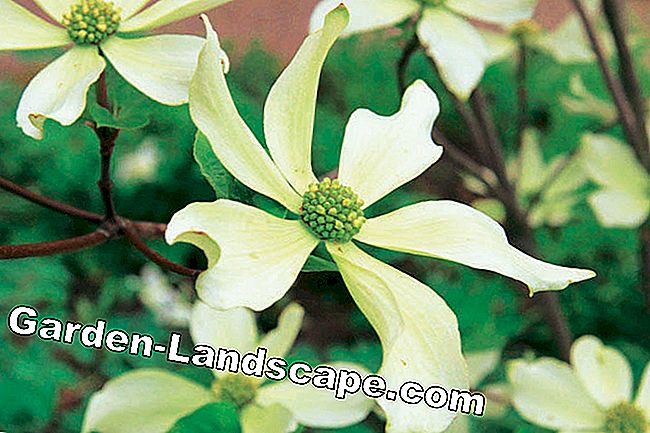 'North Star' is a variety of Nuttals flower dogwood (Cornus nuttallii) with four to eight narrow bracts. The attractive species is unfortunately not very hardy and prone to the leaf fungus
'Venus' (Cornus kousa chinensis x nuttallii) is a fairly new breed with white, up to 15 centimeters large flowers and long flowering time. It is resistant to the leaf spot fungus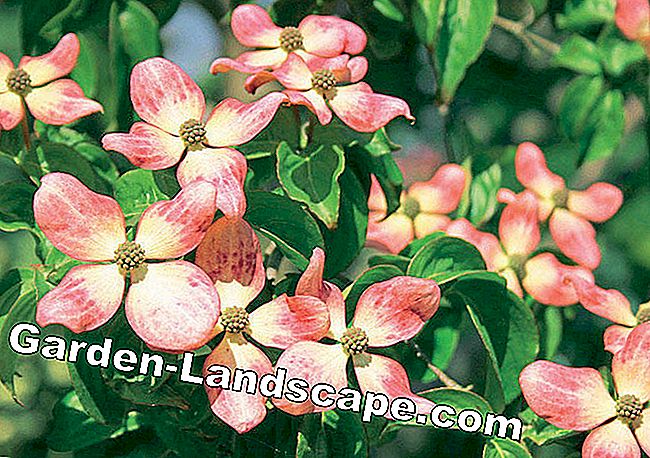 'Satomi' (Cornus kousa) shows a beautiful color gradient from white to pink and bears eight to twelve centimeters large flowers. The variety has a sprawling growth and produces many fruits
'Celestial Shadow' (Cornus x rutgersensis) is a hybrid that does not produce any fruit. She convinces with her yellow-green variegated foliage
The Chinese flower dogwood 'Wolf Eyes' (Cornus kousa var chinensis) has white-margined foliage. The light green bracts are framed in white. The variety is growing slowly
'Rosy Teacups' (Cornus kousa) has the most intense pink color. The flowering variety shows bright crimson leaves in autumn
Garden idea for replanting
The front garden is attractive at all times, but the dogwood blossom in early summer is the highlight
The flower dogwood 'Barmstedt' remains small and is also suitable for cramped conditions. He convinces with large flowers, rich fruit decoration and yellow orange autumn leaves. Next to it is the candelabra award 'Apollo' in full bloom. Thanks to a height of 130 centimeters, it is also clearly visible from the kitchen window. Two blue plate hydrangeas mark the entrance. From June to September they produce new umbels that look pretty until winter. In the flowers of the clematis 'Perle d'Azur', which climbs the canopy, the color is repeated. The path to the front door is bordered by the snail knotweed 'Darjeeling Red'. In the second row presents the Funkie 'Liberty' her attractive bright-edged foliage. The Grand Prix 'Ember' opens its bright red flower spikes in August. Until then, it enriches the bed with its finely feathered, dark green foliage. The early riser in the front yard is the Lenzrose 'The Sultan'. It already adorns itself in February with dark red flowers. From March, the blue-violet lungwort joins. Like the cranesbill, it cope in the root area of ​​the flower dogwood.
Planting plan and shopping list
planting plan
1) Chinese flower dogwood (Cornus kousa var. Chinensis 'Barmstedt'), white flowers in May and June, 2 to 3 meters high, 1 piece, 40 €
2) Plate hydrangea (Hydrangea macrophylla 'Bluetit'), blue flowers from June to September, 130 cm high, 100 cm wide, 2 pieces, 20 €
3) clematis (Clematis hybrid 'Perle d'Azur'), ​​blue blossom from June to September, can climb 3 to 5 meters, 1 piece, 10 €
4) Grandstand (Astilbe arendsii hybrid 'ember'), bright red flowers in August and September, 80 inches high, 11 pieces, 30 €
5) Lung lungwort (Pulmonaria hybrid 'Trevi Fountain'), blue-violet flowers in March and April, 30 cm high, 17 pieces, 70 €
6) snail knotweed (Polygonum affine 'Darjeeling Red'), deep pink flowers from July to September, 20 cm high, 15 pieces, 35 €
7) Linden rose (Helleborus orientalis hybrid 'The Sultan'), dark red flowers from February to April, 35 inches high, 5 pieces, 50 €
8) Funkie (Hosta hybrid 'Liberty'), delicate lilac flowers in June and July, leaves teal with creamy yellow margin, 50 cm high, 6 pieces, 60 €
9) Candelabra Honorary Award (Veronicastrum japonicum 'Apollo'), blue-violet flowers from June to August, 130 cm high, 2 pieces, 10 €
10) Cranesbill (Geranium versicolor), white flowers with purple leaf veins from June to August, 22 pieces, 60 €
(All prices are average prices, which may vary depending on the provider.)
Video Board: How to Create Elegant Ruffled Carnations.