The Content Of The Article:
Astilbe, feathering - care, cutting and wintering
Depending on the variety June to September with upright, feathery flower candles consisting of many small flowers in white, pink, red, purple or carmine on wiry upright stems, which are only slightly leafy. They turn brown in the fall and are also an ornament in winter.
Strohblumen - sowing, care & wintering Helichrysum
Strawflowers are not only beautiful in dry bouquets, they also provide a colorful array of flowers in the garden. Their cultivation and care is very simple and they can be overwintered in the house frost-free or re-seeded every year. Regular pruning also allows straw flowers to be harvested for drying.
Kapkörbchen, Kapmargerite, Osteospermum - Care & Wintering
Kapkörbchen are also referred to as Kapmargeriten or Bornholm daisies and belong to the family of the Korbblütengewächse. About 70 related species are cultivated worldwide, with the origin of the capsule in warm Africa. Most capsules are cultivated as annuals, as they are only winter hardy to about 5° C.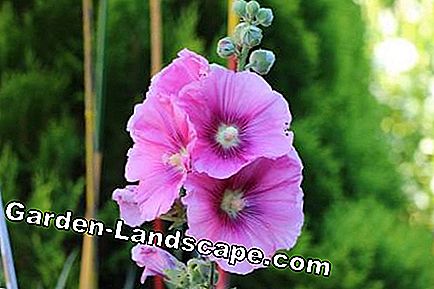 Hollyhock cultivation - planting time, seeds and sowing
The hollyhock is an impressive plant that is often found in cottage gardens. The sowing and cultivation of this mallow family is very simple, which is why the plants are also suitable for gardening newbies. With some care, they can reach a height of up to two meters and are an eye-catcher in any garden.
Gold Marie, Bittern, Gold Cosmos Plant - Care of Bidens ferulifolia
The Gold Marie Bidens ferulifolia from the genus of the two-teeth (Bidens) is characterized by an excessive number of small decorative flowers in star form with a yellow center of flowers and five petals. Bidens ferulifolia is annual or biennial and is mainly cultivated in window boxes and planters. In the garden, the perennial quickly forms a dense vegetation.
Frankincense plant, Plectranthus coleoides - care of the frankincense
The incense plant is a decorative evergreen shrub that looks good both in flower boxes and in its hanging shoots in hanging baskets. From the frankincense plant, there are numerous hybrids with different leaf colorations. The slightly incense scented plant is easy to cultivate and can be wintered in winter in frost-free rooms.
Shadow Flowers - Flowers and plants for shady locations
In each garden there are shady places that want to be planted. Shade is not the same shade and the claims of the shade plants are different. Are you planning a decorative oasis in the shade or do you want to create a perennial border? Here are some planting suggestions.
Blue ginger, Dichorisandra thyrsiflora - care
Dichorisandra thyrsiflora - probably many people can not imagine this name. But when the German translation 'blue ginger' falls, then you know immediately that they are purple flowers to capsule-shaped fruits and flowers that have a cylindrical design and can be up to almost 20 cm long.
Planting, dividing and transplanting peonies: this is how it works!
A fragrant sea of ​​flowers awaits every hobby gardener who visits his peonies discounts in early summer. However, to ensure that the wonderfully aromatic and colorful flowers also develop into a lush floral splendor and that no damage occurs during transplanting, optimal planting and care is necessary.
Turkish poppy, Papaver orientale, Turkish poppy - Care of A-Z
Turkish poppy delights us in three ways: with beautiful buds, bright blossoms in many tones and with decorative seed pods - in the middle of a nest of unusually serrated leaves. Read how these benefits come into their own through proper care.
Turkish poppy: is he hardy? Information about wintering
The Turkish poppy belongs with its large flowers, which shine in a bright red, to the most popular perennials in the domestic garden. Papaver orientale is a hardy plant that is hardy and can be hibernated easily.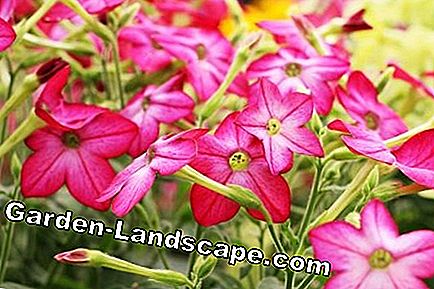 Ornamental tobacco - everything for care, propagation and wintering
The ornamental tobacco Nicotiana x sanderae is a hybrid, which is noticeable in the evening due to its fragrant fragrance. With a variety of color variations and the long flowering period until October, it is one of the most appealing fragrance flowers that can be found.
Peonies do not bloom, so you get rich flowers
If the peonies do not bloom, many different causes can be responsible.From the wrong planting depth to an unsuitable location to care mistakes, the trigger for non-flowering with the appropriate knowledge can often be found and rectified quickly and easily. Here we reveal how it works.
Pillow-aster, Aster dumosus - care instructions
The Cushion-Aster blooms in the late summer into the autumn and is a small, with small flowers stocked variety. It owes its name to the pillow-shaped growth, which shows an enormous width to the marginal height of the plant and looks as optically as a pillow. The garden shines particularly colorful, combining blue, purple, red and white, as well as pink asters.
Winter plants for window boxes - Ideas for winter planting
The 'Fiederblättrigen Schaublatt' (Rodgersia pinnata) is an unproblematic and undemanding perennial plant for the outdoor area of ​​the family of 'Saxifragaceae' (Saxifrage family). It comes originally from the eastern areas of Asia or China, mainly from the Himalayas and the adjacent highlands...

Peony, peony - care, cutting and wintering

Species / Family: Perennial, ornamental shrub. Belongs to the peony family (Paeoniaceae), Care: Low. I would like to be left in peace as far as possible...

Oriental poppy seeds - sowing, cultivation and care

If the term oriental poppy appears rather unknown at first sight, this plant species certainly knows the common name fire poppy, garden poppy or perennial poppy. Also the term Turkish poppy will be familiar to many flower lovers.

California poppy seeds - sowing, cultivation and care

At the thought of a poppy, most people first imagine a delicate, bright red flower swaying in the wind, somewhere on the edge of the meadow, or with countless of their fellow species in a radiant sea of ​​flowers.

Aromatic plants in the garden and for the room

The planting of no less gardens is combined with dedication and considerable effort so that the colors and sizes of the plants alternate and complement each other.

Blue Daisies, Brachyscome iberidifolia - Care & Wintering

The Blue Daisy 'Brachyscome iberidifolia' is one of the small eye-catchers in the garden and on the balcony and terrace. Their special effect unfolds in planters, flower baskets or flower borders. Beautiful to look at in planting partnership with other annuals. The Blue Daisy is an easy-care and powerful perennial in every location.

Beautiful flowering perennials - annual and hardy perennial

Our garden thrives on trees, shrubs and a variety of flowers. For which flowers the hobby gardener decides, will be decided individually. If summer flowers are to blossom in a different location every year, then the gardener usually chooses the one-year-old summer flowers. If the flower beds are to be designed for a long time, the perennial and winter hardy perennials are the better choice.

Flowering perennials - annual and hardy varieties for sun & shade

Flower shrubs in the garden, whether annual or hardy perennial, are an integral part of our gardens. How poor would be a garden without flowering plants. In addition, annual and perennial flower perennials offer almost unlimited design options. Together they can turn any garden into a paradise. Every viewer will absorb and enjoy their biodiversity and floral scents with all their senses.

Small Periwinkle, Vinca minor - Profile, Care & Cut

With beautiful delicate violet, white or blue flowers, the small enchanted evergreen, bot. 'Vinca minor', the garden. It is an ideal groundcover and with its dense carpet of flowers on slopes and under trees and shrubs great effect.

Candle bush, Senna didymobotrya - care and wintering

The candle bush needs a warm, full sun. The potting soil should contain coarse-grained fractions, ie expanded clay or gravel. It must be loose and airy and able to store water and nutrients well. In the heat can be watered abundantly, as the many leaves evaporate a lot of water. Which care measures are still important?

12›"
Video Board: Maximize Your Garden Color With Perennials.