The Content Of The Article:
The forsythia is one of the first spring flowering plants and is a popular ornamental shrub because of the beautiful flowers. Moreover, it is very easy to care for.
From March, the bell-shaped flowers appear in a bright golden yellow even before the leaves are released. Therefore, forsythia also has the nicknames gold bells, gold lilies or gold willow. The flowering period lasts until May, after which leaves form in a rich green. Forsythia are generally very undemanding plants that thrive in the home garden as well as in public parks or in the great outdoors.
Family: Olive Family
Genus: forsythia
Type: forsythia
Botanical name: Forsythia
Common species in Europe: Forsythia x intermedia
Growth and growth behavior of forsythia
The shrubs grow medium-fast (about 30 to 50 centimeters per year) and can be several meters high and up to three meters wide. Forsythia is therefore suitable for both the individual position as well as hedge. In a hedge planting one expects two copies per meter. Forsythia are also very suitable, but also for mixed hedges. In addition to an evergreen shrub, the radiant flower color is particularly beautiful.
Location and soil condition
Sun, shadow or partial shade: forsythia grow well everywhere. Only in deep shade does the flowering joy abate. Besides, the branches do not grow so densely. The undemanding shrub also likes every soil. Ideally suitable are humus and nutrient-rich soils.
As a Flachwurzler the forsythia always needs enough moisture. Here you can prevent with a thick layer of bark mulch, so that the soil does not dry out. Here's a tutorial on how to properly apply bark mulch.
Important care measures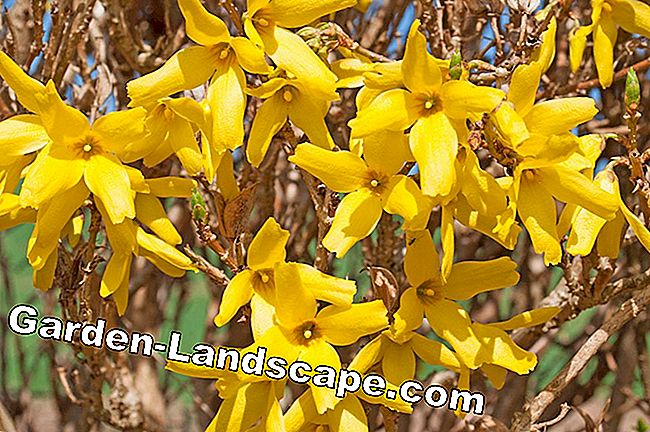 Pour and fertilize:
A special care is not necessary, only in long periods of drought, you should pour the forsythia regularly. However, fertilizer does not need it.
Cut:
Younger forsythia does not have to be cut. It is enough if you cut the branches by one third every two to three years after flowering. For older specimens occasionally a Auslichtungsschnitt is necessary. They recognize the need for the inner branches to lignify. In addition, the forsythia causes long, thin and pale shoots above and outside. With a radical conservation cut, however, most shrubs can still be saved. It is best not to remove all disturbing branches at once, but to distribute the illumination cut over several years! Proceed as follows:
Stand four to five strong branches and cut the rest to a few inches above the ground. The ideal time for this action is in the late winter or early spring, before the first flowers form. In the next late winter, remove all new thin shoots. Well-developed shoots need to be cut at different heights and the remaining old branches removed completely. Thus, a handsome new crown is formed, which flowers again at the latest in the third year after the cutting procedure.
For more important tips on pruning, see our article Forsythia cut properly - how it works!
Video Board: Forsythia - How to grow Forsythia - How not to prune Forsythia.