The Content Of The Article:
What are scented roses?
Sometimes fresh and fruity, sometimes beguiling and sensual - scented roses not only seduce insects, but also bring all flower lovers into raptures. Since smell is the most individual of our senses, every nose feels a little different in the nature and strength of a fragrance. But the mood-enhancing and stress-reducing effect of the lovely rose perfume turns up with all garden friends. The most ingenious fragrance talents can be found in the Edelrosen, the Alten Rosen and the English Roses.
Which roses smell particularly strong?
Often one has the feeling that today only very few roses smell intense. And the feeling is not deceptive: Almost 90 percent of the newer varieties of roses actually smell very little or not at all. Wild roses such as vinegar rose (Rosa gallica), musk rose (Rosa moschata), Damascus rose (Rosa x damascena) or Rosa alba are considered classic scented roses. Since these wild roses are particularly good scent sires, the newer scented roses are derived from them. It is also due to this descent that numerous scented roses are considered not particularly vigorous and very caring. Unfortunately, intense fragrance often goes hand in hand with poor health. If you cross two fragrant wild roses, for example Rosa x damascena and Rosa gallica, the first F1 generation will not smell, as the genes for the fragrance are recessive. Only when you cross this generation again, fragrant roses are created. However, since genes of the parent plant or parent plant are already contained in the F1 generation, it leads to a kind of inbreeding, whereby the rose can be weakened. For this reason, it is so difficult to grow healthy and vigorous scented roses. However, as the demand for fragrant roses continues to grow, many growers have now focused on breeding healthy scented roses - and successfully.
'Rose de Resht' is a classic among the scented roses and goes back to the Damascus Rose
By the way: How intense the flower perfume in the garden actually fails, not only decides the variety. Flower shape, weather and location also play an important role. The sunnier, windless and humid the garden square is, the more fruitful unfolds the fragrance, because here are also increasingly formed essential oils and released. Also pay attention to ideal soil conditions. Abundance of flowers and a lush after-flowering occur only in loose, humorous situations without heat and waterlogging.
Scented roses in the breeding
Roses and fragrance, these are two that belong together - and yet did not always do it: The aspiration of many rose growers for ever more magnificent flowers, especially the idealized kiss buds of the Edelrosen, paid many roses with one of their finest traits: their unmistakable fragrance. A high price, as one soon recognized, because what is more disappointing, than full of anticipation of a lovely-looking rose blossom to sniff - and smell almost nothing?
The frequently blooming climbing rose 'Laguna' exudes an intense scent in the morning, at noon and in the evening
From England comes the man who gave the roses back their fragrance: Born in 1926, David Austin set himself as one of the first breeders to the goal of combining the benefits of modern rose varieties with the intensely fragrant, nostalgic-filled flowers of the Old Roses. After the breakthrough of his "English Roses" numerous other breeders put the fine rose flavor back on a higher priority, so today almost no wishes remain open: Lovers of fine citrus fragrances will find just as much as the floral scents, and of course, modern varieties always like to quote that beguiling perfume of a Damascus rose from whose flowers rose oil was extracted thousands of years ago.
Sighting of scented roses
Roses are expected to smell sweet. But if you snoop through the current rose assortment, you will not find many real scented roses. The Saxon State Office for Environment, Agriculture and Geology in Dresden-Pillnitz has therefore sought in his last rose sighting (description and assessment of rose novelties according to certain criteria such as susceptibility to disease or frost resistance) for rose varieties with fragrant flowers that are healthy at the same time.
The Pillnitzer Rosensichtung took on the rose varieties of the big suppliers BKN Strobel, W. Kordes' sons, Noack Rosen and Rosen Tantau. Together the mentioned breeders come to 641 different sorts. Just 86 varieties (13 percent) smell so intense that they can be described as scented roses. In addition, most of the fragrant varieties are precious roses, which were not included in this investigation.
Most of the scented roses can be found among the noble and shrub roses, here the shrub rose 'Westerland' of the breeder Kordes
If the criterion of health comes into play for the remaining scented roses, the selection becomes even smaller. If you look at the new launches from 2000 to 2007, you can see that leaf health is now one of the most important breeding goals. New breeds with high susceptibility to blackspot are generally not marketed at all. A clear trend towards more scent, however, is not apparent, although breeders know that many rose lovers want fragrant roses. The reason: Breeding it is simply difficult to combine fragrance and health. In the eight years mentioned, a total of 105 new varieties were introduced. Of these, 88 have a good resistance to blackspot, 14 a medium and only three a worse. On the other hand, the fragrance looks a bit different: only 19 varieties have a strong odor, 42 medium and 44 varieties have no fragrance at all.
Small Shrub Roses
The small shrub roses are the rose group with the highest breeding progress in terms of disease resistance. In this type of rose, it is important that it acts in the area and requires as little care - so health is of utmost importance. In contrast, the fragrance plays only a minor role when used in public green. Therefore, there is no strong fragrant small shrub roses in Pillnitzer Duftrosen assortment. After all, some varieties smell very weak. In the variety selection of small shrub roses, it will ultimately be more likely to arrive at the health, the flower color and shape as well as the growth type.
climbing roses
The tested climbing rose assortment included almost 90 varieties. Here, the testers placed next to the health on the hardiness of winter great value. Finally, 30 varieties were classified as recommendable. Fortunately, almost all varieties smell more or less strong. In the once-blooming climbing roses, it is mainly old breeds that combine robustness and fragrance. For example, Rosa x ruga smells strongly. She proved to be quite resistant to powdery mildew and powdery mildew and the leaf blotch and was characterized by a very good winter hardiness. Of the newer varieties, 'Bobbie James' and Rosa filipes 'Kiftsgate' convinced with a strong fragrance and exuberant blossom. Also with the more often blooming climbing roses two kinds smell particularly intensively: 'Guirlande d' Amour 'and' Laguna '.
The beguiling scent of the Rambler Rose 'Bobbie James' comes in handy next to a seat
Shrub and park roses
The third group of roses tested consisted of once-flowering historical varieties - the park roses - and modern, frequently flowering shrub roses. In addition to health, the frost hardiness was also taken into account here. Of the 175 varieties tested, almost 30 were convincing in both criteria. After all, two thirds smelled more or less strong. These were mainly younger varieties - the varieties 'Colette' and 'Waterloo' stood out here particularly. As an old, once-flowering variety with a nostalgic flower shape, 'Queen of Denmark' was able to convince.
In the end, only 25 of the examined rose varieties can be classified as true scented roses. They all belong to the group of shrub or park roses or climbing roses. Nevertheless, the selection still offers the rose lover a wide range of flower colors and shapes. In the following picture gallery we present you a small selection of healthy roses that have done well in the scent roses test in Dresden-Pillnitz. We also included the slightly fragrant small shrub roses.
Start photo gallery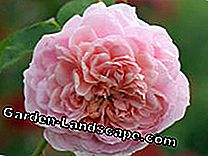 9
Show all
Healthy scented roses (10)
Climbing pants 'Laguna' not only have beautiful nostalgic flowers, but they also have a strong fragrance, and it is one of the healthy roses that are very resistant to fungal diseases such as star soot
The shrub rose 'Queen of Denmark' is a loosely growing Alba-rose. In midsummer, dark to light rose flowers appear, which smell very strong
The very hardy variety 'Fritz Nobis' has large-flowered flowers that smell medium to carnation. In the sighting, no to a moderate infestation with Sternrußtau was found
The shrub rose 'Colette' is a strong fragrant variety. It convinces with good hardiness and shows a medium resistance against mildew and star soot. 'Colette' is a relatively new strain. Her nostalgic flower shape is again very popular today
'Isarperle' has a mild fragrance, but is characterized by its health. She showed no infestation by Sternrußtau. Their flowers are apricot-peachy and well-filled. The ADR rose blooms from June to November. It grows well branched and strong
'Medeo' has also been awarded the ADR title. It convinces by excellent leaf health. It was not attacked by stern black. Unfortunately, her pink-white flowers smell only very weak
'Sweet Meidiland' shows an unusual bud shape. Also it belongs to the small shrub roses, which are characterized by good leaf health, but unfortunately hardly smell.The ADR rose flowers light pink. It is more flowering, from June to September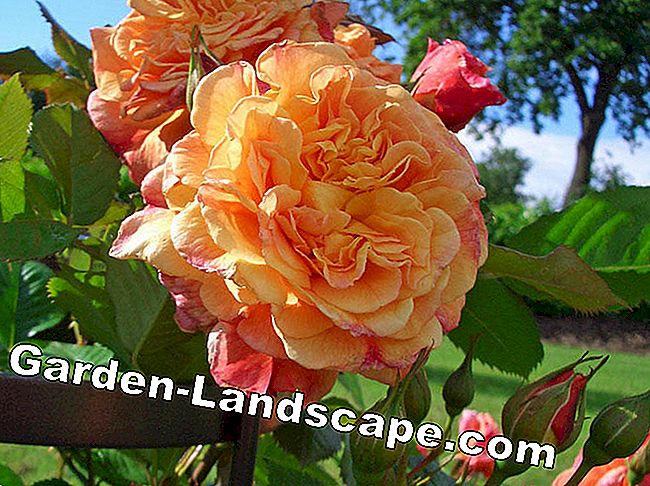 The climbing rose 'Aloha' is characterized by a strong trunk. Its sweet-scented flowers can be admired from summer to autumn in the colors apricot, pink and reds
The small-flowered white Ramblerrose 'Guirlande d' Amour 'is characterized by very good health and strong fragrant flowers

Use of scented roses in the garden
The scent roses naturally come into their own near the seat, where you can enjoy them at nose level, but they are also tactically clever under the windows, because from there the sweet scent soon fills the entire apartment. But even where the flower perfume regularly rises in your nose as you pass by, scented roses are optimally placed. Fragrant companions such as lavender or chocolate cosmee (Cosmos atrosanguineus) complete the colorful floral potpourri. You should, however, shun excessively fragrant society so as not to miserably mix the rose scent. So do not mix the different fragrances too much, so they do not compete. If there are several small islands of smell in the garden, the enjoyment is even greater. If you also want to enjoy your favorite perfume from the garden in the house, simply plant a rose for the vase cut. Usually only a few flowers are enough to wrap a whole room in a delicate fragrance. Our tip, if you are looking for a new fragrance rose for your garden: Take advantage of the taster season! In Rosaria and garden centers, many specimens can best be examined in the summer and discover new favorite varieties for their own garden fragrance paradise.
Video Board: Alles Wichtige zu Duftrosen mit Klaus Kölle | allgemeine Informationen.