The Content Of The Article:
A front garden - so they say - is the business card of a house. Accordingly, individually and lovingly many garden owners address the topic of garden design. With our 40 ideas for imitation, the area in front of the house becomes an attractive part of the garden, where everyone likes to stop.
No matter how big the front yard is, it always fulfills several functions. He determines the first impression of the house and its inhabitants, prepares each visitor a special reception and serves not least as a retreat for humans and animals. In order to be attractive as a visiting card twelve months a year, the front garden design should be well thought out and the patch of soil in front of the house should be planted harmoniously. The design of a front garden is oriented, in addition to purely functional aspects such as the routing or space requirements for garbage cans or bicycles, especially on the personal taste of the homeowner. However, you should still consider some design criteria when planning your dream front garden.
Which front garden for which house?
The solution: Adjust the front garden to the style of your home. A modern townhouse with clean lines also includes a front garden that avoids playful forms. A small-crowned tree such as hawthorn or ball-maple, large underplanted with cranesbill, could be a suggestion. On the other hand, beds with a romantic flair, for example with hydrangea, thimble and columbine, fit perfectly with an old house in the countryside. In order to give the rural front garden a modern look, you can plant filled blooming rose varieties such as 'Pastella', 'Waltz Dream' and 'Rose Fairy'.
Size and location of the property as well as the appearance of the house significantly determine the choice of plants. Ideal are small trees with spherical crowns, columnar or overhanging growth. Foliage-de-types such as ornamental apple, hawthorn and dogwood attract attention even several times a year: with their flowers and fruits as well as with colorful autumn leaves. But keep in mind: Extensive deciduous trees and stately conifers will sooner or later cause you trouble in front of the house - either because they overshadow the windows too much, or because they endanger the pedestrians on the sidewalk in front of the house with falling branches and twigs.
A yellow English rose welcomes visitors. A ribbon of cranesbill lines the way to the front door
Beautiful all year
As for the rest of the garden, the front garden design also applies: the result should be attractive all year round. Evergreen shrubs such as boxwood, holly or rhododendron, combined with flowers and petals and long-flowering shrub roses are a good choice. In addition, you can set new color accents all year round with annual summer flowers. An evergreen cut hedge, a drywall or wire ballast baskets (gabions) form the appropriate framework. Include in the front garden design and the house facade with: Trellis, where honeysuckle, clematis or a fragrant climbing rose like 'New Dawn' or 'Lawinia' may spread, provide space-saving additional floral decoration.
Less is more - even with the front garden design. Nevertheless, a simple lawn with flowering shrub in the middle is not very attractive. Always plant different species with decorative growth and leaf shapes. Make sure that flowering shrubs, roses, perennials and grasses in the bed do not press against each other. The planting should look harmonious all around. Large tuffs or bands of perennials and grasses bring more peace to the overall picture than a colorful flower potpourri.
Design ideas for large front gardens
Start photo gallery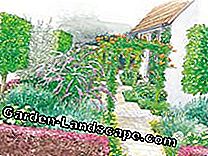 20
Show all
Design ideas for large front gardens
With hydrangeas and purple sunhat these flowerbeds show their flowering side throughout the summer
This front garden is designed in the style of a garden courtyard and is framed by a group of box lime trees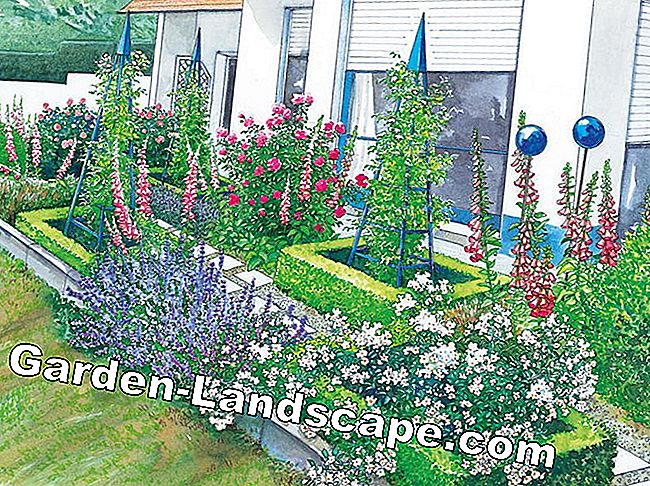 The box-bordered, geometrically arranged beds provide peace and structure and go well with modern homes
In this front garden design prepare roses, catnip, lavender and Dost for a scent experience
Roses, evergreen plants and winter bloomers such as winter jasmine ensure that you have flowers in the garden at any time of the year
Column juniper, Mediterranean spurge and lavender bring a Mediterranean flair to the front yard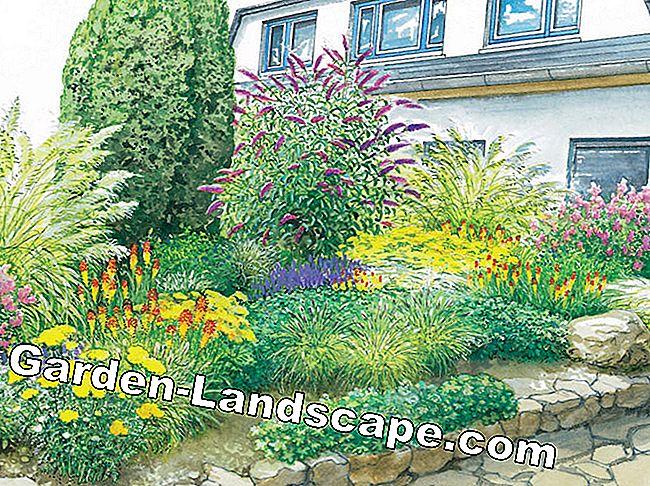 In this proposal, summer lilacs, lady's mantle, yarrow and fawn produce color throughout the summer
This front yard is designed in the style of classic rose gardens, including rosebows, tall stems and a lavender planting
In this front garden design, loose growth forms alternate with a strict shape cut. Warm reds, yellows and oranges add color to the design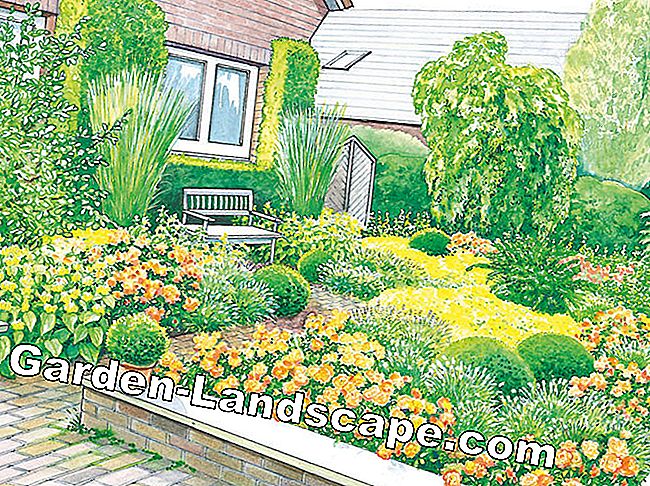 Colorful beds are particularly suitable for those who do not feel like mowing the lawn. They are framed by low brick walls
In summer, the rosebuds planted with clematis and roses attract everyone's attention. The edging of Gamander is cut in an unusual waveform
Column-shaped Mediterranean cypresses, a small pool of water and potted plants such as ornamental lily conjure up Tuscan flair in the front yard
In this design proposal, a small seat is placed next to the front door. Trellis planted with ivy and clematis provide the necessary privacy
A dream in purple and pink: The purple-colored plum hedge makes this garden a protected part of the garden, which invites you to linger
Completely modern comes this design with square cut evergreens, Wigs shrub high trunks, grasses and gravel surfaces
Thanks to the curved forms, this front garden looks very calm and harmonious. The planting along the garden border also provides for a certain protection
Although this front yard is not exactly small, the design is an easy-care solution thanks to large gravel areas and the use of fewer plants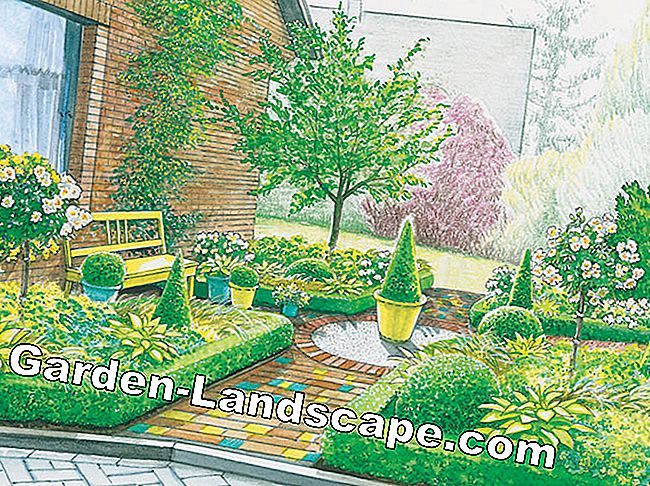 If you prefer something more simple, this elegant garden design in green, white and yellow is well advised. The flooring that matches the façade ensures peace of mind
Restrained, but noble is this design, in which evergreen plants were combined with few flowering plants and shrubs
The white wooden fence and the colorful flowerbeds are perfect for a rustic house. Small bush hedges serve as a bedding border




Facing and paths in the front yard
The demarcation to the road also contributes to the overall effect. Small, shady plots of land get little light from tall thuja or yew hedges and look smaller than they are. Low fences and airy metal or wooden fences make every front yard look bigger.
Walkways and shelves for bicycles and garbage boxes are sufficient to dimension and secure. A width of about 1.30 meters is enough in small front gardens to comfortably reach the house side by side. Make sure you have good and sufficiently bright lighting. Whether you decide for concrete blocks, clinker, granite paving or gravel covering, depends on the cost and their personal taste and the architectural style of the house.
Design ideas for small front gardens
Start photo gallery
20
Show all
Design ideas for small front gardens
This front garden is divided by curved paths with gray gravel cover into several small beds in which roses, catnip and cranesbill find space
All roads lead to the goal: Instead of just one lead in this draft two ways to the house entrance. The pillar yew planted between them conceals it at first sight
Bright flowers and leaves as well as trees and shrubs with slender growth make small front gardens seem significantly larger
Amidst this blooming front garden, a small bench invites you to linger. The house wall is also part of the planning: here are two climbing hydrangeas
In spring, visitors to this front garden can enjoy a particularly flowery entrance. Especially the red hawthorn attracts everyone's attention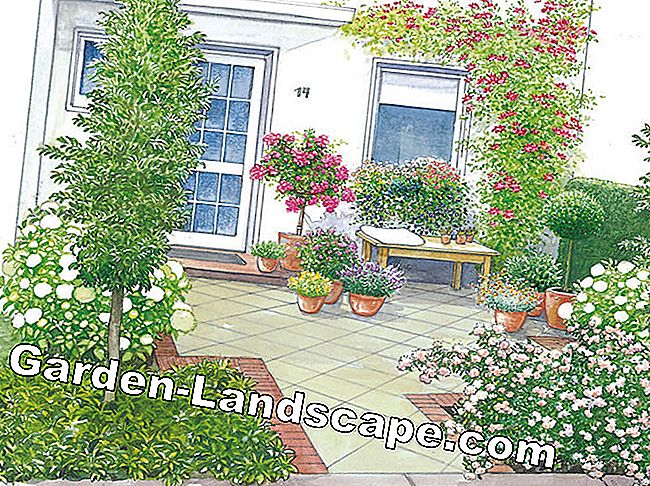 If the space in front of the house is limited, you should limit your planning to a few design elements. That makes him look more generous
Perennial, shrubs and trees are planted in a wide band in this front yard. The surround form numerous pebbles in different sizes
It does not always have to be colorful! This shows this design, in which only two colors were used: green and white - a noble dream duo
In this front garden romantic colors dominate. The house number as a stone sculpture in the bed is an extraordinary eye-catcher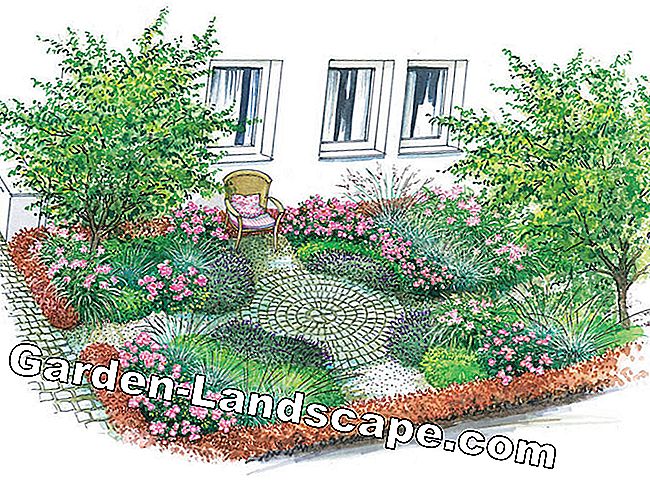 This only about fifty square meters large front garden gets through the centrally placed square of granite paving and four gravel paths structure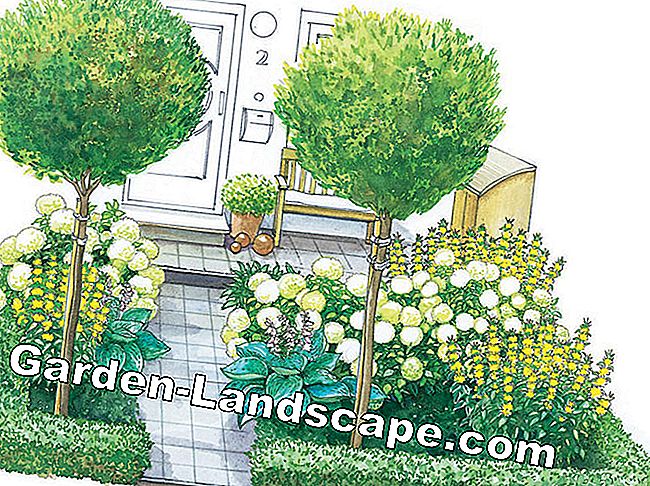 A little sun-drenched front yard looks friendlier when using plants with bright flowers. Different leaf and flower forms provide tension
The entrance framed by roses creates a romantic atmosphere. In the beds, life trees stand out like sculptures from the other plants
In sunny front gardens feel warmth and sun-loving plants such as lavender and blue lavish well. Ideal partners are white flowering plants
The rose planted on a mini-rose arbor rose, white feather pier, garden marshmallow and larkspur protect the house residents from foreign view
If you want to have as little work as possible with your front yard, you will be well advised to plant a plantation in steppe garden style
Ball-trumpet tree and ball-privet provide with different growth forms and heights for tension in the front yard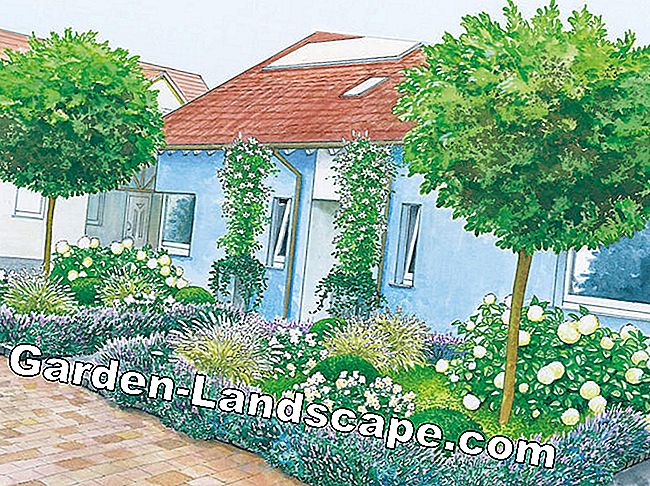 By symmetrically arranged and planted beds this surface in front of a duplex creates a very harmonious overall impression
The way to the front door does not always have to be dead straight. Thus, the view is not only directed to the planting, the garden also gets more depth at the same time
Off-piste terrain can be compensated by a paved path with staggered steps as well as a year-round attractive planting
Above all, small front gardens act, one uses too many different plants, quickly overloaded. Therefore reduce the selection in as few ways as possible






Sometimes the simplest solution is the best: If the front yard is limited to a few square meters, you can completely pave the surface. Choose a noble material, for example, small paving stone, which can be laid to beautiful patterns. So that the area is not too boring, you can set up large planters on the surface, which are rearranged every season. Alternatively, you simply save mini-beds in the paved area and plant them with sturdy shrubs and small trees.
Video Board: Latest Artificial Grass Garden Designs ideas | Grass Garden Landscaping.