The Content Of The Article:
Fuchsia is clearly one of the most popular plants on the balcony and terrace. Since its discovery some 300 years ago, the flower wonders have enchanted flower lovers all over the world. From year to year there are more, because one thing is certain: Fuchsias never go out of style. Many varieties provide variety: with simple, half-filled and filled one-colored or two-colored flowers and even with colorful foliage, there is something for every taste. Two-colored varieties such as the red and white 'Ballerina', 'Mrs. Lovell Swisher 'or the red-purple-blue flowering' Royal Velvet '. Fuchsias with deep purple flowers such as 'Genii', 'Tom Thumb' or the flowering 'Purple Splendor' are also very popular among fuchsia lovers.
Cutting fuchsia cuttings
Given their diversity, it is no wonder that fuchsias are a passion for collecting. There is even a club, the "German Fuchsia Society eV", which is dedicated to the culture and breeding of exotic flowering shrubs. If you are also caught by group fever, you should regularly provide for your fuchsia treasures for offspring - the plants are very easy to multiply by cuttings. So you always have young plants in stock, you can exchange with other fuchsia enthusiasts privately or at plant fairs and so peu à peu expand your fuchsia collection. On the basis of the following pictures we show you in detail, how to propagate fuchsias by cuttings.
First, several shoot tips are cut off (left) and the lower pairs of sheets removed (right)
Take as propagating material the still soft or slightly lignified new shoots of the mother plant. You can, for example, cut off the shoot tips below the third pair of leaves with a sharp secateurs or a cutting knife. Gently pick the lower two sheets.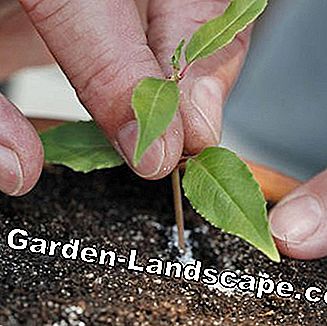 Insert the cuttings deep into the provided pots (left) and pour thoroughly (right)
The ends of the fresh cuttings are dipped in mineral rooting powder (eg. "Neudofix") and inserted into pots with potting soil in twos or threes. Pour the pots thoroughly to keep the cuttings firmly in place.
Finally, the cuttings are covered with a glass
So that the cuttings grow well, the pot is covered with a transparent hood or a transparent foil bag and placed in a bright, warm place. Pour as needed and air the plants occasionally after two weeks. Four to five weeks later, when the cuttings have grown, you can put them into pots of normal potting soil.
Video Board: Pinching out and taking fuchsia cuttings.