The Content Of The Article:
Garden design with gravel and grit is a trend - and being rich in stone has been gaining a whole new meaning for some time now. When strolling through new development areas, but also through older residential areas fall more and more gardens and front gardens into the eye, where large gravel and gravel surfaces dominate and only a few plants provide a green opposite pole. Its use is just as varied as the color and shape of the popular floor covering: paths, stairs, seats, free areas around the house or the pond - gravel and grit are used everywhere else where paved areas are laid. In addition, you can really realize every garden style: no matter if modern, classic, romantic or rural. This is certainly - in addition to the desire for a low-maintenance design - one of the reasons why the small stones are currently so popular with many hobby gardeners.
Advantages of landscaping with gravel and grit
In a gravel garden, larger areas in particular are more open, natural and, in the truest sense of the word, not as paved as would be the case with closed paved areas. Curved lines can also be easily realized with gravel and grit in the garden. The area can be planted specifically and does not act as a foreign body. In addition, later transformations are less labor intensive and last but not least, the cost of an argument for the design of the so-called riprap. This is actually the correct name, because the expert distinguishes between gravel, grit, gravel or crushed sand, depending on the shape and size.
Gravel in the front yard does not always have to look drab: Here, the pebble bed was planted with tulips, iris (Iris barbata nana), Japanese maple (Acer palmatum) and forget-me-nots
Gravel or grit?
Classic gravel is washed, round and has no corners. That makes him the ideal eye-catcher at the house or in the bed. Gravel is broken and has sharp edges. On trails the stones do not slip off so easily and make walking easier. If the grain size of fractured material exceeds 32 millimeters, it is called gravel; Breaking sand has a grain size of less than 5 millimeters. The assortment of slate quarry, lava stones or shell flooring is completed.
Shaping the garden with stones
Different colors - due to the type of rock and the origin of the material - achieve different optical effects. Light coverings match a modern and classic garden design, cream and brownish stones look natural and reddish tones are used in the Mediterranean garden. Combinations with paving stones, large boulders and wood are also possible; they provide for refined eye-catching.
Formal language consistently implemented: Rectangular natural stone slabs and cuboid wooden benches liven up the gray gravel surface between hedges and tall grasses
To modern houses, quiet, graphic designs of gravel and grit fit very well. In such an environment, a single, painterly-growing plant will stand out beautifully. Alternatively, several elements, such as shaped cutting spheres, can be arranged in rows, square or in small groups. However, such plants appear a bit lost when they stand alone and were distributed irregularly.
For older buildings gravel strengthens the natural charm
Even older buildings are suitable as backdrops for gardens with gravel and grit - if the color of the stones fits the façade. The older the building, the more important is the natural look of the design in order to look harmonious. This can be achieved by applying various stone sizes ranging from fine filler to large boulders. On the other hand, you should put on plants with loose growth habit such as tall ornamental grasses, bushy shrubs and low upholstery when planting. Again, it is better to plant in groups and not spread out individually over the area.
Avoid strong contrasts
Whether round or square stones fit better in the garden, depends strongly on the environment. Gravel, with its mixed shades and bows, can look very lively in spite of large areas. Gravel and gravel, on the other hand, are available in a wider range of colors. Mix the two species, but better not. Even strong color contrasts and wild patterns can quickly be perceived as "too much of a good thing". It is best to take nature as a model and imitate living screes and riverside. This is possible with stones of different grain sizes, bizarre branches or roots as well as plants typical of the location.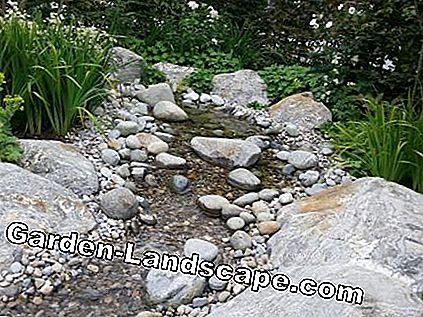 With water, a rock garden is even more exciting: Small streams can be beautifully designed with pebbles in different sizes
Less is sometimes more
If, after the creation of a garden area, there simply does not want to be any visual harmony, it is often because too many materials and styles are mixed or the surroundings do not match. In short, you should consider the following points when landscaping with gravel and grit:
Choose a style and stay true to the choice of stones and plants. With a combination of modern, Mediterranean and Asian elements, the styles steal each other's show.
Round and edgy, small and large, light and dark: Do not be tempted by the variety of stones to try everything. Choose either gravel or gravel and choose only matching boulders to do so.
Very important is the backdrop: bare walls are emphasized by sober stone surfaces. Large ornamental grasses take away their rigor.
Video Board: Gravel-Lok - Garden Path Installation.