The Content Of The Article:
A property offers four-legged friends plenty of space, spout and play opportunities. However, to ensure that the dog can move safely, some important measures must be taken.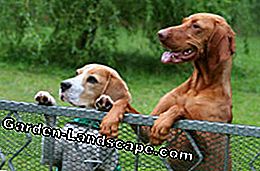 If you decide for a dog as a family member, you should of course be able to offer a little exercise. For dogs there is nothing better than being able to romp around in the garden all day long. To make sure that they can play outdoors unattended, it is of course the dog garden safe to make. The most important thing is that the four-legged friends can not escape and that you do without poison plants of all kinds in your garden.

If you follow all the tips and advice, nothing stands in the way of the great garden happiness for dogs and humans.
Fencing garden dog safe
Spout is great, but for small and larger outliers must be an escape-proof fence. They also protect passers-by and foreign children - even the most well-behaved dog is sometimes prone to aggression, especially when irritated. Choose the fence to match the house and garden design. Wood or wire mesh offers many possibilities for an individual fence.
He should be high enough that the dog can not jump over it - not even with start! With a fence height of 150 to 200 centimeters you are on the safe side. The distance between the individual fence slats or the gaps in the chain link fence must leave no room for slipping through. Also keep in mind that some dogs are World Buddies, so the fence should reach down to earth.
If a wire fence seems too profane, you can beautify it with shrubs or vines. The chain link fence is also always correct, if you already have or plan a hedge fence. The hedge without a fence looks good, but lures dogs to squeeze through the hedge. With a fence in dark green you have a barely visible, but effective addition to the hedge.
Safe pond, safe pool
If you have a pond or pool, check if your dog is coming out of the water alone. In the best case, he can swim and find a way for the quick exit.
Non-toxic, harmless plants
Toxic plants have no business in a garden where dogs live. To be on the safe side, replace the plants or attach an additional fence. Dogs usually do not eat leaves and berries, but it is reassuring to eliminate such hazards.
What is lying around in the garden...
Plant protection products, fertilizers, slug pellets, garden tools, paint and paint cans, tools, power cables and the like belong in a safe place. Well suited is a lockable garden shed or a box made of plastic / wood with a well-closing lid. In it you can keep all things that are potentially harmful. The trash can is also secured.
Garden time is barbecue time - but not for dogs!
Please do not feed spicy grilled meats or sausages from the grill to dogs! Stay firm, even when the begging look is heart-shattering. Dogs do not like the barbecue. When it comes to meat with bones, the danger is also great. If you prefer to get the favorite treats of your four-legged friend, then it's easier to do without!
Video Board: 16 Useful Clues To Understand Your Dog Better.