The Content Of The Article: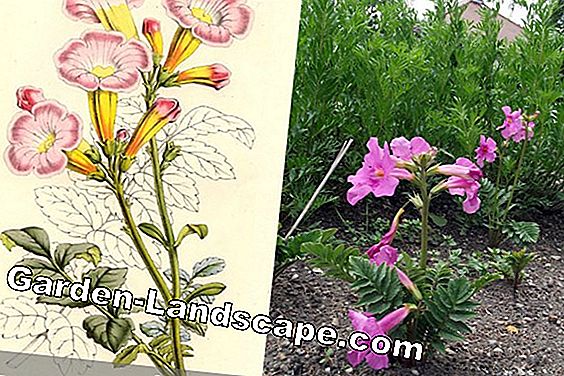 Even if the flowering shrub is hardy down to -20° C and thus can easily hibernate in the soil, many a garden specialist recommends planting it in regions with long periods of frost. Because the perennial tolerates neither deep frost nor long periods of frost. In this case, the Garden Gloxinia ideally hibernates:

first a few days in a frost-free place to dry
before entering a dark room
at temperatures around 5° C
is stored in a wooden box or similar
When hibernating outdoors, the Gartengloxinie should already in the fall of a cover of leaves, peat or compost and possibly obtained from brushwood. Because winter wetness causes root rot!

Propagation of Incarvillea Delavayi
The Garden Gloxinia can be propagated in different ways by root splitting or sowing in the fall. When tubers are split, special care must be taken so that the root is not injured and pests and fungi can penetrate through the existing wounds.
The tubers of the Garden Gloxinia are planted after the frost. The procedure is as follows:

Dig out 5 cm deep plant hole
at intervals of 20 to 30 cm
in which the tuber finds enough space
cover with earth
and sprinkle evenly
Planting in small groups with 3 to 10 tubers possible
for pot planting, the pot is filled up to 60 percent with potting soil and 40 percent clay granules
Tip: If the tuber is brought into a planting basket in the ground can be prevented by pests. For sowing, the ripe fruit stands are first harvested in autumn.

Germination occurs at 22 to 25° C from February to March
in a culture vessel covered with foil
Young plants after germination
cultivate at temperatures of 10 to 15° C
put in a light and warm place so they can drive out faster
Tip: Incarvillea Delavayi against molesThe beautiful Gartengloxinie has a special feature. Because of its fragrance, it keeps unpopular earth dwellers like voles and moles away from the plant.

Worth knowing about Gartengloxinie in brief
Incarvillea delavayi, the garden or outdoor gourd, is native to China and scores with trumpet-like flowers in pink and vigorous growth. Meanwhile, there are also specimens with white flowers. The plants are about 60 cm high. They bloom from May to July. Since the leaves are very similar to the fronds of ferns, the Incarvillea delavayi are also often offered as a "flowering fern". Especially at garden fairs, they are often on offer.
Location

Incarvillea delavayi likes a sunny to half shady site.
Who drives the plants in early spring, should warm them. The warmer, the faster they grow.
plant substrate
The ideal plant substrate for the Garden Gloxinia is light, well drained and humus.
Too dry or wet soil is not recommended.
A lime-free plant substrate is favorable.
grow
It is best to use the tubers of the outdoor gourd in a plant basket, because they are delicious and are eaten like.
The tuber should be covered with 4, better 5 cm earth.
The planting hole must be so deep that the tuber has enough space and is not pressed.
As planting distance 20 to 30 cm are recommended.
Pouring and fertilizing
Do not let it dry out, but do not pour too much.
Waterlogging is not tolerated.
Keep dry in winter.
Fertilize in spring, every two to three weeks with flowering plant fertilizer.
Otherwise, a long-term fertilizer can be used.
overwinter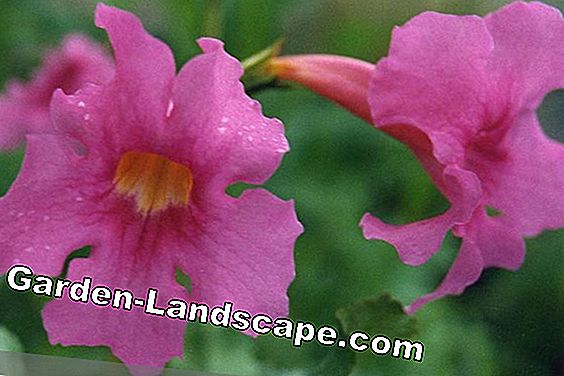 When hibernating the gardening experts argue. Some overwinter the tubers outdoors, the others take them out of the ground and store them like dahlia tubers.
In mild conditions, hibernation can occur in nature. But important is a cover, a proper winter protection.
Under no circumstances should the soil be too humid in winter.
In regions with long periods of deep frost, you are on the safe side, you take the tubers from the ground. They do not tolerate deep frost.
In March they can then be driven forward again. They are planted and set up bright and warm.
To cut
Only pruning blown inflorescences up to the upper stem leaves.
multiply
Incarvillea delavayi are increased by sowing seeds, best in the fall.
But you can also share the tubers. That is risky. The thick roots are sensitive.
Through the wounds, fungi and other pests can invade and destroy the root.
Diseases and pests
The tubers are delicious and attract pest pests.
Too much moisture, especially in winter, causes the roots to rot.
Video Board: Incarvillea - garden plants.