The Content Of The Article:
Anyone who does not really know how to divide the areas for seating, beds and lawns in the gardens can use geometrical forms such as rectangles, squares, triangles or circles as a means of design. Especially for small plots, they offer themselves, as the clear forms bring peace to the garden. The square with its four equal sides is particularly harmonious.
Who wants to make it easy, divided his property like a classic farm garden: A wayside divides the garden into four equal squares. With low bush hedges you can border the beds. Emphasize the center of the plant, for example through a square stone column with planter. More tension arises when you break away from the classic shape and divide the beds, lawn and patio into different sized squares that overlap.
Design with corners and edges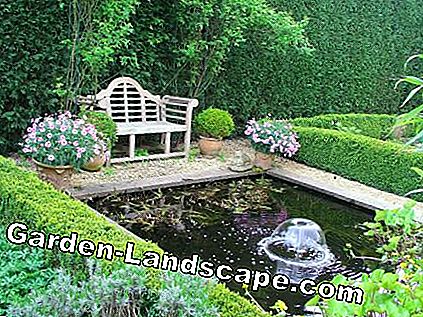 Square basins are a beautiful design element in formal gardens
Even a square water basin fits well into a garden with clean lines. A wooden terrace, from which you can observe the hustle and bustle in and around the water, is a beautiful addition and blends in well with its linear layout in the design concept. If you create a large pool, you can install as a special clou rectangular stepping stones that lead from shore to shore across the water surface.
If you want to bring more whistle into the garden by changing the height, you can create part of the planting areas as raised beds, for example made of timeless clinker or built from a concrete block system in natural stone look. Anyone who loves modern furniture uses wire ball baskets - so-called gabions, which are offered for self-filling in the building materials trade.
Underline the play of shapes by using cube-shaped accessories as garden ornaments, such as planters and water features. The pavement of your seat can also be laid in square patterns. In addition, evergreen woody plants that are cut in the form of a cube, as an eye-catcher. In addition to the all-round boxwood, yew is especially suitable for this. It works especially well if you place differently sized plant cubes next to each other.
A garden of squares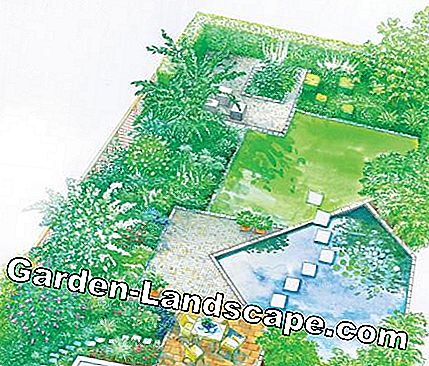 Garden design with square basic pattern
It is not particularly difficult to create a varied garden from differently sized square bases. The trick is not to line up the areas for the terrace, the pool and the lawn. Instead, they should overlap as in our 15 by 23 meter design proposal.
The back gravel area is interrupted by a small, also square Staudenbeet. Three stone cubes add another accent. In the adjacent bed, four differently sized book cubes pick up the shape again. Shrubs and perennials form a flourishing frame. A small bamboo grove on the terrace provides privacy and, at the same time, forms a nice contrast to the austere shapes with its loose growth habit.
Video Board: Creative Small square garden design ideas.