The Content Of The Article:
A fragrance for every mood: When the first blossoms of trees, shrubs and flowers open in the spring, many reveal, besides their external beauty, another treasure - their incomparable scent. Honey scents, spicy, resinous, floral or fruity scents. They directly affect our moods. Joy, well-being, relaxation and bring back beautiful memories.
Submit scented corners
You can take advantage of this in the design of your garden specifically by setting up small fragrance corners. Such garden areas should be protected, so that the fragrances can spread well and not be blown. You can, for example, surround frequently used paths with stimulating, invigorating aromatic plants.
Fruity scents
These include plants with fruity scents such as Auricle (Primula auricula), Evening Primrose (Oenothera), Verbena (Verbena), Grass Iris (Iris graminea), Freesia (Freesia) and Diptam (Dictamnus). A particularly aromatic fragrance sprays witch hazel (witch hazel). If it is planted close to the entrance to the house, you can already enjoy its intense scent in the middle of winter.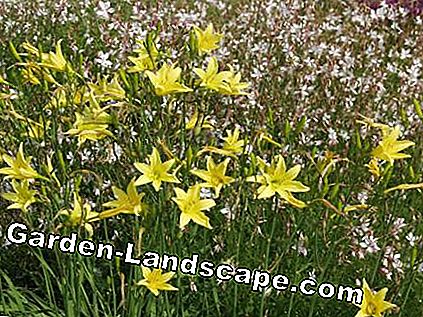 The flowers of the lemur daylily (Hemerocallis citrina) do not only captivate the olfactory nerves with their strong fragrance, they are also a delicacy in lettuce
Flowery scents
With aromatic and floral scents you can create especially romantic corners in the garden or on the balcony and terrace, which invite you to relax and long-winded dreams. Roses, Levkoje (Matthiola), carnation (Dianthus), scented vetch (Lathyrus), hyacinth (Hyacinthus) and also vanilla flower (Heliotropium) are suitable. Violets (Viola) and snowflakes (Leucojum) beguile our noses in springtime with their incomparably flowery scent.
honey scents
Honey scents such as summer lilac (Buddleja), meadowsweet (Filipendula), scented snowdrops (Galanthus), winterling (Eranthis), daylily (Hemerocallis), looper (Iberis), Jelängerjelieber (Lonicera) or sunflower (Helianthus) are sweet, but very discreet and pleasant for the nose.
Oriental scents are very intense and quickly overstretch our olfactory nerves. Because of this, use peasant jasmine (Philadelphus) or madonna lilies (Lilium) sparingly. Otherwise you will soon have the "nose full". Spicy scents have a refreshing, stimulating effect. These include culinary herbs such as sage (Salvia), basil (Ocimum), mint (Mentha) and chamomile (Matricaria), as well as catnip (Nepeta).
Video Board: Fragrance Garden Chandigarh | Garden OF Fragrance Chandigarh Sector 36.