The Content Of The Article:
The route is the goal
Garden paths serve primarily the connection of two points. In addition to this practical aspect, however, their creative effect should not be underestimated: they divide the garden into various areas and connect the house, terrace, lawns and beds. With them you can reach even more remote garden corners dry feet. Hardly any other design element complements the effect of plants as perfectly as the footpaths between the beds. Therefore, they should be involved very early in the planning.
Plan garden paths
A clear and well thought-out way is one of the most important features of a successful garden planning. For a functioning pathway concept it must therefore be clarified beforehand which garden area will be used and how. Functional connections, for example, from the front door to the garage or from the kitchen to the herb bed should lead as directly as possible to the destination. This results in a straight or only slightly curved course, which you can loosen up with plants that grow excessively over the edge, such as Cranesbill or Funkia, or emphasize them with strictly cut edging hedges. If your garden is big enough, it is a good idea to create winding paths that invite you to stroll. Big curves look more elegant than tight bends. In addition, they should orient themselves in their course to design elements such as a bed, a pond or a tree. A garden path that meanders through numerous windings through a flat lawn, on the other hand, quickly has no concept.
Generously curved garden paths, which lead into the hidden, make your garden for visitors really exciting
The choice of the way material
For the optical effect of a garden path, especially the road-laying plays a crucial role - it should in any case harmonize with the material of the building. However, you should not neglect function and durability. For less frequently used paths, loose materials such as bark mulch, gravel, grit or sand are suitable - the latter are also referred to as water-bound ceilings, depending on the design. They are quite cheap and pleasant to commit. Disadvantage: During heavy rains it can wash out and the shoes do not stay clean when wet.
The main paths in the garden should be paved and paved, so you can use them in any weather clean foot. If possible, use the same material as for the entrance to the yard and the terrace, because this looks more harmonious than a colorful collection of different paving materials.
natural stone
Due to its individual appearance and color stability, natural stone is the first choice for many hobby gardeners. It should be noted, however, that the surfaces of sedimentary rocks such as sandstone are quite sensitive to soiling. In addition, natural stones rank at the upper end of the price scale. Stay away from supposedly low-priced offers of DIY stores, as they are usually from Asia, where the natural stones are often mined by minors under inhumane conditions. In addition, depending on the type of rock, materials from overseas are only of limited suitability for the Central European climate. Orient yourself in the selected garden style when choosing the type of rock: Mediterranean sand emits light sandstone, limestone and travertine. In modern landscaped gardens, on the other hand, darker granite, basalt or slate will show better. For the country style, the prevailing natural stone in your environment usually fits best.
concrete block
If you do not like natural stone or are too expensive, you should take a look at the offer of concrete block manufacturers. In recent years, there has been an enormous range expansion and also qualitative progress, for example in terms of color stability. Betonstein also offers the widest selection of colors, shapes and structures. The classic rectangular plaster, which is often installed in public facilities for cost reasons, is not the first choice in the home garden. More aesthetically pleasing solutions are needed here. Our tip: Get rid of classic square concrete block formats, because the range has much more to offer. The "Arena" model by Braun Steine, for example, convinces with organic shapes that can be laid both in a row and undirected in a wild bandage. In terms of design, it is extremely versatile in its use - it is very well suited for paths in the natural garden, but with its liveliness it also convinces as a large-surface floor fixture in modern landscaped gardens.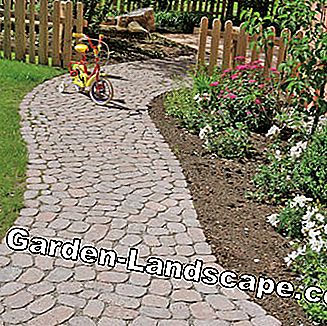 Depending on the laying pattern, the paving stones from the "Arena" family have a very different effect: on the left a garden path paved in a wild bandage, on the right a path in a row formation
The wide color palette of gray, yellow and red tones of varying intensity invites play with color gradients and combinations.Another advantage of organically formed paving stones is the high infiltration capacity for rainwater, because the rounded edges automatically result in larger joints, which are best filled with fine grit or crushed sand after installation.
Clinker and brick
Paving bricks have been popular in northern Germany for generations and are almost indispensable in rural gardens. Fired at 1,100 degrees clay, the tiles are durable and easy to clean. With their warm reds, yellows and browns they give the way a dignified and at the same time natural look. Even at lower temperatures burnt, used bricks, which are mostly from the demolition of old houses. Due to the low supply prices are however considerable and usually higher than the new pavers. However, historic bricks with their chipped edges and natural patina also exude a special charm that can hardly be imitated by artificial aging processes.
Paving clinker always have a somewhat rustic effect - especially the hard-burned specimens with dark red color gradient
Other road trains
Wood surfaces are very modern, but are more suitable for large-scale objects such as wooden terraces. In shady areas they are problematic as they can become dangerously slippery in rain and snow. Use only weather-resistant materials such as oak, robinia or tropical wood from sustainable forestry.
Loose road materials such as gravel, chippings or bark mulch are particularly suitable for less frequently used by-roads, as they make wheelbarrows and lawnmowers more difficult to move. For this they blend harmoniously into the green of the garden. If you love smooth transitions, you do not need a side frame and at the same time use the track as a mulch for the adjacent bed. If you want to design your garden path, however, you should border the roadsides with cobblestones or a metal rail. A plastic fleece under the gravel layer ensures that no weeds can grow through from below.
Especially for byways, which are not regularly driven by wheelbarrow or lawnmower, offers gravel as a cheap natural way material. Carefully laid out gravel paths are absolutely easy to care for. Distances to the bed prevent the loose material from mixing with the soil
Paths made of different materials
It is also quite possible to combine various road-railing - for example concrete slabs with natural stone paving, clinker with natural stone slabs or slab coverings with chippings. In such cases, however, from a design point of view, a good knack is required, because different materials always make the garden path always a little restless. In times of upcycling and urban gardening, however, such garden paths have their charm, if in fact residual quantities of different paving stones were used up and simply combined with each other. However, the optical effect is beneficial if you move with both types of material in a color world - so combine gray concrete block with light or dark gray natural stone and red pavers with reddish concrete or natural stones if possible.
Polygonal slabs made of natural stone, combined with mosaic patches, create a vivid picture here. The combination is good for wider garden paths, because the narrower the path, the more restless the effect
Width of garden paths
In practice, some guideline values ​​for the width of paths have emerged. They result from the function and the number of people moving next to each other. The path to the front door should accommodate two people next to each other. Plan 60 centimeters per person, so that makes a width of at least 120 centimeters. To be able to walk comfortably and also with pockets next to each other, an extra 30 centimeters is useful. In a multi-family house, more often three people move along the way, resulting in a width of three times 60 centimeters, or 180 centimeters. For branches that lead to compost, for example, plan for 40 to 80 centimeters. If you want to drive the path with the wheelbarrow, it must be fastened throughout. For rarely used connections a width of 40 centimeters is sufficient. If step plates are used, the distance from plate center to plate center should be 60 to 65 centimeters. If you pass paths along walls, hedges or shrubs, move them as far as 30 centimeters from them.
Video Board: 30 Design Ideas for Beautiful Garden Paths - DIY.