The Content Of The Article:
Four steps to success.
1. Inventory
Whether you want to take over an old garden property, design a new building plot or simply change your own garden - first get a picture of the existing property. Determine which area is available to you, where the boundaries of the property run, which plantation already exists or where the sun spoils the garden the longest.
2. create wish list
The walk through the existing property not only provides new ideas, it also shows what is actually to be realized. It quickly becomes clear that you have to set priorities. Write down anything that is important to you, e.g. romantic arbor, kitchen garden, children's playground, pond, compost place etc.
3. Detailed planning
In the next step, consider how the individual desired areas should be designed. The division into garden areas, the connection through paths and the choice of materials are in the foreground here. At the same time, the future style of the garden is crystallized.
4. Plant choice
Only in the last step of garden planning, when all areas are set, do you deal with the plant choice. Think about which plants thrive best and how beds and borders should be put together. Always compare the location requirements of the plants with the conditions of your garden. If possible, include in your planning what is available, such as a hedge or an old tree.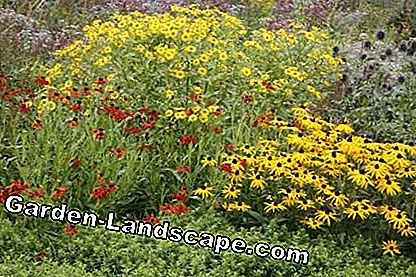 A perennial bed like this requires good planning.
Planning tips for small gardens
A small garden looks bigger when you divide it into different rooms. That makes the property more exciting.
Create niches with the help of baffled screens or plant narrow hedges.
Also plan passageways and archways into the property and give it a curved course. If possible, select uniform material.
Even a small area of ​​water, in which reflects the environment, deceives more space.
If blue is your favorite color, you should not save it. A bed of predominantly blue-flowering plants provides long-distance effect.
Video Board: Jim Rohn: Making A Plan For Yourself ( Jim Rohn Motivation ).