The Content Of The Article:
Everyone knows that a large pond in the midst of a well-tended garden is a natural attraction for anyone who has ever been able to observe a small pond landscape in Natura. Relaxing in the garden in the summer and looking at the self-created garden pond - a nice idea, do not you think? Many garden owners make a lot of effort in the design of their pond. Small wooden walkways that lead across the garden pond are just as popular as a pretty plant, which makes every garden pond something special.
Even the man or the woman - create a garden pond & pond
If you would like to have a water oasis in the middle of the property, you need tips on how to create a garden pond. The fact that the garden pond construction project is quite versatile is already clear from the many possible materials and accessories that can be found in stores. But the question of whether the future garden pond is to be designed by means of foil or whether even a concrete pond is preferable, encounters shared views. There are also plastic molded prefabricated ponds that are commercially available. However, if you want to build a very large pond or have quite individual ideas in terms of shape, is often better advised to create a pond itself. In addition to the classic garden pond swimming ponds are often offered. Various companies have completely devoted themselves to the creation of (garden) ponds in this context. The fact that with a little skill and the right materials you can master even the adventure garden pond construction and also can save a lot, show many experiences of "hobby pond farmers"
What to Remember - Garden pond construction for beginners
If you want to create a garden pond, you will find out in our category "Garden pond & pond creation - garden pond construction". Maybe in the coming season you will be able to enjoy a beautiful pond landscape that fits perfectly into your property. To inform yourself in advance is always advisable. Tips and trick around the topic (garden) pond construction as well as concrete instructions can be obtained at Garden-Landscape.com, your home and garden portal.
Building, laying and planting creek of concrete yourself
Running water gives life to a garden. However, only a few plots of land have a natural stream. If you want to create a flowing water, the creation of an artificial stream is an alternative.
Creating and shaping pond edge: 8 tips to imitate
The design of the edge of the pond has a considerable influence on the effect of the garden pond: a pond with flowers at the edge of the pond becomes a dreamy oasis of peace, the pond with Schilfrand brings pure nature into the garden, the formal pond with a straight edge emphasizes modern architecture.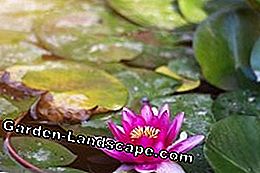 Instructions: Garden pond plant + 8 beautiful plants for the pond
A garden pond is a very special gem in every garden. However, to be effective, it must be planted. How to do that and which plant grows best on or in a pond is here.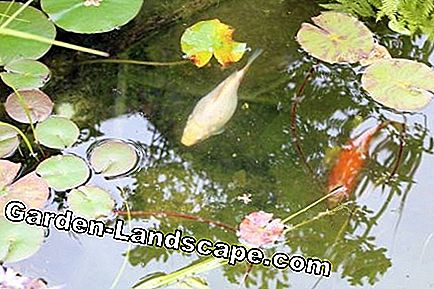 Garden pond: required size + depth for fish - goldfish
A garden pond gives the own green a lively component - especially if goldfish are kept in it. But how big and deep does it have to be, so that the fish are safe in it and can easily get through the winter? Answers are here.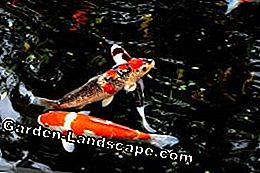 Calculate pond volume: Determine pond size for fish
The creation of a garden pond requires careful planning as well as extensive calculations - especially when fish and aquatic plants are to colonize this oasis of peace. To make animals and plants feel good, they need plenty of space. Therefore, you should thoroughly calculate the pond volume before stocking.
Create garden pond - instructions, costs
A garden pond is the dream of many garden owners. Due to the different possibilities that one has today, the right pond can be found for almost every garden, whether foil or pool pond.
Build water reservoirs themselves, wall and create
A pool of water in your own garden can be a wonderful retreat to which you can come again and again to recover from the stresses of everyday life and to unwind.
Build a bridge on the pond made of wood
Especially with larger ponds in the garden is often also a wooden bridge with planned. Because of this, the garden pond can be beautified once again and in any case also gains in charm.
Pool in the garden - the alternative to the pond?
Small or larger water holes in the garden are not only very common to find, but can really enhance a garden and be an absolute eye-catcher.
Pool with style - stainless steel, concrete or plastic?
In addition to a pond, a fountain can be found in many German gardens, as this combination represents a very special design element in a garden.
Teichrandbepflanzung - ideas and plants
The matching Teichrandbepflanzung provides the appearance of the pond and the garden, the right shore plants reduce the workload in terms of pond and water care. Pond planting should be taken into account during planning and construction.
Lay shore mats for the pond - garden pond
Shore mats serve as a beautification of the pond edge, on the other hand, plants on her easier settle. Roots can just keep better.
Ideas for shore design at the garden pond, pond
Creating a pond is one thing. But that's not all. The shore design plays a crucial role in the overall impact of the pond and its surroundings.
Watercourse in the garden - tips and tricks for mooring
The creek in your own garden is the alternative par excellence when it comes to cool water in the garden, but you do not want to create a garden or swimming pond.
Pond design - construction, plants and fish
Already before the beginning of pond construction, the rough direction of the pond design should be included in the planning. Finally, the pond shape, the bank height or even a well after the later design.
Create a decorative pond - create a decorative pond
The ornamental pond is the real garden pond for our understanding. An essential feature of this pond is the variety, because it is designed so that it can frolic in both fish and other Pond guests such as frogs, dragonflies or water runners.
Creating a pond - costs for a garden pond
There are many reasons for planting a garden pond. Water exerts a magical charm.
Formal pond - made of foil or concrete?
To many modern houses and straightforward Grundanstücksanlagen fits very well a so-called "formal pond", which has sharp demarcations and geometric contours.
Laminate GFK pond in 21 steps
GRP ponds are very durable, they are probably the most stable ponds ever. Condition is that the underground stops. Basically, GRP ponds can be designed in any shape. So the pond can be designed very close to nature.
Insert garden pond, fill garden pond
A beautiful garden is completely completed by a garden pond. Unfathomable water, gently rolling water plants, cheerfully swimming around fish.
Video Board: How to build a natural looking garden fish pond with waterfall.