The Content Of The Article:
Walls as added value for the garden
The reason to think about a wall in your own garden is often a height difference on the site. However, in terms of design, its construction is also worthwhile on even surfaces - for example as a seat or bed border. Walls are also suitable as a classic privacy screen or simply to divide the garden into different rooms. The only question is, which kind of wall suits your ideas and how is the proposed plan successfully implemented? Here we present the most common wall types.
Garden walls made of large and small boulders look very natural and fit well in northern German gardens. Their sometimes very large wall joints can be excellently planted
Drywall
The dry stone made of broken stone walls are also in low construction - for example, as bedding - a great eye-catcher. Lime and sandstone, diabase or greywacke are suitable for the construction. While limestone is very light throughout, sandstone has a reddish, yellowish or even greenish color, depending on the mining area. Diabas is uniformly dark gray, while Greywacke usually shows a mixture of different colors. Partly, natural stones for dry stone walls are also offered. They are a little edgier and thus easier to install than brittle gray stones, but also significantly more expensive. If the view of pure masonry is boring one way or the other, it will plant larger spaces and joints with rock garden perennials such as low bluebells, scented oak, upholstered phlox or blue cushions.
A stable drywall consists of three main parts: the foundation (1), the bricks (2) and the drainage (3)
Construction of a drywall
The special thing about dry stone walls is that they are piled up without mortar.
The foundation: Especially if you support a slope, it is important that dry stone walls stand securely. Therefore, the structures need a 80 centimeter deep ballast foundation (grain size 0/32). Best fill the gravel in layers and compact it with a hand rammer.
The bricks: Natural stones are very well suited with a relatively flat support side. They are usually sorted by the builders merchant. The largest and most equal "Brocken" come in the bottom row, so the stability is highest. For walls that are two stones wide or deep, it is important to repeatedly install so-called Durchbinder, which protrude through the entire wall. Important: Retaining walls on the slope should have a slope (dossing) of at least 10 to 15 percent in the slope direction. For the right strength and height of the wall, it can be helpful to consult a specialist - even if you then build yourself. The spaces between the rows of stones can be compensated with a bit of normal garden soil.
The drainage: Rainwater and jammed mountain water do not push the stones forward or escape through the joints. Backfill walls are filled with gravel or gravel. It's best to bring it in layers behind the wall. A drainage pipe on the foot diverts the seepage water away from the wall.
Beautifully set and grouted with mortar hold such natural stone walls for a small eternity
The building of the wall with mortar
Any drywall can be reinforced by adding mortar in the interstices. The construction principle is therefore almost identical. It also requires a foundation that gives the wall the necessary stability and then mortar and stone layers follow alternately. Important: Tighten a mason's string with each layer and align the stones with it so that they are flat and level. You should pay attention to precision, especially with the first stone row, because a crooked first row is difficult to compensate.
Our reader Caroline Pieper shows that a beautiful wall can also be managed on its own
After you have applied your strip foundation and it has hardened, apply a web of bitumen cardboard as a capillary barrier and use a guideline to mark the position and height of the first stone layer.
Then apply the first layer of mortar about one to two centimeters thick and put the first stone. By placing a spirit level, check whether it is "in the water", ie horizontal. If this is not the case, this can be corrected by tapping with the handle of the trowel or a rubber mallet.
Before you put the next stone, put a layer of mortar on it - on the side that joins the first stone. This creates the so-called butt joint. Drain out the swelling mortar with the trowel, so that no unsightly residues can harden.
Now weave through the first row and start the second row with a smaller one or, if you are using standard stones such as stone. Clinkers work, half stone.As a result, this series includes offset to the first and there are no unstable cross joints. The higher the wall gets, the more often you should measure with a plumb bob if it is exactly vertical.
Now continue to wall until the desired height is reached and check regularly whether the stones are still in the water or in the solder. As a top finish, you should install special cover stones or - in the case of brick walls - an edge-walled finishing layer and grout carefully. It prevents water from standing on the top of the wall or seeping into the wall.
After construction, the joints are still filled with mortar ("grouted") if required. Next, for example, scrub the new garden walls made of clinker bricks with hydrochloric acid to remove any remains of mortar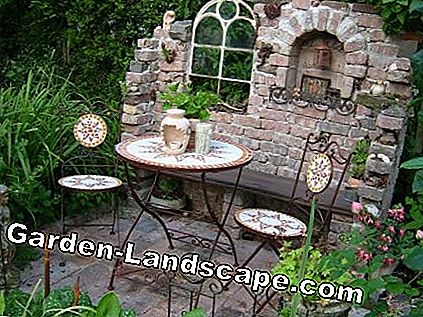 A ruin is an ideal element to create a romantic garden area
The ruin
Ruins are small dreamy retreats in your own garden. If your property does not have the remains of an old masonry, you can either help with your own creative urge or with a ruin kit from the garden retailer. The foundation is a classic concrete foundation that should be 80 centimeters deep. It becomes exciting when choosing the materials and possible decorative elements. To make your own ruin as rustic and authentic as possible, it is best to use old bricks. With a bit of luck, they can be found at demolition sites, at construction site waste collectors or via classified advertisements in the newspaper and on the internet. Once you have found your material, it's going to be masonally rooted. However, something cheated and imprecise may be worked here, so that the ruins receive their charm. Combined with natural stones, stone arched windows and cast iron elements, you can conjure up really beautiful and dreamy corners in the garden.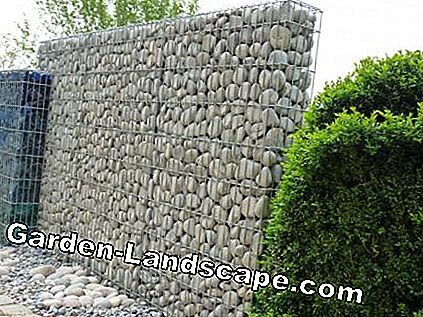 Modern and beautiful are gabions and offer many possibilities for a later decoration or planting
The gabion wall
Gabions score with a large selection of different formats and the easy construction. You can work up a sweat, but you can not go wrong. The wire baskets are built in a few steps and filling with rubble requires no technical knowledge. However, tall, free-standing specimens must be fixed using cast-in steel posts so that they do not tip over. Gabions, in contrast to dry stone walls, even if they intercept a slope, come without drainage. Finally, water that flows from the slope flows unhindered through the loose filling. A frost-proof founded, 80 centimeters deep and well-compacted ballast foundation need gabions for a secure stand yet. For higher, multi-row "retaining walls" - similar to the slope in dry stone walls - each higher installed gabion row should be placed a bit backwards. Depending on the filling material, you can make the baskets very individual: If you do not want classic stone abions, you can also fill the baskets with wood, glass bricks or brick debris.
Concrete walls are properly sealed very durable and need not be properly maintained compared to other walls
The concrete wall
Smooth, simple and modern garden walls are made of exposed concrete and create exciting contrasts with the plants growing in front of them. However, the saying "self is the man" is not appropriate here, because casting clean, smooth concrete walls in your own garden requires skilled craftsmanship, high-quality formwork panels and various steel supports and clamps, so that the formwork remains stable during filling and does not break apart. It is therefore worthwhile to rely on the expert who delivers and erects finished cast elements or pours the concrete wall on site. This type of garden wall is great for modern landscaped gardens. For example, a classic garden with a wall element made of exposed concrete can be spruced up in a targeted manner. By the way, concrete used in the smaller frame, for example as a bench, also cuts a fine figure in garden design, as it can be shaped into any shape with the appropriate formwork.
Video Board: How to Build a Garden Wall | MarshallsTV.