The Content Of The Article:
Plant Families - Overview, Features and Examples
If the hobby gardener has found a new appealing plant for him, he would certainly like to know the name, properties for toxicity, use as well as cultivation and care. But biodiversity is not always easy to find the right name right away. Often, only an appropriate reference work helps by listing plant families.
Send flowers / plants safely - Tips
Shipping flowers and plants by mail is not that easy. With some precautions, however, they will reach their destination safely and undamaged. The possibilities to send plants and flowers are as varied as the plant world itself. Let yourself be inspired by Garden-Landscape.com.
Which plants and palms are suitable for bedrooms?
Indoor plants in the bedroom should be harmful. This opinion persists. But is it really like that? Houseplants actually ensure a good room climate and can even break down pollutants in the air. We examine advantages and disadvantages of plants in the bedroom.
Leaves of flowers and plants quickly dry and squeeze
Dried leaves of flowers, trees and shrubs are the basis for a variety of craft and decoration work. Previously, the sheet was simply placed in a book and pressed for some time between the pages. Today, the pressing of leaves with modern methods is much faster.
Plants for dry, sandy and sunny locations
In every garden there is a place that lies in the blazing sun from morning to evening. Not all plants can cope with extreme conditions such as permanent sunshine and drought. One thing is important here: customization. There are a large number of perennials and plants that feel really good here.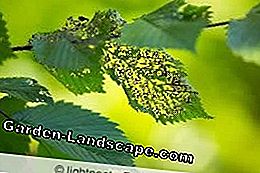 Taking care of plants on the window sill, they get yellow or brown leaves, then in most cases, not pests are to blame. Improper care makes houseplants so that they can deal with it. Garden-Landscape.com has compiled some facts that can be used to quickly identify care mistakes.
Everything about LED plant light: Building plant lighting yourself
Plants need light. If it is missing, then they suffer or go in. Occasionally, conventional daylight is simply not enough to cover the light needs of a plant. Then an LED plant lighting can help. How to build such a plant light is here.
Shadow Plants: 17 green and flowering plants for the shade
Shady garden areas are a challenge for any home gardener, where shade does not mean that it is completely dark. Partial shadows and bright shadows are also a kind of shadow. The range of suitable plants is growing steadily and offers a variety of design options.
Forest flowers: 55 blooming species in the forest sorted by color
If the local forests clothe in picturesque shades over the year, the numerous forest flowers of Germany, which inspire with their color splendor, present themselves. From purple to red over white and yellow, the German forests have a lot to offer.
Scented Plants: List of A-Z for Garden, Apartment and Balconies
Flowers, bushes, and trees not only set colorful accents in the garden or inspire by their magnificent growth, they spoil the nose with their fragrance. People have always been attracted to fragrant plants and had them near them.
Yellow and brown leaves on houseplants - Causes & Tips
Indoor plants are often only intended for a short life, as they die quickly due to incorrect care. The first signs of wrong care and related diseases are yellow and brown leaves, which initially only make the plant look ugly, but are the first warning signs of serious problems and should be reacted quickly so that the plant does not die.
Typical plants in the garden
In the gardens of our country are many different plants, from trees and shrubs, to flowering shrubs and exotic plants. What one plants, has to do with the size of the garden and the climatic and light conditions.
Plant forum on Garden-Landscape.com
Pflanzenforum auf Garden-Landscape.com Are you a hobby gardener? Then you know how many questions and fun can make a garden. The plant forum on Garden-Landscape.com offers its members the opportunity to ask questions and to learn new things about the handling of plants.
Plant determination in the Garden-Landscape.com forum
Determination of plants in Garden-Landscape.com Again and again one can experience a strange phenomenon in the garden.Home gardeners stare at a plant and desperately wonder what plant it is and how it got there. No one has planted, sown, or planted it, and yet it is there. As much as one tries, one can not find out with the best will what plant it is. In general, the question is whether the stranger is a weed, weed or a crop. This question should be answered first.
Attach plants properly: planting line helps
Gardeners, in particular, who are starting to plant them, are often surprised when they notice how often planting lines are needed in the garden. These planting lines help to secure plants.
Plants for the garden
There are a variety of plants for the garden. When choosing one should be guided by your own taste, but check whether you can provide the appropriate locations. Also, you should inform yourself about the care, some plants are very caring.
Biennial plants - list / examples and tips for care
Biennial plants need a longer growing season, until they develop flowers and fruits. Many of the plants reproduce themselves through self-sowing without further action and provide years of beautiful flowers. In addition, two-year-old plants require little care in the first year, and representatives with a two-year vegetation period often last for several years.
Annual plant list, examples and wintering tips
One-year-old plants - as a rule, they adhere to the garden, as they say, for only one year. With a bit of skill and care, hobby gardeners can also enjoy their one-year-old plants for a second season and bring them over the winter.
Plant Ideas: highly fragrant rose varieties and perennials
Just as a house without books, despite expensive carpets, precious wallpaper and pictures, is poor (Hermann Hesse), a garden without roses is like the unfinished image of an artist. The garden lacks the noble beauty and beguiling aromas of roses. Whether in the natural garden, in the cottage garden or in a well-styled garden, precious, bedding and climbing roses are the visual highlight of any garden.
Plant Determination - The Best Books, Apps and Co
In Germany there are several different thousand kinds of plants, which differ from each other only by small characteristics. To determine good books are essential, but also the Internet offers numerous possibilities to determine the different plants. If you own a smartphone, you can use different apps on the go.
Variety recommendations for bedding plants - hardy / perennial
Woody plants, annuals and hardy perennials belong to the natural plant world of our homeland. Especially the perennials belong in nature to the ecologically valuable and species-rich society of wild shrubs. Almost all naturally occurring plants, shrubs and hardy perennials have long been introduced to our gardens.
Planting tips for garden and balcony boxes
Would you like to green your outdoor area with garden and balcony boxes? Then you will learn in this post, what is important when planting such vessels and tubs and what should be considered in the further care. In addition, we present you popular plants for garden and balcony in short portrait.
Plants for dark rooms - indoor plants despite low light
With indoor plants we feel better and improve the indoor climate. However, not every location in the living room, bedroom or dining room is suitable for every plant. Often this is related to the light intensity. Squares on the windowsill are bright and let many plants thrive. But there are also plants that are satisfied with little light and get along in dark rooms.
Popular flowers for the garden in summer and winter
Flowers pave the way to the heart. They bring colors to life and fill us with joy. With the right flowers for the garden this can happen in summer as well as in winter. Learn about the most popular varieties.
Office plants - popular plants / green plants for the office
Green plants improve the atmosphere in an office considerably. They not only ensure a healthier climate, but also more comfort. Especially in winter, the humidity in offices is very low and people suffer from it. Plants, especially those with large or very many leaves, are well suited to improving this condition.
Creating and designing your own flower garden - tips
A garden is not just a growing area for fruits and vegetables. Flowers are also part of it, which on flower beds provide color and a pleasant fragrance. But the creation of your own flower garden will be well planned.
12›"
Video Board: Succulent and Cactus care + tips (why/how to re-pot plants).