The Content Of The Article:
The cranesbill is doing something. Through intensive cultivation, new varieties with ever better characteristics are being created worldwide. By crossing different species of cranesbillers breeders try to combine their advantages in a plant. With success: New large-flowered varieties bloom longer and more intensively than the well-known varieties. Some, like roses, now carry the genetic material of several species, which is why they can hardly be assigned to any particular species. As a rule, these varieties are simply referred to as geranium hybrids (crossings).
Cranesbill hybrid 'Rozanne'
This new Geranium breed is one of the most flowering ever: it shows its flowers up to five centimeters tirelessly from June to the first frost. It is a cross between Geranium wallichianum 'Buxton's Blue' and the Himalayan Cranesbill (Geranium himalayense) presented in England in 2000. In 2008, she was voted "Perennial of the Year" by the North American Perennial Society. The blue petals form a white eye in the center of the flower, which is crossed by fine, red-brown veins. The color is most intense in sunny locations, as with all blue cranesbill species. In less intense light, a slight Lilastich cheats into it.
'Rozanne' is about 30 to 40 inches high. It grows in light shade and full sun and spreads flat over the ground without overgrowing. If you want to plant a larger area, you can get by with one to two plants per square meter. The geranium hybrid 'Rozanne' is very well suited as a companion plant for rose beds and as a bed partner for lady's mantle, turk poppy, larkspur and other bedding plants. It should not be combined with delicate perennials as it can easily overgrow them. Also for the planting in the bucket is 'Rozanne' with its overhanging growth very well.
Geranium hybrid 'Rozanne'
Gray Cranesbill 'Purple Pillow'
The Gray Stork-beak (Geranium cinereum) is a small-leaved and petite, to 15 cm high perennial for rockeries and sunny Beetränder on loose soil with good water extraction. With the variety 'Purple Pillow', there is now a sensational strain that brings a new hue to the range with its large, purple flowers. It flowers very persistently from June to September and forms compact, flat posters that turn orange in autumn. When you put the plant in the bed, make sure that the neighbors are not too vigorous.
Geranium cinereum 'Purple Pillow'
Armenian Cranesbill 'Patricia'
The variety 'Patricia' is up to 70 inches high and is well suited for sunny perennial flowerbeds. Its numerous pink flowers with dark eyes appear from June to September. They develop a great luminosity and make the plant a showy appearance in the perennial flowerbed. The soil should not be too dry. On the other hand, 'Patricia' tolerates light shade, even if it does not bloom so lusciously. The variety was created by crossing the rose-cranesbill (Geranium endressii). The flowers are therefore slightly smaller and a bit lighter than that of the true Armenian Cranesbill (Geranium psilostemon). 'Patricia' blooms longer and luscious, it is also frost-harder, more compact and more stable.
Geranium psilostemum hybrid 'Patricia'
Balkan Cranesbill 'Bevans'
The qualities of the Balkan Cranesbill are well known and appreciated by hobby gardeners:
It thrives on the meager soils in sun and shade, tolerates dryness and heat without complaint and keeps the foliage even in winter. With 'Bevans' the spectrum is now extended by a beautiful pink variety. It blooms from May to July and thus longer than most of the other breeds of the Balkan Cranesbill. The 20 to 30 centimeters high 'Bevans' is like all Geranium macrorrhizum varieties disease-resistant, vigorous and has a beautiful yellow-orange autumn color.
Tip: The Balkan Cranesbill is unsurpassed for its unpretentiousness as a ground cover for difficult garden corners and suppresses the weeds very well with its dense foliage. It is best to plant small and large tuffs of different varieties to loosen larger areas. You should not plant delicate woody plants with Balkan cranesbill, as its dense root-fungus can make their life very difficult.
Geranium macrorrhizum 'Bevans'
Cranesbeak hybrids 'Nimbus'
The variety 'Nimbus' was created from a cross between Geranium collinum and Geranium clarkei 'Kashmir Purple'. With a height of 90 centimeters, it is a real giant in the geranium range and is also one of the higher plants in the perennial plant bed.It also grows in the shade under trees and needs a moderately moist, humus rich soil. The medium-sized, finely veined blue-violet flowers open from May to August. Also very decorative are the deeply slotted leaves. 'Nimbus' covers up to one square meter of surface and should therefore be put into the bed either alone or as a small group. Like many geranium varieties, it is well suited as a peony and rose companion.
Geranium hybrid 'Nimbus'
Caucasus Cranesbill 'Terre Franche'
The up to 40 centimeters high new variety 'Terre Franche' is a cross between the Caucasus Cranesbill (Geranium renardii) and the Breitkronblättrigen Cranesbill (Geranium platypetalum), whose large flowers she has inherited. As part of a Staudensichtung the variety was rated "excellent" and thus performed better than the conventional varieties of the Caucasus Cranesbill. The numerous blue-violet flowers with dark veining open from the beginning of mid-May to the end of June. 'Terre Franche' needs well-drained soils in full sun and also tolerates dryness thanks to its leathery gray-green leaves. It grows like all Caucasus cranesbills and covers the soil very well. The leaves remain green in mild winters.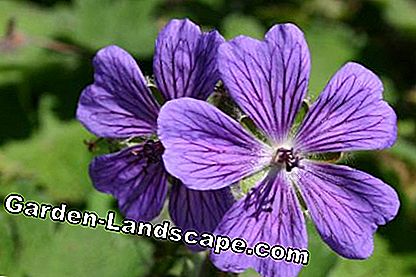 Geranium renardii hybrid 'Terre Franche'
Blood Cranesbill 'apple blossom'
Although the breeding of the well-known perennial gardener Ernst Pagels is a bit older, but still has many lovers thanks to its extraordinary flower color. It looks very filigree with its fine, strongly divided leaves and the pale pink peel blossoms, but is quite robust and undemanding. Geranium sanguineum 'apple blossom' tolerates dryness for a short time, is insensitive to diseases and is even avoided by snails. The deeply rooted perennial grows compact, is about 20 inches high and is suitable for sunny to half-shady locations in the bed or rock garden. She shows her graceful flowers from June to August. An additional highlight is the blood-red autumn color. It is the most beautiful in sunny locations on well-drained, moderately dry soils.
Geranium sanguineum 'apple blossom'
Iberian Cranesbill 'Vital'
In the Iberian Cranesbill 'Vital' (Geranium ibericum) is the name program. The relatively short flowering period from June to July, he makes up for through its robust nature and vigor. It forms such a dense network of roots that even the stubborn greed is permanently suppressed. The variety 'Vital' prefers humus rich, moderately moist soils, but also tolerates drought and grows 40 to 50 centimeters high. Their blue-violet flowers are similar to those of the splendid-looking cranesbill (Geranium x magnificum), but are slightly smaller. The plant is suitable for beds in full sun and in the light shade. In autumn she scores again with a great foliage color.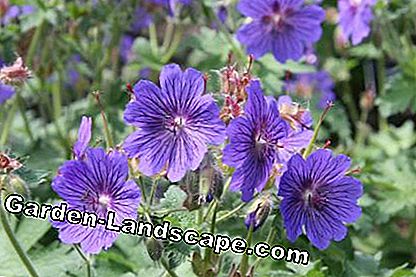 Geranium ibericum 'Vital'
Spotted Cranesbill 'Espresso'
The special feature of this new, 40 to 50 centimeters high breeding from the USA is the coffee brown foliage, which forms a nice contrast to the light pink flowers. The spotted cranesbill 'Espresso' (Geranium maculatum) flowers from May to July and grows best on not too dry, humus rich soils in the sun and partial shade. With the dark foliage, which is best colored in sunny locations, you can set beautiful accents in the perennial flowerbed. In partial shade are purple bells and funerals suitable bed partners.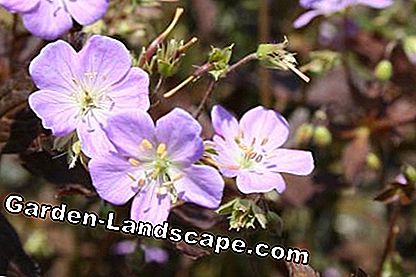 Geranium maculatum 'Espresso'
Meadow Cranesbill 'Orion'
This up to 70 centimeters high breeding form 'Orion' of the Meadow Cranesbill (Geranium pratense) bears strikingly large flowers on long stems and is undoubtedly one of the most beautiful blue varieties. Its long flowering period of June September qualifies it for sunny perennial and rose beds on moderately dry to slightly humid, humus rich soils. Since a plant can cover half a square meter, you should sprinkle the shrubs individually or in small groups in the bed. It is best to place taller perennials in the immediate vicinity so that they can support the long flowering shoots. Another trump of this new strain is the reddish autumn color.
Video Board: Cottage Farms 6-Piece Shade Loving Hardy Geranium Set on QVC.