The Content Of The Article: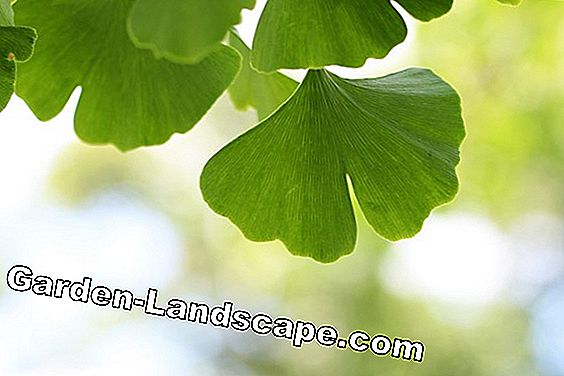 The ginkgo takes about 10 to 12 years to become about 6 meters high. From this size the tree needs no more care. Before, he is happy when he is cared for something.

maintenance

The ginkgo tree is quite frugal. It prefers a bright, sunny location, but also grows in partial shade. Young plants should be protected from the blazing sun. The tree does not need too much water, but the plant substrate should always be slightly moist. Permanently wet feet can not stand the wood. Fertilization should be made every 14 days with a universal fertilizer according to the manufacturer.
The ginkgo tree is planted frost hardy. Only young plants are sensitive and must be protected. In the case of container planting, the tree should be allowed to grow in winter as soon as stronger frosts are announced. Hibernation should be frost-free, but not above 5 ºC. Otherwise, the ginkgo starts driving out early. You can also hibernate the ginkgo tree dark, the leaves are off in winter anyway.

Site selection and care
The ginkgo is considered a very easy-care plant, which is why it is not only planted in the home garden, but also in public plants like. In addition, it saves space, as he grows straight and slim up and gets a spreading, beautiful crown only with increasing age.
The gingko likes a bright, sunny location, but it can also be planted in semi-shade. The young ginkgo is sensitive to frost, but also lays that off in old age. Nevertheless, if it is kept as a container plant, it should also be placed under a frost-free in winter, as the root system is then not as protected as in "properly" planted plants outdoors.
Also, the ginkgo does not want to be watered much like most plants. Otherwise, the root system would start to rot, but the soil should always be a little damp. It is also advisable to add a substrate that consists 2/3 of earth and 1/3 of sand, which should always be kept slightly moist. Between March and October you can fertilize the ginkgo with commercial fertilizer.
Especially, if you want to pull a ginkgo from a seed, you should pay attention to a sunny location and keep the soil always moist, so that the seed can germinate. If the small seedlings are about 15cm tall, it should be put into a pot whose soil is a bit mixed with sand. In spring you can move the ginkgo into the garden or put it on the terrace.

plants
The best time to plant a small ginkgo is spring or fall. He needs some time to get used to the new environment. More vigorous ginkgos prefer the full sun, then they drive strong branches and grow fast. A young tree, however, must be protected from the full sun. The planting hole should be about 4 to 5 times larger than the root ball. The soil should be mixed with compost. The freshly planted tree needs to be watered vigorously.
A young ginkgo tree tends to grow crooked as the new branches branch out horizontally from the main trunk. A pole as a prop protects the tree from assuming an unsightly shape.

To cut
Ginkgo trees are actually only occasionally lighted. As a rule, older trees are not cut at all. Younger trees can be shaped in spring.
If a ginkgo needs to be cut really hard, that's possible. The wounds should be spread with artificial bark such as Lac Balsam. Actually, the ginkgo does not need a special cut, as it is just growing and the shady, broad crown is usually very welcome. However, it is advisable to cut new shoots, so that the ginkgo grows straight straight up and so can use all its charm.
If you want to prune your ginkgo, you should also consider in advance that the tree will compensate for the set cut with stronger shoots. So of course you can influence the growth of the crown a bit and make the crown even more majestic, if you want it. It is not recommended, as it grows very beautiful. If a branch bothers you somewhere, remove it just as you would with another deciduous tree.
Video Board: The Ginkgo's Secrets.