The Content Of The Article: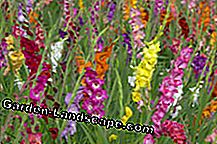 The gladiolus belongs in every garden. What you should keep in mind when planting gladioli, you can find out here.
It is best to plant gladioli in groups
Gladioli are particularly good if you plant the flowers in groups. Planting distances of 10 to 15 centimeters are ideal. The disadvantage of these flowers is that the flowering time is often very short. Two weeks are often the maximum for gladioli. Then the bed becomes unsightly. If you want the gladioli to flower in the garden longer than your neighbor's, then all you need to do is make a small and simple trick.
Plant gladioli - our tip
You will not reach the plants for a longer time, but if you plant the bulbs with a time delay, you will get the blooms over the whole summer. That means you should start putting the onions in mid-May. And then plant again at intervals of one and a half to two weeks until the end of June, beginning of July. The first gladioli bloom at the beginning of August and flowering can be delayed until the middle of September. Stick to this simple tip, so you can enjoy the beauty of gladioli all summer long.
Video Board: How to Plant Gladioli bulbs: Jeff demonstrates how to plant Dwarf Gladioli corms.