The Content Of The Article:
For things that he does not know, the human being is generally skeptical. Rightly so: it is a protective function that is given to man here. It is therefore no wonder that the Goji berry (Gochibeere), which was first known only in Asia because it comes from there, could not prevail in Europe for a long time.
But now Goji or Gochi has come over to us as well. What is behind the term? The puzzle solution: a berry that grows on the gochi bushes and comes from the plateaus of the Himalayas. It should have a very special effect on humans, namely to increase their well-being. But what about this statement. We ask: Gochibeere - trend or fallacy?
Facts about the Gochibeere
First the facts: The goji berry really exists, it is a red, sweet, small fruit. This is not only used in Asia, but now almost all over the world for cooking, but it is also included in cereal mixtures, yogurts and many other foods - not only because it tastes so sweet, but also because of their effect. It can be said that there is a certain effect of the goji berry.
Positive effects
In the natural medicine of China goji is considered a miracle cure, which should stop or slow down the aging process. So wrinkles at a young age can be prevented so also blood sugar levels and high blood pressure can be lowered and brought under control.
Ocular complaints and cancer, thanks to the berry, allegedly have no chance or become restricted. Modern science also sees this: although the slower aging is not fully recognized, the health aspects are emphasized here: more vitamin B than in any other fruit, more vitamin C than in an orange. Minerals and trace elements are just as much in the gochi as vital substances that science did not even know before.
Another point that speaks for the fruit: people from the Asian region, in which it is very widespread and often consumed, are often very old, sometimes around 100 years.
Thus, it is not a legend or a fallacy, the health benefits and the effect of goji berry are undisputed and in Germany more and more in vogue.
The gochi trend as a fad
Here is often not only the health because of the goji bought, but also because of the wellness and vital trend. Thus, one can say that it is a kind of fad, which is supposed to make wrinkles disappear in a natural way.
In this area, reality is somewhere between trend and fallacy. Because the berry, even if it is called a miracle berry may, although health reasons make the aging more comfortable and support the people with his well-being, but even this berry despite its name can not cause eternal beauty or the legendary fountain of youth.
This is not existent, at least not in everlasting form, so this point can be called a fallacy.
Conclusion: Gochi is a more and more fashionable fruit from Asia, which is good for health and builds the general state of man and positively influenced. The eternal jungle can not cause this plant and this is probably better that way...
Plant goji berries yourself - cultivation made yourself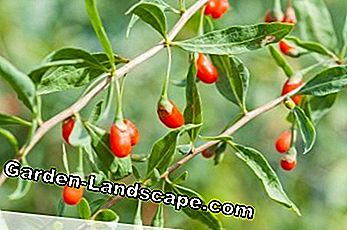 If you would like to grow and plant goji berries in your own garden, the attractive and easy-care buckthorn will not be that hard. Since the nightshade plant was probably originally native to warm Asia and southeastern Europe, it needs a lot of sun, but it can survive the local winter well, as it has become accustomed to our climate.

Goji Berry - Information on location, care and pruning
The goji berry is a relatively easy-care shrub whose fruits have become known for their health-promoting effects. Due to the extreme winter hardiness, the plant can also settle in the native latitudes and the berries are sourced from their own harvest. Under the right site conditions, the shrub provides many juicy fruits for consumption.

Goji: The miracle berry and vital berry

Who does not dream of being young forever and staying fit? Surely that may not be possible, because it is in the nature of man to age. But it should give fruits that contribute to anti-aging.

Buy Goji Juice - Ingredients

Goji is the magic word: The miracle weapon for vitality and vitality spills more and more to Europe. What about the berry and its products? We take the goji juice under the microscope.
Video Board: .