The Content Of The Article:
Riding Grass - Care, Location & Cutting
Whether in individual position, in the perennial or in the gravel garden - ornamental grasses are the new garden stars due to their versatility. They have always been planted by lovers, but now the filigree grasses are increasingly appearing in the gardens.
Zebra grass - care, cutting and wintering
In many gardens in the world, miscanthus, as the zebra grass is also called, is at home. Striped miscanthus stands out due to its yellow-green foliage, which in summer is particularly evident in its yellow-green horizontal stripes.
Lampentert grass - care in the garden and cutting
Lampentre grass is often called feathered grass. This grass originally comes from East Asia and is also native to Australia. The attractive herbaceous plant is one of the gardener's favorites. We show why that is.
Cutting bamboo - Instructions for bamboo plants
In order to be able to enjoy bamboo in the garden for a long time, some nursing skills are necessary - especially when it comes to pruning. The prospective bamboo gardener should be familiar with rejuvenation, care, ornamental and contour cutting.
Poppies, poppies - sowing and care
The poppies are often referred to as poppies. The flowers belong to the poppy family. The seeds of the poppy can be purchased or obtained from past poppies themselves. We show how this works.
Angel Hair Feather Grass - Care & Cutting
The filigree, hair-shaped angel hair feather grass recalls the words of the German garden philosopher Karl Foerster: "Grass is the hair of Mother Earth." The feathery flower spikes and hair-fine awns are the special feature of the feather grass.
Plant grasses properly - for garden and tub
Grasses are perennial, perennial and herbaceous plants that, with few exceptions, do not lignify. Members of the family of real grasses (Grami neae) almost always have round, tall and nodular stems.
Feather grass, Stipa tenuissima - care and cutting
The feather grass survives the time steadily on dry / hot rock areas and is actually a remnant of warmer periods in the history of the earth. The angel hair is not only popular with hobby gardeners, but also with florists.
Pampas grass does not bloom / does not budge new fronds - what to do?
Pampas grass is one of the eye-catching representatives of the ornamental grasses and thrilled in autumn with its large, white Blütenrispen. However, some gardeners are desperate because their pampas grass does not frond. The reasons for this usually lie in a wrong location or faulty care.
Pampas grass - care, cut, cutting
The pampas grass is very decorative due to its large fronds. This ornamental grass is available in many different varieties, which vary in height and produce white, pink or slightly silvery fronds. How do you deal with them as a gardener?
Giant miscanthus, Miscanthus x giganteus - care and cut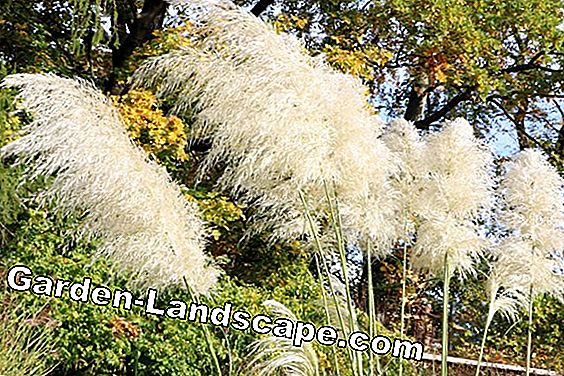 Hobby gardeners, who have cultivated evergreen ornamental grasses in their garden, on the terrace or balcony, know that this can be real highlights. But these grasses need the right cut, so they also remain handsome and beautiful. Once a year, therefore, most grasses should usually be cut back.

Cyprus grass - care and propagation

The Cyprus grass is also called water palm due to its appearance. The grass comes from the tropics and subtropics. It is considered a beautiful fast-growing plant that grows optimally indoors and outdoors.

Hasenschwanzgras - Care (Bunny Tails)

The hare tailgrass got its name from the fact that its bushy flower heads remind of bunnies. It is easy to sow by yourself and therefore a great way to bring nature closer to young children.

Flattooth grass - instructions for care and location tips

The Plattährengras belongs to the numerous ornamental grasses. Therefore, it is considered to be extremely easy to clean and is also suitable for a location in the garden. The plant needs little care for most of the year. We summarize the most important things.

Rasenschmiele, Waldschmiele - care

There are many ways to make a garden. Sometimes it is recommended to take nature as a role model. In forests and ponds grows the Rasenschmiele, which is also known as Waldschmiele.

Shiver grass - sowing, care and propagation

The shiver grass is an ornamental grass, which is often used, especially in wild gardens. As it is easy to clean and easy to grow, it is becoming increasingly popular in German gardens. Read tips on sowing and care.

Lemongrass, Cymbopogon citratus - cultivation and care

Lemongrass is a delicious spice, which is especially used in the Far Eastern cuisine. The smell is like a lemon, although the grass is not from the citrus family. Hobby gardeners know the background.

Cut ornamental grass - hardy ornamental grasses for the balcony

The large family of grasses includes a number of plants with elongated, narrow leaves, including the types of cereals and grass and meadow grasses. Which of them are hardy and suitable for the balcony?

Grass as a screen for patio and garden

Many gardening enthusiasts are looking for effective yet visually appealing privacy screens to protect their garden or terrace from outside eyes. Here also grass plants offer themselves. We introduce our favorites.

Planting plan: plants in the heather garden

A heather garden is easy to look after and looks good. He convinces with his colors and his versatility. With the right combination of flowering times, the natural hay garden can be recreated by the hobby gardener. We give tips for the right planting plan.

Blue whistlegrass, Molinia caerulea - care and cutting

The blue whistle grass belongs to the family of sweet grasses. It also has other names such as common pipe grass, Benthalm, Bentgras or small pipe grass. The name has received the grass, as from the stalks a broom is bound.

Atlas Fescue (Festuca Mairei) - Care

The Atlas fescue comes, as its name suggests, from the Atlas Mountains in North Africa, especially from Morocco. Atlas fescue grows up to 100 cm high and forms extensive clumps as it grows. What is important for the care?

Barley millet, ornamental millet, panicum - care

Ornamental grasses enjoy many increased popularity. The rodent millet belongs to these ornamental grasses and is due to their descent very easy to care for. It is used throughout the year as a splash of color in your own garden and is suitable for many different styles.

Japanese Forest Grass, Hakonechloa - care and cutting

The Japanese forest grass belongs to the grasses. It is native to Japan, where it is found in sparse forests, in moist forest fringes and also in the cliffs of the main island of Honshu. What is the best way to thrive in the garden in this country?

Holy herb - care, cutting & propagating

The sorrel is a very rare plant in our area. However, in the Mediterranean, for example in Greece, Italy, Turkey and North Africa, the plant is widespread. The subshrub belongs to the daisy family.

12›"
Video Board: Lovely and Enchanting Garden Grasses, Ornamental Grass.