The Content Of The Article: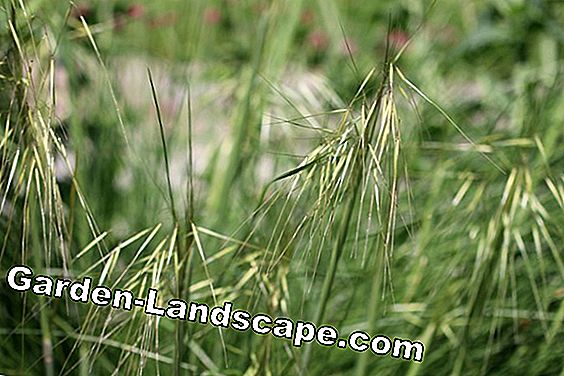 From the end of March, most grasses should be placed in nutrient-poor soil. If the grasses are forest shrubs, a mixture of soil and pre-composted foliage is the appropriate substrate, while steppe grasses thrive particularly well when the soil is made up of sand mixed with sand. When green grasses should be noted: The lighter the color of the grass, the moister and shadier the planting place should be. If grasses show gray and bluish stalks, they thrive especially well in a dry and sunny position. Frosty grasses grow most joyfully in a partially shaded spot in damp soil. Plant the grasses so that their roots are completely covered. Grasses require a planting distance to other plants, which is at least as large as their final stature height. Des means for smaller grasses about a distance of 30 to 75 cm, while for tall grasses a free space of 120 to 150 cm is recommended. Since grasses spread only slowly, the bed can initially appear bald. Anyone who therefore chooses smaller planting distances must accept an earlier division of the grasses.

Ongoing care
Most grasses are undemanding and grateful plants, which require little special care measures. Current care is therefore limited to:

Soil preparation (mulching, gravel and possibly calcium silicate)
Cut back (in spring 15 cm above the ground)
Limit growth (by dividing and, if necessary, releasing rhizome)
Multiply grasses
Perennial grasses can be propagated by division or from seeds. Annual grasses are propagated from seeds (sowing in spring or autumn). Horstbildende grasses are propagated in the spring or autumn by division. For rhizome-forming species, these are cut into pieces for this purpose. It is important to ensure that each partial rhizome has at least one shoot bud and that the fine roots are not injured as they are important for growth.

Hibernation of garden and tub grasses
Do not prune grasses in autumn
Bind blades of grass in their middle and above to form a head
For sensitive grasses, cover the soil all around with fleece or leaves
Place non-hardy grasses in buckets in a cool, bright and frost-free place
Familiarize yourself with their site needs before selecting their grasses. There is nothing to prevent the successful settlement of your grasses in the garden or in the tub.

Interesting facts about the planting of grasses shortly
Which grasses are suitable for which garden depends on the size of the plants, the foliage color and the demands on the respective location, which can be partly read off in shape and coloring of the inflorescences.

Lots ornamental grasses Feel well in open, sunny spots in the garden. They are a popular ornament for perennial beds and serve as an effective background for plants with striking flowers. One or the other large-growing species can also be planted as an eye-catcher in the middle of the lawn or on a surface with monotonous vegetation.
High grasses such as the pampas grass, the giant feather grass and the miscanthus show off best in a mixed ornamental bed. All three species are up to 300 cm high in flowering time and form lush clusters of green leaves.
Medium high grasses (from 60 to 120 cm high in flowering state), which are suitable for perennials or flowerbeds, are available in rich selection. If you prefer grasses with green foliage, you can choose between forms with upright, compact or feathery spikes and those with branched panicles whose spikelets are moved by the faintest breeze.
Low grasses, whose height does not exceed about 45 cm, are best shown when planted on Beetränder. This group includes the blue-green or blue-gray fescue species and the white-bordered honey grass.
Annual grasses you can plant in a sunny spot as a gap filler between shrubs or bushes, but they also go well with other annual ornamental plants.
Some grasses prefer damp ground or even wet ground. These include the about 60 cm high pipe grass, whose creamy white leaves form lush tufts.
The specially created shallow water zone on the edge of a garden pond or the humid shoreline of a natural body of water offers marsh grasses, Sedges, bulrushes and cattail plants are good site conditions. Most of these plants prefer sun, but also tolerate shade.
Video Board: How to Plant Flowers | Lawn & Garden Care.