The Content Of The Article:
Grave planting is for many an important part of the mourning work. A well-tended tomb not only honors the deceased, but also represents a place of rest, retreat and inner contemplation for the bereaved. But a grave plantation can also do a lot of work. How much time can you spend on it? For those who can not visit the cemetery on a weekly basis, we recommend easy-care ground cover.
Advantages of easy-care ground cover
Groundcovering refers to plants that grow more in width than in height. They form a dense and decorative carpet in no time and thus consolidate the floor. It is protected from leaching and dehydration, so even in summer, additional manual watering is often not essential. In addition, the vegetation with ground cover prevents the growth of wild herbs or weeds on the grave.
Plus: ground cover is more than just green. Depending on the plant, they show colorful fruits, flowers or beautiful autumn leaves. They are very easy to care for and allow a cost-effective permanent planting for graves. With little effort a grave planting with ground cover remains ten years or more pretty and handsome. A care walk per quarter is usually sufficient. In spring to remove blooms or any winter protection. In the summer, to trim the fast-growing groundcover and eliminate weeds, if any. In the autumn, to remove the foliage, and in winter to winterize the grave and perhaps to decorate with twigs, such as fir-spines.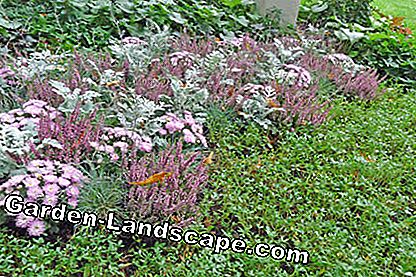 Tricolor burial plant with ground cover in green, violet and silvery white
Selection and planting of ground cover for grave planting
The grave planting should begin at the earliest six months after the funeral. What did you choose for a tombstone? The ground cover should neither obscure the inscription nor overgrow the stone. Naturally, location and growth conditions play an important role in deciding on suitable planting. Is the grave in the sun or in the shade? Is the soil wet or dry?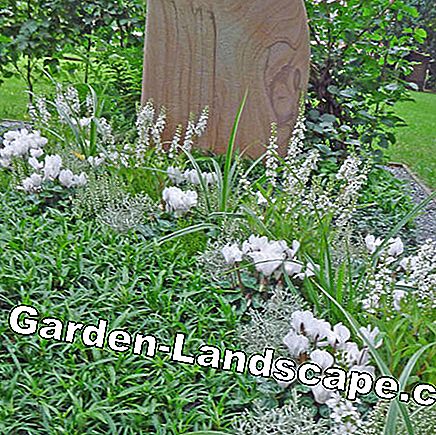 Individual grave planting does not have to be expensive. Ground cover usually requires care only four times a year
Ground cover trees are more durable and also more robust. However, they must be cut once or three times a year so as not to get out of shape. Deciduous shrubs should be cut back in autumn or spring. Evergreen perennials usually require no cut. The big advantage of the perennials: They often form pretty flowers and set colorful accents on the grave. Most groundcover grow very quickly and form a close-meshed carpet of plants. When shopping, remember that the plants must be relatively close. In order to achieve a nice result, you must therefore place the plants in large numbers. You can get information about the optimal planting distance in the nursery. All groundcover are very easy to maintain, but should be watered regularly in the first time after planting, until enough roots have formed to provide themselves with water.
Five easy-care ground cover for graves in the sun
The Günsel (Ajuga reptans) has purple flowers and is up to 15 inches high. He is very robust and prefers moist soil. The only thing you have to do is sting the shoots if necessary. We recommend 16 pieces per square meter and grave area.
Cat paws (Antennaria dioica) show fine pink flowers and silvery leaves. They reach a stature height of up to ten centimeters. A low-limp, dry soil is best for her. On a square meter come about 25 plants. Here you only have to remove the wilted leaves and flowers from time to time.
The thorn bushes (Acaena) belong to the rose family (Rosaceae). Their flowers are rather inconspicuous, but their spiny fruits have a nice, reddish-yellow color. Barbed sprigs grow up to five inches high and should be covered in winter. The soil may be dry. Here are enough eleven plants on one square meter.
The white-yellow flowers of the carpet chamomile (Anthemis nobilis) emit a sweet scent. It can grow up to 20 centimeters high. Ten pieces, calculated on one square meter, are sufficient for the planting. In spring, the shoots may need to be cut back. The carpet camomile makes no special demands on the ground.
The fragrant thyme (thymus), on the other hand, thrives best in dry, crumbly soil.It smells light and with its filigree leaves and reddish-violet flowers a pretty sight. Plan ten pieces per square meter. He needs a light winter cover and a cut after the flowering time.
Start photo gallery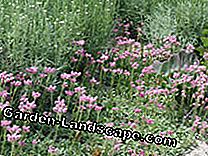 5
Show all
Five easy-care ground cover for graves in the sun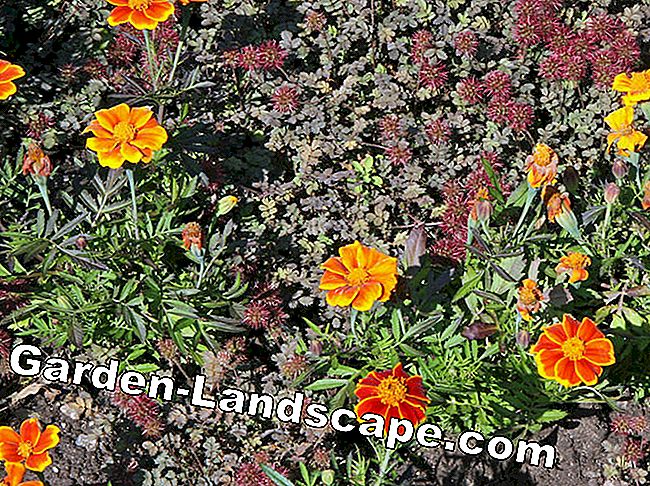 Barbed sprigs (Acaena buchananii) are particularly suitable for small areas. They like to grow on sandy, well-drained soils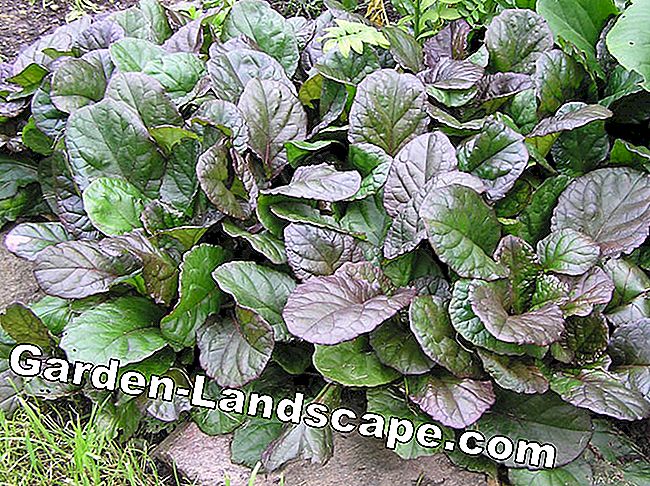 The violet Günsel (Ajuga reptans 'Atropurpurea') is very colorful. After flowering in April, it impresses with its brown-green foliage
A true sunbather is also the cat's paw (Antennaria dioica) with its red or white flower paws and silvery leaves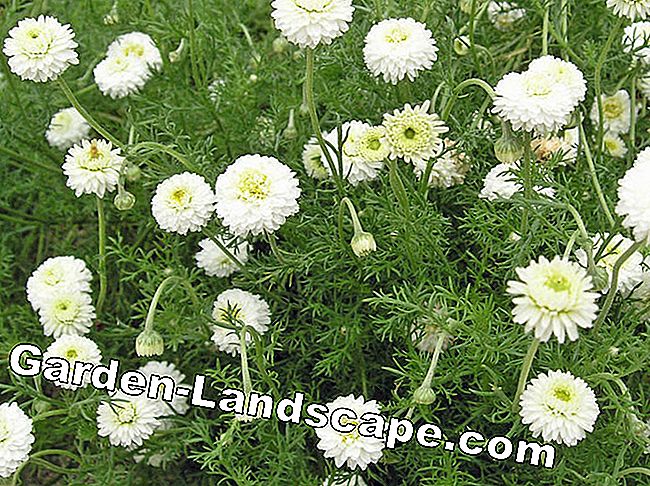 Roman chamomile (Anthemis nobilis) smells herbaceous and spicy with a hint of hay
For the thyme to grow well, you should ensure even watering in the first few weeks after planting. Later, the fragrant carpet needs only a little water


Five easy-care ground cover for graves in the shade
Dickmännchen (Pachysandra terminalis) drive upright and reach a height of 20 centimeters. They are very suitable for tombs under deciduous trees, as they simply overgrow their leaves in autumn and "swallow". With 20 pieces on one square meter, you get a beautiful, closed plant carpet. Dickmännchen must be cut back.
The ivy (Hedera helix) is a rapidly creeping wood that needs to be trimmed in spring and summer. The stature height can reach a maximum of 20 centimeters. He also overgrows foliage. Ten copies suffice for one square meter of grave area. But beware: Not all varieties are hardy!
The Elven flower (Epimedium) has small yellow or pink flowers depending on the species. The large leaves turn red in autumn and winter and are very suitable for double diggers. Twelve pieces come in one square meter. Faded and withered must be removed by hand.
Start photo gallery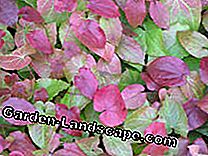 5
Show all
Five easy-care ground cover for graves in the shade
The very easy-care Dickmännchen (Pachysandra terminalis) is due to its carpet-like growth for larger graves that lie in the shade
The ivy (Hedera helix) is extremely robust and can withstand almost any temperature
The leaves of the Elfenblume (Epimedium) take on a magnificent red color in autumn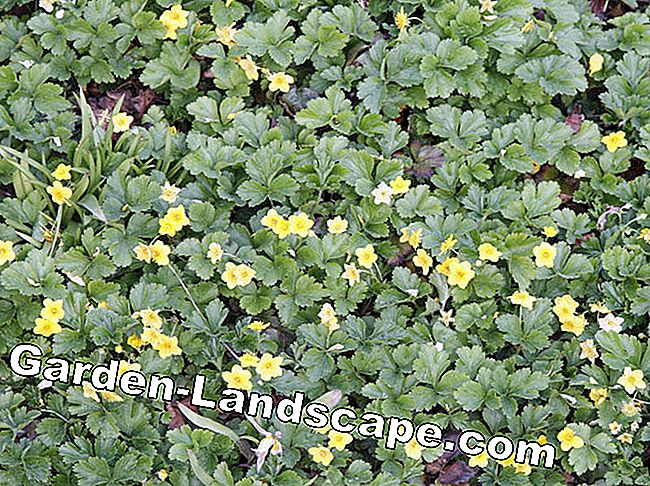 The golden strawberry (Waldsteinia ternata) shows yellow flowers and dense green leaves all year round. These grow so closely that weeds hardly have a chance
The foam bloom (Tiarella cordifolia) covers with its fresh green leaves best soils in the shade. Its flowers are very filigree and shine white

Also ideal for large graves is the carpet goldberry (Waldsteinia ternata). It has yellow flowers and grows up to ten inches high. It tolerates dry soil and can overgrow foliage. Now and then the plant has to be cut back. Expect 15 pieces per square meter.
The foam bloom (Tiarella cordifolia) has large leaves and fine, white flowers. Their stature height is between 10 and 12 centimeters. Bloomed plant parts must be eliminated. On one square meter grave area come 12 pieces.
Artfully combine ground cover for graves
When grave design with ground cover it is only a few things to note. For large grave areas choose large-leaved plants, for small accordingly filigree. As places of tranquility, the graves are yes, you achieve the most harmonious results with just a few different colors. Ground cover can be planted to patterns. An example of a grave in partial shade: Plant the base with Japanese Ilex (Ilex crenata), which forms a beautiful, dense plant carpet with its light green leaves. These accents in yellow, as they produce the flowers of the large-flowered St. John's wort (Hypericum calycinum). And a border in red with the Japanese Azalea (Rhododendron obtusum 'New Year's Eve'). Done is the year-round beautiful grave planting!
Ground cover can also be perfectly combined with seasonal planting - if they have the same requirements for light and soil
You can also combine ground cover with changing seasonal plants. For the summer, for example, the star-eye (Asteriscus maritimus) is very good. With its upright growth and the small rich yellow flowers it forms a nice contrast to the green of the ground cover. Or, in the fall, put a few cushion asters (Aster dumosus) among the groundcover. Their flower color alternates between white, pink and violet blue. Whatever combination you choose, make sure the plants match their light and soil requirements.
Tip: In the case of a large grave planting, integrate treadplates into the plant carpet to facilitate care.
Video Board: ⟹ PERIWINKLE | Vinca Minor | Makes a great ground cover but can be a disaster here's why!.