The Content Of The Article: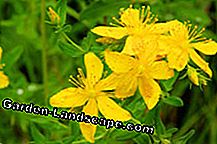 If you plant ground cover, then you can really keep weeds at bay and fill in unsightly gaps in the garden.
Ground cover keeps weeds at bay
Ground cover are plants that are just above the ground and grow in width and not in height. There, where ground cover grows, a lot less weeds grow. But also in the shade, under trees and the like, they are gladly taken. In addition, they can of course be planted in any perennial flowerbed to make the bed even more attractive. There are ground cover, which are only green and ground cover, which bloom beautifully. We would like to introduce you to five ground covers here.
5 groundcover
Ornamental Strawberry: Wintergreen with small, edible fruits for sun to shade. Flowering in the months of May to August.
Günsel: Evergreen and vigorous, it flowers between April and May and otherwise forms a green carpet.
Haselwurz: From April to May hardly flowering, but an evergreen forest shrub, particularly suitable for shade and calcareous soils.
St. John's wort: Blooms from July to September in yellow tones, likes sun and shadow and loves sandy soil.
Elvenflower: Light yellow flowering from April to May with bronze foliage in winter.
Video Board: Put Vinegar On Your Plants And This Will Happen.