The Content Of The Article:
When the vegetable patch is busy from year to year, long-lived rhubarb plants ensure reliable stability. Over a period of up to 10 years, the popular vegetables provide vitamin-rich, sour-fruity pleasure for the whole family. The list of his manifold advantages is much longer than the small catalog of his claims. Balcony gardeners can also benefit from the decorative as well as delicate crop. This guide explains how to expertly grow rhubarb plants in the garden and pot. So sowing and care succeed even the untrained hand.
Sowing behind glass
So that rhubarb seedlings are not the victim of greedy snails, we recommend sowing on the windowsill or in the greenhouse. Optionally, sow the seeds between early March and late April, or in September if you grow rhubarb in the garden. For the cultivation in the pot, we advocate the cultivation in early spring. How to proceed professionally:

Lightly roughen the skin on the large seeds with a file or emery paper
Then soak in lukewarm water or chamomile tea for 6 to 12 hours
Grow pots filled with organic vegetable soil
Put one seed in the soil per pot and sprinkle
Temperatures between 12 and 15 degrees Celsius are required on the partially shaded window seat so that the seeds germinate within 6 to 10 days. Until the planting date, keep the substrate slightly damp. It does not fertilize in this phase of growth.
Location in the garden and on the balcony
Even the choice of location indicates the uncomplicated claims of rhubarb. Since the vegetable plant is completely hardy, the climatic conditions in the garden and on the balcony can be met easily. Only the high demand for water and nutrients requires special attention, if the long-lived perennial is to provide a rich harvest of thick, juicy rods for many years. The following site criteria are in focus:

Sunny to partially shaded location
Nutrient-rich, sandy-loamy soil
Ideal pH of 5.6 to 7.5
Fresh to moist with good water storage and no waterlogging
As a hardy rhubarb plants in the garden feel in good hands in the immediate vicinity of the compost heap. In ancient times, the majestic vegetables often towered in the middle of the compost or dung heap. A direct neighborhood to the garden kingdom also promotes growth and productivity.
Tip: A crop rotation of at least 8 years makes sense for rhubarb plants in the bed. Before you plant the heavily eating stalk vegetables again at the previous location, the soil should regenerate over this period.
Soil preparation and substrate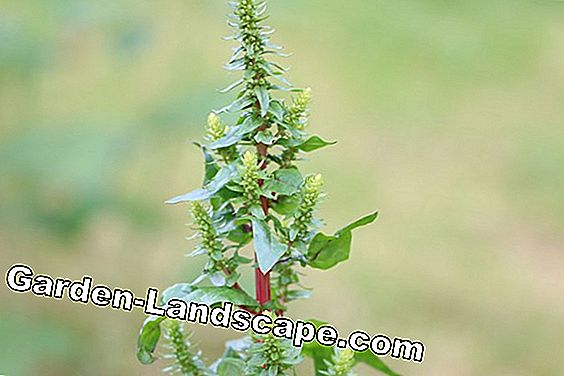 Nutrients present in normal garden soil are generally insufficient to fully meet the needs of a rhubarb plant. The same applies to commercially available organic vegetable soil, which is suitable as a basic component for pot culture. By enriching beetroot and pot substrate with mature compost, horn shavings or a comparable organic fertilizer, you optimize the starting conditions for vegetable rhubarb. How to do it right:

Garden soil dig 2-spade deep
Remove stones, roots, clods of earth
For each square meter, add 5 liters of compost and 300 grams of horn shavings
Alternatively, incorporate composted horse manure, manure or guano with horn meal
For rhubarb in a tub, optimize organic vegetable soil to 30 percent with mature compost, bark hum or loam soil. Composted, organic soil additives are available to retailers as packaged finished products for home gardeners who do not farm their own compost pile.
Planting instructions for the garden
Plan for the planting in the bed a space requirement of 100 cm x 100 cm to 130 cm x 130 cm. Extensive vegetable rhubarb must be able to develop undisturbed so that it increases its earning power from year to year. Comparatively weak-growing varieties with red pulp, such as the box-office hit 'Holsteiner Blut', require at least 1 square meter area. Spatial, greenish varieties, such as 'The Sutton', reach their limits early on and should find a correspondingly larger bed area. In the middle of the site, plant young rhubarb like this:

Soak the potted root ball in water until no more air bubbles rise
Dig a pit with twice the volume of the root ball
Shovel the excavated material into a wheelbarrow and enrich to 30 percent with compost and horn shavings
Pot the young plant and plant it in the middle
Measure the planting depth so that the root disk is at the end under a 2 to 3 cm thick substrate layer. Squeeze the earth with your hands and pour vigorously. In the last step of expert planting, spread a mulch layer with 3 liters of mature compost on the ground.
Plant rhubarb in the pot
A suitable pot for vegetable rhubarb has at least 40 liters volume and bottom openings as a drain. An approximately 5 to 8 cm high drainage of potsherds, gravel, chippings or expanded clay effectively prevents waterlogging. Before adding the recommended substrate, spread an air- and water-permeable fleece over the drainage, so that no earth crumbs between the inorganic material. Place the pot in a wind-exposed location on a balcony or patio, ideally adding a few handfuls of clay to the substrate to optimize stability.
The planting in the pot is similar, as in the garden bed. The water-soaked, padded root ball is planted so deeply that it is under a 2 to 3 cm thick substrate cover. A 3 to 5 cm high watering edge ensures that rainwater and irrigation water does not spill over and dirty the balcony or terrace.
Care in the bed and pot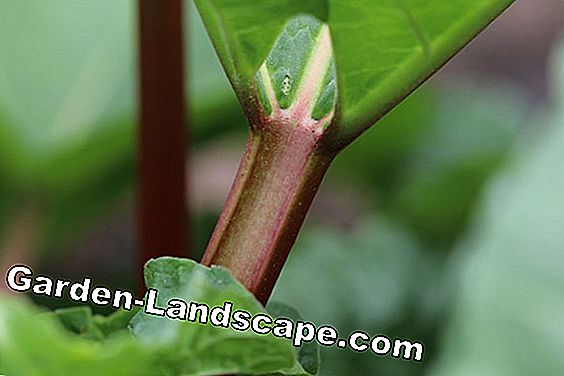 A balanced water and nutrient balance forms the foundation of the uncomplicated care program. All other measures are behind it. The scope of work depends essentially on the specific site conditions. All important details are highlighted in the following part of this manual:
to water
In the first weeks after planting, regular watering is at the top of the agenda. Until a young rhubarb plant has become well rooted in the bed or pot, it is in urgent need of a continuously moist substrate. In the following years, always water the vegetable plant when the surface of the soil has dried. A light rainstorm does not guarantee reliable protection against drought stress. On adult rhubarb plants, the mighty leaves catch most of the raindrops, leaving the soil dry and poured. In the pot, this can be the case daily in dry-hot weather. Please allow the water to run directly onto the root disk until it runs out of the bottom opening in the pot or forms small puddles in the bed.
Tip: The harvest time for rhubarb is tight, because already on Johannistag (June 24) is Thanksgiving for the delicious stalk vegetables. From this point forward, prudent home gardeners will leave their rhubarb plants alone to regenerate for the rest of the season.
Fertilize
For a carefree consumption of refreshing food with rhubarb, let environmentally and health-conscious gardeners mineral fertilizer left. With a broad range of organic fertilizers, you can keep growth going for many years with the following nutritional program:

In March, apply a starter fertilizer with 3 liters of compost and 100-300 grams of horn meal per square meter
In addition, continuously mulch with nettle leaves, leaves, grass clippings or foliage compost
Every 4 weeks from March to June, the earth overflows with vegetable glands from nettles and comfrey leaves
In the pot from April to June every 2 to 3 weeks to administer a liquid vegetable fertilizer
When the time window for the harvest closes in the last week of June, continue the nutrient supply. Since rhubarb plants prepare for the coming season until winter, in July, you will again administer 3 to 5 liters of compost or a comparable organic fertilizer.
Tip: The harvest time for rhubarb is limited, because already on the Johannistag (June 24) is Thanks for the delicious stalk vegetables. From this point forward, prudent home gardeners will leave their rhubarb plants alone to regenerate for the rest of the season.
Blooming flowers - pro and contra

Mit ihrem Blütenkleid machen sich Rhabarber-Pflanzen im Frühling hübsch, um zahlreiche Insekten als Bestäuber anzulocken. Damit zielen sie ab auf das Wachstum zahlreicher Samen, um die Vermehrung sicher zu stellen. Dieses Streben verläuft zulasten der Stangen, die für die Pflanzen nunmehr von nachrangiger Bedeutung sind. Daher plädieren Hausgärtner für die Entfernung der Knospen, damit Gemüse-Rhabarber seine Energie weiterhin in das vegetative Wachstum dicker, saftiger Stiele investiert. Zu diesem Zweck werden konsequent alle Blütenansätze direkt am Stielansatz ausgebrochen.
Die Befürworter einer Blüten-Entfernung an Gemüse-Rhabarber argumentieren fernerhin, zeitgleich mit der Blütezeit steige der Gehalt an giftiger Oxalsäure. Diese Vermutung haben Wissenschaftler ins Land der Fabeln verwiesen. Tatsächlich steigt die Oxalsäure erst ab Ende Juni in den bedenklichen Bereich. Da zu dieser Zeit ohnehin die Erntezeit endet, besteht aus diesem Grund kein Anlass, die Blüten auszuputzen. Einen direkten Zusammenhang zwischen Blütezeit und Oxalsäure gibt es nachweislich nicht.
Kontra - Gründe gegen Ausputzen von Blüten
Blühender Rhabarber ist mittlerweile ein vertrautes Bild in privaten Nutzgärten, da sich immer mehr Hausgärtner von den Argumenten für eine Knospen-Entfernung nicht überzeugen lassen. Wenn die Rahmenbedingungen am Standort stimmen und der hohe Bedarf an Wasser und Nährstoffen gedeckt ist, leidet die Qualität der fruchtigen Stangen nicht unter der Blütezeit. Darüber hinaus sind Rhabarberblüten nicht nur dekorativ, sondern auch essbar.
Schneiden
Ab Oktober ziehen Rhabarber-Pflanzen sich sukzessive in ihre Wurzelstöcke zurück. Die Blätter vergilben und sterben ab. Sind alle oberirdischen Pflanzenteile vollständig eingezogen, schneiden Sie Stängel und Laub mit einem scharfen, desinfizierten Messer bodennah ab. Um die Schnittwunden vor Fäulnis und Krankheitserregern zu schützen, bestäuben Sie diese mit Gesteinsmehl oder Holzkohleasche. Sie gehen der Gefahr von Fäulnis und Infektionen aus dem Weg, wenn Sie die abgestorbenen Pflanzenteile nicht abschneiden, sondern per Hand entfernen. Indem Sie Stängel umfassen und mit einem Ruck herausdrehen, ist dieser Bestandteil in der fachgerechten Pflege ebenfalls erfüllt.
Überwintern im Garten
Hat sich Gemüse-Rhabarber im Beet gut etabliert, sind keine Schutzmaßnahmen für die Winterzeit erforderlich. Die Pflanze überdauert tief im Boden problemlos klirrenden Frost aus eigener Kraft. Lediglich im Jahr der Pflanzung empfehlen wir eine Schicht aus Laub oder Stroh, da sich die zuverlässige Winterhärte an Jungpflanzen erst noch entwickeln muss.
Gießen Sie den Wurzelstock im Winter an milden Tagen, wenn Schnee und Regen als Wasserlieferanten ausbleiben. Wenn bei Kahlfrost zugleich die Sonne viele Stunden scheint, sind Rhabarber-Pflanzen von Trockenstress bedroht.
Überwintern im Topf
Put the pot on a wooden block in a sheltered niche
Cover the vessel with bubble wrap or coconut mats
Advantageous is a frost-free winter quarters, such as a garage or a tool shed. If rhubarb is in the pot in a rain or snow-protected location during the winter, please water occasionally so the soil does not dry out.
repotting
The limited capacity in the pot does not allow a long residence time, as is common for rhubarb plants in the garden. Depending on the variety and growth, regular repotting at one to two-year intervals is required. The best time for this care measure is in early spring, well before the start of the new growing season. Choose the new bucket so big that there is at least 4-finger space between root ball and pot edge.
Conclusion
Rhubarb optimizes the planting plan for the garden and balcony with a classic that will keep you faithful for up to 10 years and will bring a rich harvest of fruity-sourish stakes. For the ambitious home gardener, it is a matter of honor to prefer young rhubarb by sowing on the windowsill itself. In the sunny to partially shaded spot, the long-lived perennial wants a nutrient-rich fresh-moist garden soil. In the large pot, vegetables rhubarb on the balcony at its best, if he can stretch out his powerful roots in a mix of organic vegetables, compost and horn shavings.Abundant watering and fertilizing does not end with the harvest time. To ensure that juicy sticks thrive in large numbers next year, rhubarb plants will continue to cultivate seamlessly after St. John's Day. Only in the autumn, the hardy perennial pulls back into its rootstock. In the pot, a light winter protection compensates for the missing earth volume to ward off clashing frost.
Video Board: How to Grow Rhubarb - Complete Growing Guide.