The Content Of The Article: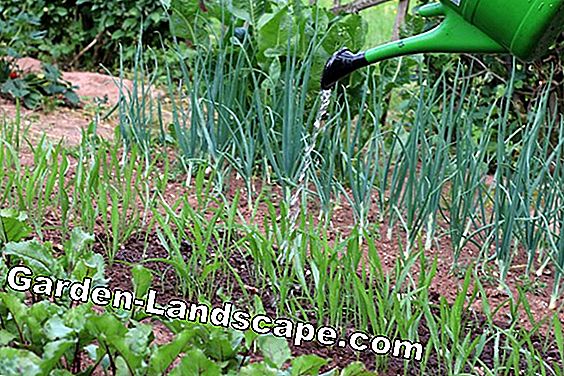 Hakaphos fertilizers are subdivided into color, soft and basic varieties. The color grades are suitable for use in hard water and nitrate-stressed soft grades Elite, Spezial, Ultra, Novell and Extra for use in soft water, usually rain or well water. The basic varieties are combination fertilizers to stabilize, reduce or increase the pH. The advantage of such mineral fertilizers is that they are immediately available to the plants. However, the long-term effect is missing here.

Hakaphos color varieties
The Hakaphos color varieties are intended for use with hard water. The ingredients are available immediately. Due to lack of long-term effect must be re-fertilized. Important is the correct dosage, otherwise it can come to over-fertilization or to burns. They can be used for foliar and litter and liquid fertilization. When spreading fertilizer care should be taken that the plants are dry, the fertilizer is sprinkled between the rows and poured after fertilising. In addition, the subsequent pouring promotes a faster availability of nutrients. As liquid fertilizers, they can be used by hand or in appropriate irrigation systems.
Tip: These fertilizers differ in the nutrient composition or their concentration. The respective nutrient content is indicated by the numbers next to the fertilizer designation.
Hakaphos red 8 + 12 + 24 (+4)
Hakaphos red is a phosphate and potassium fertilizer with a high magnesium content and all important trace elements. The ratio according to the fertilizer designation is 8% nitrogen, 12% water-soluble phosphate, 24% water-soluble potassium oxide and 4% water-soluble magnesium. At lower concentrations, trace elements such as boron, copper, iron, manganese, molybdenum and zinc are included. This fertilizer has a pH lowering effect. It is suitable for container cultures, fruit and vegetable cultivation, potted plants and cut flowers. The high phosphate content as a start fertilizer in vegetables or young plants for optimal root growth and the high potassium content as a final fertilizer results in an improvement in the frost resistance of plants. For foliar fertilization, dose according to tolerability in a concentration of 0.5-2.0, for liquid fertilization between 0.5 and 3 and for spreading fertilizer 20-30 g / m2.
Hakaphos blue 15 + 10 + 15 + (2)
Hakaphos blue has a slightly acidic effect in contrast to the red. Due to the balanced ratio between potassium and nitrogen, this fertilizer is suitable for holistic fertilization or as a universal fertilizer for potted, bedding and balcony plants, cut flowers, container plants and fruit growing and vegetable crops. The dosage corresponds to that of the red fertilizer.
Hakaphos yellow 20 + 0 + 16 + (2)
Hakaphos yellow has a pH-lowering effect like Hakaphos red. This fertilizer is a pure nitrogen-potassium fertilizer. It is suitable for temporary use in the presence of iron deficiency or to supply phosphate-sensitive cultures such as moor bed plants, rhododendrons, hydrangeas, azaleas, ornamental quinces but also potted and vegetable crops. The dosage of this fertilizer corresponds to the other color varieties.
Hakaphos green 20 + 5 + 10 + (2)
This fertilizer is more nitrogen-stressed and also has a pH-lowering effect. It supports the vegetative growth of fruit, vegetable and container crops, potted plants and cut flowers and should be administered from root growth to flowering. It is particularly suitable for plants in need of nitrogen such as azaleas and erici. The dosage also corresponds here to those of the other color varieties.
Tip: All Hakaphos Color Fertilizers should not be used or dissolved with calcareous fertilizers.
Hakaphos soft varieties
Hakaphos soft grades are intended for use with soft well or rainwater. They are nitrate-stressed and, due to the nitrogen prevalent in this fertilizer group, prevent the pH in the soil from dropping and stabilizing.

Hakaphos soft elite 24 + 6 + 12 + (2): This fertilizer is suitable for pH-stabilizing irrigation in the vegetative growth phase of fruits, vegetables, potted plants and cut flowers. The high nitrate nitrogen content supports the rooting of the pot bale. Its effect persists even at cooler temperatures. The dosage is both 0.2 and 2.0 for foliar and liquid fertilization. Under glass it can be used year-round and outdoors from March to August.

Hakaphos soft novell 11 + 11 + 30 + (3): The ratio between nitrate and ammonium ensures a stabilization of the pH during the complete culture phase when using Hakaphos soft novell with soft irrigation water. It is particularly suitable for potassium-needy crops such as spring bloomers, vegetables and summer potted perennials such as azaleas and cyclamen.Depending on tolerability, the dosage is 0.5-2.0 for foliar fertilization and between 0.5 and 3 for scattered fertilization.

Hakaphos soft plus 14 + 6 + 24 + (3)The composition of this fertilizer is based on a high nitrate content, making it suitable for ornamental, vegetable and nursery crops. Even at low temperatures, it ensures optimum nitrogen supply for ornamental plants such as begonias, gerberas, cyclamen or cloves, as well as vegetables such as tomatoes, peppers, cucumbers and container cultures. For foliar application 0.5-2.0 is used, for scattered fertilization in vegetables and cut flowers 20-30 g / m2 and for liquid fertilization between 0.5 and 3.

Hakaphos soft special 16 + 8 + 22 + (3): Nitrogen nitrogen in Hakaphos soft special nitrogen stabilizes the pH of the soil and promotes root growth. It is suitable for fruits, vegetables, container plants and cut flowers alike. The dosage corresponds to that of Hakaphos soft plus.

Hakaphos soft ultra 18 + 12 + 18 + (2): This fertilizer ensures optimal phosphate supply during the generative and vegetative phase of plants, even at cooler temperatures due to its balanced nitrogen-potassium ratio. While the generative phase refers to the period in which the plant forms seeds. The vegetative phase precedes the flower and fruit formation and denotes above all the mass increase. The dosage corresponds to that of soft plus.
Hakaphos base varieties
Hakaphos basic varieties are optimized in their composition. These potassium-concentrated combination fertilizers are used in combination with single nitrogen fertilizers and can lower, raise or stabilize the pH of the soil. They are usually used until the pH of the soil has adjusted, then depending on the water quality, the color or soft varieties are used. The basic varieties are suitable for fruit and vegetable growing and ornamental plants as well as changing water qualities. The dosage is based on Hakaphos Basis 2 and 3 in a ratio of 1: 1 to the respective nitrogen partner fertilizer, Hakaphos Base 4 of 1: 3 and Hakaphos Base 5 of 1: 2.
Tip: Before using this combination fertilizer it is advisable to carry out a soil analysis.
Conclusion
For the different Hakaphos fertilizers, it is important to know that the colors are designed for use in hard water. The nitrate-stressed soft types, on the other hand, are intended for use in soft water, while the potassium-stressed base varieties are combined with nitrogen single fertilizers and regulate the pH of the soil.

Worth knowing about Hakaphos soon
Hakaphos fertilizer is a fully water-soluble and pure mineral fertilizer full of trace elements.
It is mainly used in commercial cultivation.
The advantage is that all nutrients are immediately available in dissolved form.
But this fertilizer has no long-term effect. You have to fertilize regularly.
Important when fertilizing with Hakaphos, regardless of whether you use the green, red or blue fertilizer, to dose precisely, otherwise it can lead to overfertilization, burns and leaching. For beginners, this fertilizer is therefore not necessarily so well suited. The individual colors of the Hakaphos fertilizers mean different compositions. These are explained below:
Hakaphos green
Hakaphos green is a water-soluble nitrogen-based nutrient salt for the fertilization of cultures in the growth phase. It is an NPK fertilizer with magnesium in the ratio 20 + 5 + 10 (+2). It also contains boron, copper, iron, manganese, zinc and molybdenum. Hakaphos green is a nutrient salt with a physiologically acidic effect. It is suitable for indoor plants, vegetables and woody plants. The use is particularly good for peat groves, young plants, green plants, to promote the vegetative phase and leaf formation. Hakaphos green is given from the root-growth start to the bloom. Foliar fertilization is ideal for green plants. For cut flowers and vegetable crops, spreading fertilizer is recommended. It is always scattered between the rows. The plants must be dry. Then it is poured. This prevents etching damage and guarantees a rapid nutrient effect.
Hakaphos red
Hakaphos red is also a water-soluble nutrient salt, but it is phosphate and kalibetontont and has a high magnesium content. This fertilizer is ideal as appointment fertilizer for horticultural crops. Again, this is an NPK fertilizer, but in the ratio 8 + 12 + 24 (+4). Also included are boron, copper, iron, manganese, zinc and molybdenum. With this Hakaphos fertilizer there is a change of the vegetative into the generative phase. You can use it to control cultures and culture times better. Root growth is stimulated, so this fertilizer is ideal for start fertilizing young plants and vegetables. The high Kalianteil the frost resistance is increased. Therefore, the green Hakaphos is suitable as a final fertilization of nursery plants and potted plants.For cut flowers and vegetable crops foliar application is suitable for all other spreading fertilizers. Scattered is also here between the rows.
Hakaphos blue
Hakaphos blue is a water-soluble standard nutrient salt with a balanced nutrient ratio for fertilizing plants in the growth phase. Again, this is a NPK fertilizer, but in the ratio 15 + 10 + 15 (+2). As with the other two fertilizers, boron, copper, iron, manganese, zinc and molybdenum are included. This nutrient salt has a physiological acidic effect and is ideal for ornamental plants, vegetable crops and woody plants. The fertilizer is suitable as a universal fertilizer and can be used all year round.

Hakaphos fertilizers in green, red and blue are mineral nutrient salts.
You have to dose them very precisely, so that it does not come to burns and salt damage.
This is a disadvantage compared to organic fertilizers. The advantage is that Hakaphos works immediately.
Attention: renaming
Compo has changed the name of the fertilizer. Hakaphos® Green became Hakaphos®soft Elite, Hakaphos® Red became Hakaphos®soft Extra and Hakaphos® Blue became Hakaphos®soft Elite.
Video Board: .