The Content Of The Article:
What would Halloween be without a garden that gives you goose bumps? Probably a pretty boring one. Here's a guide to a scary tombstone.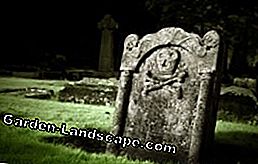 Throughout the year, many great festivals are celebrated, which are especially fun for children. Because then always great decoration is purchased to decorate the house and the garden and thus beautify. Many decorations can also be made by yourself. This saves money and is often a lot of fun. Especially children are later very proud of the self-created masterpieces. For example, Halloween is such a festival for which you can design many decorative items yourself. You can, for example, carve creepy pumpkins and make a gruesomely beautiful tombstone for the front garden. This gives the garden a mystical flair and makes every Halloween party a unique experience.
Above all, there are always large tombstones in the form of a cross, small oval and large square ones. Some tombstones are also provided with a saying and other large tombstones decorated with patterns. To get some inspiration, you can just look at some gravestones on the internet. There you will find many great models that you can build and put on Halloween in the garden.
That's what you need for a Halloween tombstone
No matter which gravestone you choose: the same materials are always needed. It makes sense to prepare all required materials in advance. So you can go to work later relaxed, without having to constantly search for utensils. You need:
a thick polystyrene plate
Knife with a smooth cut surface
pencil
a pen (as thick as possible)
a saw or a bread knife (should be jagged)
Styrofoam adhesive or hot glue
Spray cans in the color black
Acrylic paints (white, gray, black)
brush
The Styrofoam plate you can buy in any hardware store for little money. Instead of acrylic paints, you can also use water colors. However, you must then paint the grave stone, so that the color keeps in the wet.
DIY tutorial for a Halloween tombstone
Step 1:
First of all, print a template for the tombstone. On the Internet you will find countless variants. In the beginning, it is best to choose a template that is not too complicated to copy. Later, you can increase the difficulty so and create more challenging gravestones. After all, all the gravestones are made the same way, no matter whether you decide on a simple or an elaborate tombstone.
Step 2:
If you have the template next to you, you should start by drawing the outline of the gravestone on the polystyrene board with your pencil. If there are several round elements on the template, you can use a saucepan, glasses or plates to help. Of course, working with a compass is also possible.
Step 3:
Now you can cut out the tombstone. For this you should use the bread knife or the saw. With a jagged cut surface, the tombstone is cut out in no time. Since styrofoam causes a lot of dirt, you should do this work best outdoors.
Step 4:
If you have cut out the gravestone, you can already start with the decoration. Whether you paint crosses or the lettering RIP - there are no limits to your imagination. This work is best done with a thick felt pen. Corrections can be made anytime now, because as long as the patterns are not yet carved, you can still change the decorations.
Step 5:
Now it's time to carve the painted polystyrene pattern. For this you should use a knife with a smooth cutting surface, such as a craft knife. The ornaments must be carved about 3 inches deep into the Styrofoam. It is important that you work very precisely and accurately.
Step 6:
If you are satisfied with the decorations, you can take the spray can to hand. Now spray the gravestone completely with black paint. Here you should make sure that you spray the paint evenly. Spray the paint into the carved decorations as well. This will make for a great effect later. Once the gravestone has been sprayed, you need to let the paint dry for a few hours.
Important: Since fumes rise in this work, you should always do this step outdoors.
Step 7:
If the tombstone is dry, you can paint the ornaments with the white paint a little bit. It all depends on the taste, whether the decorations are white or black. The patterns can also be painted to your heart's content. Then the paint has to dry well again.
Step 8:
To achieve a mystical effect, you can now paint over the entire gravestone with a gray color. Here it is important that you use very little color and the color does not run into the patterns. Just gently stroke the gray paint over the entire gravestone and then let it dry well again. To give the tombstone the perfect stone look, you can apply a second coat of paint. Here you can decide whether to apply a layer of silver paint or mix gray and white paint.
Step 9:
If the tombstone is dry, you should spray it with a clear paint for safety's sake. If you have used acrylic paints, this is not mandatory. Only after the use of water colors the grave stone must be painted. Now the tombstone is already finished and can be placed in the garden. Just dig it into the bed or fix it with long nails on a lawn.
Here is a similar tutorial as a video:
Video Board: Halloween Infinity Mirror Illusion Guide.