The Content Of The Article:
August spoils us with numerous crops. From blueberries to plums to beans, the harvest of fresh fruit and vegetables is huge this month. Thanks to the many hours of sunshine, the treasures thrive excellently in the open air. The nice thing is: If you look after the harvest times of local fruits and vegetables, you will not only get fresh tidbits full of flavor. The energy balance is also better, as long transport routes are eliminated. Our harvest calendar shows you at a glance which fruits and vegetables are in season in August.
Fruits and vegetables fresh from the field
Crispy bush and bean beans, salads and various types of cabbage come fresh from the field in August. For all those with a sweet tooth, aromatic blackberries and blueberries from outdoor cultivation are a real treat. Directly from the tree, the first plums and summer apples taste especially delicious. Examples of early plum varieties include 'Cacaks Beautiful' or 'Hanita', among the early apple varieties 'James Grieve' or 'Julka'. Here you will find all the fruits and vegetables at a glance.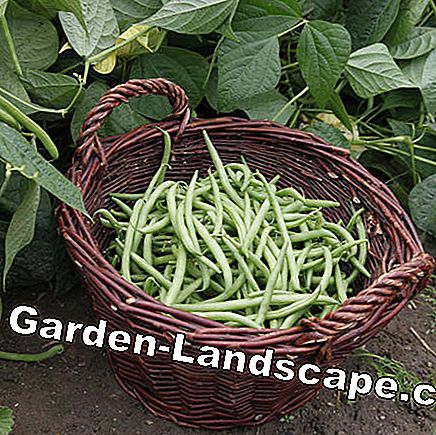 Bush beans come fresh from the field in August. Cooked the legumes taste in soups or stews
apples
apricots
pears
cauliflower
beans
broccoli
blackberries
Chinese cabbage
peas
Strawberries (late varieties)
fennel
cucumbers
blueberries
raspberries
currants
potatoes
cherries
kohlrabi
Mirabelle
carrots
parsnips
peaches
plums
leek
radish
radish
Beetroot
Red cabbage
Salads (iceberg, endive, lamb's lettuce, lettuce, radiccio, arugula)
celery
spinach
cabbage
gooseberries
Grapes
white cabbage
savoy cabbage
zucchini
onions
Fruit and vegetables from protected cultivation
Eggplants are ready to be harvested when they are not that hard anymore and the skin gives way to pressure
Only tomatoes, cucumbers, peppers and aubergines come from the greenhouse in August. But beware: in midsummer, greenhouse temperatures can quickly rise above 40 degrees Celsius. Even heat-loving vegetables can get too hot at such high temperatures. Important is then a good ventilation. In addition, external shading, for example with the aid of a green shading net, lowers the temperature.
Stock goods from the cold store
The stored goods from the cold store can also be counted on one hand in August. So only potatoes and chicory are available as stock items from last season.
Video Board: The Seasons Op. 37b - VIII. August: The Harvest (Tchaikovsky).