The Content Of The Article:
The herb garden or herbal corner is mandatory in every garden. Fresh herbs such as parsley, chives, dill... you can always good use - especially in the kitchen. Here you will learn how to create a real herb garden and which garden herbs are particularly recommended. Herbs for every occasion, healthy and natural.
Herb snails are currently the absolute bestseller. Many herbs on a small square.
At the foot of a mini pond, which is often used by thirsty birds. A herbal snail, or herbal spiral acts in every garden rustic but also at the same time exceptional and is an eye-catcher of a special kind.
In addition, this does not need much space, therefore, also wonderfully suitable in allotments. Flowering herbs attract butterflies, the flowers of most herbs are very rich in nectar. Even bumblebees and bees can be offered such a natural habitat. Herb gardens and herbal spirals should get as full as possible a place in the garden, so that the flavors of the herbs can fully unfold.
When you pull herbs, you decide whether you want to grow the plants exclusively for consumption or use them to add decorative accents. If the optical impression is important to you, reserve a corner of the property for a garden of ornamental herbs.
Do not rattle with the size of your garden, if you lack the space to create a decorative herb bed, you can place herbs anywhere in the garden. Nostalgic herbal turfs, trails, benches and embankments are very atmospheric, but also very elaborate in the care. An eye-catcher and a scent experience in a herb garden is a herbal path of Roman chamomile, pennyroyal, creeping thyme and the native of Corsica mint type Mentha requinii, which must be protected from the winter cold. A herb garden should be designed so that the plants can be easily reached when watering, cutting and harvesting. Colorful mixed herb gardens are reminiscent of a nostalgic cottage garden with their abundance of contrasting or harmoniously complementary colors and shapes.
Perennial herbs in the herb garden - List of winter hardy varieties
Herbs enjoy great popularity among amateur gardeners, rightly so! Because the plants are not only versatile, but also mostly perennial and hardy! Which varieties you should necessarily grow in your herbal bed, learn here!
Herb Spiral - Instructions for donning and planting
Build and shape herbal bed - 7 tips
Mortar trough as planter and herb bed
Mortar troughs from the well-stocked hardware store are the ideal alternative to quickly and easily create a small herb bed on a terrace or balcony or to cultivate tomatoes, peppers and even flowering plants. The tubs are available in different sizes and shapes and thus fit in the smallest corner.

Create herbal snail - instructions in 6 steps
With a herbal snail come always fresh herbs on the table, in addition, this also has a high decorative value in the garden. The attractive herbal bed in the form of a spiral grows snail-shaped in height and therefore allows the planting of many different herbs with different demands on the respective location.

Lavender - hardy species for the garden
Robust, very fragrant and usable in the kitchen and as a remedy, everyone knows the lavender. But beware, because not all of the many types of lavender is also suitable for cultivation in the home garden bed. Because there are only a few varieties that are hardy and thus survive a winter in the local latitudes outside.

The best two herbal snail construction guides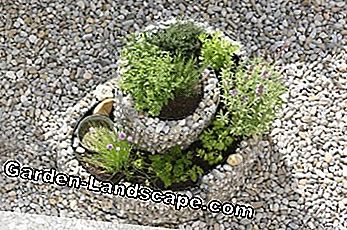 From the dry zone to the swamp area, the right climate zone for every herb. The whole on just three square meters. With a herbal snail, this small natural wonder, a so-called permaculture, can be planted in your own garden. There are several varieties and manifestations and sizes, all are basically created according to the same construction manual.

Herbs and spices in the apartment / kitchen pull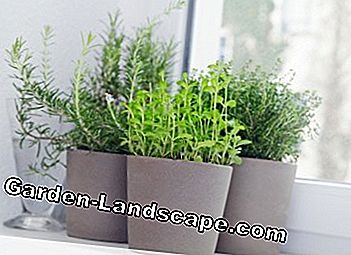 Herbs and spices can also be conveniently pulled in the home or in the kitchen if no garden is available for cultivation. However, additional care must be taken with the care. Just as important as in the herb garden, here are the site conditions, so that the herbs can thrive well.

Which herbs fit together - table
If you want to plant herbs in the garden or in living rooms, you should make sure that they fit together well.When creating a herb garden or a planter with herbs, some important rules must be observed so that all herbs can thrive equally well. Some types of herbs must be planted separately or in individual Pfanzgefäße.

Shrub Basil - Care Tips and Hibernation
The tasty shrub basil is gladly used in the kitchen. And those who can offer the sun-drenched plant a suitable accommodation in winter will also enjoy its delicious herb for a few years. Since the shrub basilica is originally native to warm countries, it must be spent in winter in a warm location.
Video Board: How to Plant a Culinary Herb Garden! DIY Kitchen Garden.