The Content Of The Article:
Fresh herbs elevate the local menu to star chef level, thanks to their unique, sun-kissed aroma content. Where no garden is available, this does not mean that you will not have to sacrifice your culinary delights. A variety of delicious species thrives excellently in the herb garden on the balcony. To make your own hand, you do not have to worry about a green thumb as long as you make the right choice. In the following, go to one
exciting journey of discovery to the best herbs for balconies and window sills.

The annual, herbaceous spice plant gives cucumber salad, pickled cucumbers and fish a special touch. With its intense aroma, Dill transforms balconies and windowsills into a fragrance garden that awakens the anticipation of delicious dishes with fresh herbs. In the vicinity of chives and marjoram, Dill thrives particularly well.

Location: full sun
Care tip: pour plenty
chervil
Real chervil is also rightly referred to as soup herb, because here it performs its function perfectly. The one-year-old plant reaches a height of 20 to 70 centimeters, which makes it ideal for growing in a tub. Harvested shortly before flowering, Chervil develops its best aroma.

Location: partially shaded
Care tip: repeatedly cut back vigorously
Garlic mustard
If you have not used the aroma of garlic until now, because you do not want to spread the following, typical scent, the garlic is a sensible alternative. The herbaceous with the peppery taste enjoys increasing popularity, although it has actually been known in the kitchen for 5,000 years. The Kreuzblütengewächs is common in the wild and is similar in habit sorrel. For the herb garden on the balcony Knoblauchrauke, also called leek herb, with a height of 50 to 60 centimeters just right.

Habitat: half shady to shady
Care Tip: Nitrogen-stressed organic fertilizer
lovage
Ideal for the herb garden on the balcony, due to a stature height of up to 200 centimeters but not a candidate for the windowsill; With this reputation lovage blends into the list of the best herbs. As the aroma is reminiscent of the well-known kitchen wort Maggi, the plant is often referred to as maggic herb. In the original product Lovage is certainly not included. In the local kitchen Liebstöckel refines especially fish and meat dishes.

Location: sunny to partially shaded
Care tip: cultivate in a single pot
marjoram
Those who like to eat hearty can not miss marjoram. Whether stew, pork, fried potatoes or home-made sausage; without this idiosyncratic herb, one important ingredient would be missing. Since the spice plant is not hardy, it is cultivated in the local latitudes one year.

Location: sunny and sheltered from the wind
Care tip: pour sparingly
oregano

Oregano is indispensable for a perfect pizza. In many other recipes, the Mediterranean herb plant can be found again. Since it grows between 20 and 80 centimeters high and looks very decorative with its pretty pink-violet flower, the spice plant likes to take a seat on balconies and window sills.

Location: sunny to partially shaded
Care tip: fertilize organically in spring
parsley
A classic among the kitchen herbs, which earns a regular place on the balcony. The two-year-old plant with the turnip-shaped root reaches a stature height of 30 to 90 centimeters. The green leaves of parsley harmonize with almost all vegetable and meat dishes.

Location: partially shaded
Care tip: plenty of water
rosemary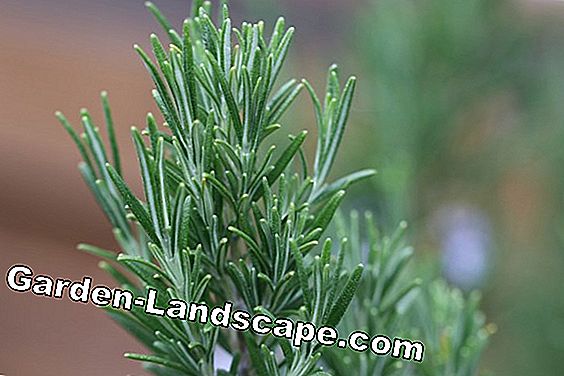 The filigree needles of the evergreen subshrubs are considered indispensable part of southern specialties. Especially mild tomato sauce gives rosemary more pep. But also meat dishes benefit from the individual flavor.

Location: sunny and warm
Care tip: Winter quarters required
sage
As an essential ingredient in Italian cuisine, sage is now also found in German herb gardens on the balcony. First and foremost, the herbal plant gives pasta and vegetables an inimitable taste. The perennial subshrub rarely grows beyond 50 centimeters, so it also fits on the windowsill.

Location: full sun and protected
Care tip: do not fertilize
chives
With its sharp-spicy taste, chives harmonize well with mild foods, such as cottage cheese and bread. Thanks to a stature height of 5 to 50 centimeters, the perennial herbal plant finds everywhere a cookie.

Location: partially shaded
Care tip: pour restrained
thyme
The spicy plant is an indispensable part of Mediterranean cuisine.Settled on the balcony or the window sill, the woody shrub stands at the same time with an enchanting blossom from May to October. Due to its valuable ingredients, thyme is not only one of the best culinary herbs, but was also named the medicinal plant of the year in 2006.

Location: sunny
Care tip: pour only slightly in the sandy-dry substrate
lemon balm
Your presence announces itself from afar by an appetizing scent. The delicate leaves with the refreshing lemon flavor refine salads, vegetables and drinks. With a stature height of up to 120 centimeters, it should be kept on the windowsill by a regular pruning in bridle.

Location: sunny and sheltered from the wind
Care tip: light winter protection recommended
ConclusionIf you are informed about the best herbs for balconies and window sills, you will discover numerous interesting specimens that leave nothing to be desired. From spicy-spicy to mild-aromatic and refreshing-lemony, there is something for every taste. Therefore, a missing garden is not a hindrance to create your own herb garden on the balcony. In addition to the spicy attributes of the plants, their location requirements should always be kept in mind. In combination with an adequate water and nutrient balance, nothing speaks against an aromatic harvest.
Video Board: 8 Vegetables You Can Grow In Your Tiny Apartment All Year Round.