The Content Of The Article: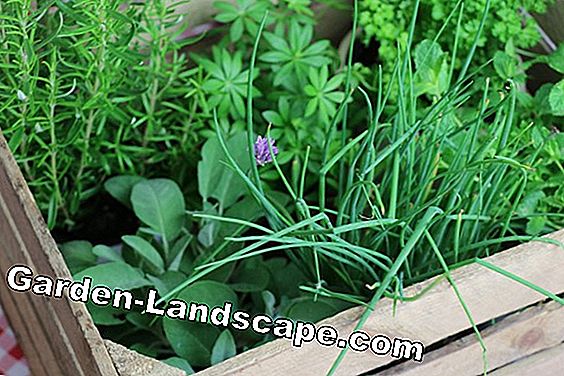 Annual herbs such as borage or dill can be sown directly into the bed from April. If you then plant the seed again until June, you can harvest the young shoots or leaves until autumn. If the herbs are sensitive to frost (such as basil or savory), they remain in their seed pot on the windowsill until mid-May. Perennial herbs are best bought in the nursery as a young plant and put it in the field from mid-May. Alternatively, shoot tips can be inserted in the summer as cuttings in the ground. As a rule, these shoots root very quickly if there is enough moisture.

Location
Most herbs prefer a sunny spot, which is best shaded at lunchtime. Soil sinks, where the water accumulates in the rain, are rather unsuitable.

Light requirement: sunny to partially shaded
Soil: humus, well permeable to water
Nutrient concentration: medium
sheltered
Tip: If the soil is very clayey, it should be mixed with some compost and sand before planting. For very sandy soils, the addition of humus, garden soil or compost has proven itself.
Annual and perennial herbs
Chives, rosemary or even oregano are perennial herbs and should not be planted wildly in a bed with the one-year-old herbs like basil. The perennial herbs need rest when growing. They do not have that if the annual plants are dug up in the autumn at the latest and new ones are planted in the spring. Therefore, it is better to either put them in their own bed or to reserve their own part of the bed.
Recommended herbs for the home garden
Particularly popular in many dishes such as salads, soups or grilling, as well as tea are the following herbs, which also grow well on normal garden soil in sunny to partially shaded locations.

Annual herbs
Basil (very sunny, 25-60 cm height)
Savory (very sunny, 10-40 cm)
Borage (sunny, 50-80 cm)
Dill (very sunny, 50-120 cm)
Chervil (half shade, 30-80 cm)
Marjoram (very sunny, 25-40 cm)
Perennial herbs
Oregano (very sunny, 30-50 cm height)
Tarragon (sunny to partially shaded, 60-100 cm)
Garlic (sunny, 20-60 cm)
Lovage (sunny to partially shaded, 60-150 cm)
Melissa (very sunny, 40-80 cm)
Parsley (biennial, half shade, 30-90 cm)
Peppermint (sunny to partially shaded, a lot of water, 30-60 cm)
Rosemary (very sunny, 40-90 cm)
Sage (very sunny, 40-60 cm)
Chives (sunny to partially shaded, 20-30 cm)
Thyme (very sunny, 20-30 cm)
Hyssop (sunny, 40-60 cm)
Arrangement in the bed
In addition to the site conditions and the plant height of the individual herbs should be included in the plants. Higher-growing herbs such as dill or tarragon should therefore be planted in the middle at the edge of the border, in the middle of the flower beds (accessible from all sides).

plants
Raised beds or herbal spirals are usually filled with fresh herbs, garden soil or humus and maybe some sand. If you want to create a normal bed in the garden, you should prepare the soil before planting. An herb bed should not exceed a width of about one meter, because the individual plants are no longer easily accessible for harvesting. Sometimes it makes sense to create several smaller herb beds, which then plants are summarized, which are similar in terms of light conditions, moisture and nutrient requirements.

Thoroughly dig up soil and rake finely
remove all old roots and stones
with herbal spirals or hillside: in the upper area Mediterranean herbs, below moisturizing compatible herbs that need more shade
if possible, do not place perennial plants next to annuals
if purchased substrate was used, do not fertilize
in normal garden soil add a little organic fertilizer (such as horn shavings or horn meal)
Tip: Spread a few stones in the herb bed. These store the heat during the day and release it slowly. Perfect conditions for heat loving herbs.
Select herbs
The right arrangement in the bed is the alpha and omega for optimal growth and harvest. A Mediterranean herbal bed can also be grown well on sandy soil with less moisture, while the typical culinary herbs such as chives and lovage thrive in partially shaded humus or loamy locations.

What fits together?
Some herbs are very well-tolerated and even supplement or protect each other.

Camomile goes well with marjoram, chives and chervil
Parsley with dill or chives
Lovage promotes fennel and parsley
Basil and rosemary
Thyme is compatible with other Mediterranean herbs
What does not fit together?
Other herbs hinder each other in growth, such as:

Lemon balm and basil
Tarragon and dill
Fennel and coriander
Chamomile and peppermint
Thyme and marjoram
Vermouth amber in isolated position (or at the foot)
Tip: Many one-year-old herbs sow themselves - if you let the seeds mature in late summer - and do not have to be replanted again next spring.
Examples of Plantings
By clever combination, for example, by planting sun-sensitive herbs next to a bush or low tree, such as a pear or a hibiscus, a variety of conditions can be achieved in a bed.
Mixed herbal bed
Space requirements: about 1.2 x 3 meters
Shadow area: wild garlic (Allium ursinum), comfrey (Symphytum officinale), valerian (Valeriana officinalis) in the rear shadow area
rear (sun): caraway (Carum carvi), red sunhat (Echinacea purpurea)
Middle (sun): spice sage (Salvia officinalis), St. John's wort (Hypericum perforatum), lemon balm (Melissa officinalis)
front (sun): Real chamomile (Matricaria recutita), dwarf hyssop (Hyssopus officinalis aristatus)
culinary herbs
Space requirement: about 1.2 x 2 meters
sunny bed on the outskirts
rear: nutmeg sheaf (Achillea decolorans), tarragon (Artemisia dracunculus), fennel (Foeniculum vulgare)
Middle: thyme (Thymus vulgaris), dwarf oregano (Origanum vulgare), tuber onion (Allium proliferum), rosemary (Rosmarinus officinalis)
front: lemon savory (Satureja nontana), spice sage (Salvia officinalis), sweet thorn (Myrrhis odorata)
Mediterranean herbs
Space required: about 1 x 2 meters
sunny location
Soil: slightly sandy, dry and nutrient-poorer
Back: Lavender (Lavandula), Laurel, Marjoram (Origanum majorana)
Middle: sage (Salvia), savory (Satureja hortensis), rosemary (Rosmarinus officinalis)
front: thyme (Thymus vulgaris), basil
Spices for daily needs
Space required: about 1 x 2 meters
humusous soil, sunny to partially shaded
behind: mint (Mentha spicata), fennel (Foeniculum vulgare), lovage (Levisticum officinale), borage (Borago officinalis)
before: tarragon (Artemisia dracunculus), sorrel (Rumex acetosa), dill (anethum graveolens)
before: chervil (Anthriscus cerefolium), smooth parsley (Petroselinum crispum)
front: curly parsley, chives (Allium schoenoprasum)
Native wild herbs
Space required: about 1 x 2 meters
partially shady, slightly humic soil
behind: Yarrow (Achillea), Mallow (Malva), Comfrey (Symphytum officinale)
Middle: verbena (hyssopus, hyssop), lady's mantle (alchemilla)
front: comfrey, valerian (Valeriana)
fragrant herbs
Space required: about 1 x 2 meters
sunny to partially shaded, slightly sandy soil
behind: Eberraute (Artemisia abrotanum), scented lavender
before: Ysop (verbena, Hyssopus), St. John's wort, feverfew (Tanacetum parthenium), fragrance nettle (Agastache)
Chamomile (Matricaria), Thyme (Thymus vulgaris)
ConclusionThe most important criteria for an herb bed is the suitable location in the garden. Sun-hungry herbs such as Mediterranean herbs usually tolerate nutrient-poor and less moist substrates. They can be planted well together in rockeries. Most other herbs need a slightly humus-rich soil in a sunny area that is in the shade for a few hours a day. A few plants do not fit together and should therefore be cultivated separately, otherwise the larger herbs should be planted further back, the lower growing ones in the front of the bed. And: It is best to grow the annual and perennial herbs separately.
Video Board: Growing Herbs : How to Design an Herb Garden.