The Content Of The Article: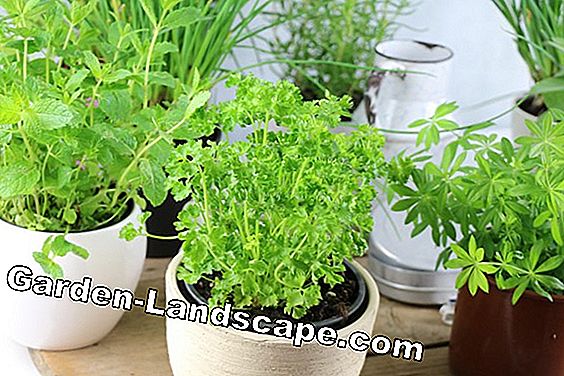 Many hobby gardeners and herb gardeners have their little herbal paradise on the local balcony. Not only do they have aromatic plants for cooking or health, they also have a fragrant environment that provides valuable insects to many beneficial insects in spring and summer. However, if you want to grow herbs on your balcony, you should first of all think about the location and know which herbs are suitable.
Location
Finding the right location for the herbs is actually quite simple: you just have to empathize with the conditions in which the herbs originally grow. Mediterranean herbs such as thyme and rosemary need a lot of sun and warm temperatures, while native plants usually cope well with partial shade and can easily survive even cooler nights. If a herb grows under tall trees in the shade of the forest, it is also suitable for low-light places on a balcony. These should be a little bit damper then. Only plant herbs that match their needs. Please note:

light requirements
heat tolerance
drought resistance
water requirements
nutritional requirements
Location of the balcony
Before you simply buy herbs to your heart's content or cultivate seeds yourself, it is important to clarify the location of your balcony. Depending on the orientation, the hours of sunshine and thus the incidence of light and the temperatures differ enormously.
Southern exposure
High in the course - as far as the hours of sunshine is concerned - should of course be a south-facing balcony, unless other buildings or large trees obscure the sun. For the gardener, a south-facing balcony means that although a large number of plants can be cultivated, they often require more care due to frequent watering. All day long the blazing sun tolerates the fewest herbs, therefore, always a shady spot should be created, which protects sensitive plants from the sun in the noon hours.
North orientation
In contrast to a south-facing balcony, the lowest solar yield can be expected on the north side of the house. But even hobby gardeners with north-facing balconies do not have to do without herbs, even if they are clearly limited in their choice. As the water evaporates much slower, it is not necessary to water so frequently. The watering of the plants should be placed on the morning hours, so that the substrate is not too wet during the night and thus promotes waterlogging or mold growth.
West or east side
At these locations, all the herbs that love half-shaded locations feel comfortable. In relatively free development, a west-facing balcony, in contrast to the east-oriented variant usually has a little more light. In most cases, the light / shade ratio is optimal, although the western balconies have a slightly higher solar yield and temperatures.
planters
First, get an overview of which herbs can be grown on which side of the house. It is helpful to know which plants prefer or tolerate sunny, partially shaded or even shady locations.
Herbs for the south balcony (full sun)
In addition to the usual Mediterranean herbs can also be grown here plants that like half-shady locations. However, make sure that these herbs are protected from the midday sun. You can do this, for example, with an awning or other shading options. In addition, it is possible to place more sensitive species not on top of the balcony in a balcony box, but on the bottom of the floor. Thus, the herbs still receive enough light, but do not threaten to burn. The following plants are suitable for locations in full sun:
One- and two-year herbs
Basil: the warmer and sunnier, the better, earth more nutrient rich with sand
Borage: deep root, requires nutrient-poor, but rather wet soil
Dill: deep root, nutrient-rich, loose soil
Chamomile: neutral to calcareous soil, rather nutrient poor and dry
Chervil: nutrient rich, humus rich, but very well drained substrates
Coriander: calcareous, moderately nutrient-rich and dry soils
Caraway: medium nutritious, humic, rather moist
Perennial herbs
Savory: nutrient-poor, well-drained substrates
Marjoram: Shallow root, calcareous soil, loose and low in nutrients
Oregano: calcareous, loose and low in nutrients
Rosemary: deep root, nutrient-poor and well-drained soil
Sage: sandy and low in nutrients
Sorrel: Flachwurzler, nutrient-rich and rather moist
Thyme: Flachwurzler, nutrient-poor and permeable soils
Lemon Balm: Shallow root, loose and nutritious
Herbs for east and west balconies (partial shade)
While it is advisable to buy perennial herbs in the specialized trade, the one-year-old plants can be preferred each year from late March to mid-April from seeds on the windowsill. Kitchen herbs from the supermarket are not recommended for cultivation on the balcony, as they were pulled for short-term consumption. Herbs do not require high levels of nutrients, so one-year-old plants need not be fertilized when using a good soil. Perennial plants are best supplied at the beginning of the growing season with a long-term fertilizer. The need for water depends on the location and the type of herb.
Herbs in winter
One-year-old herbs have to be replanted or sown every spring, as they last only one summer. However, some spice plants are two or more years old. Frost-hard, domestic herbs can therefore be covered in the fall with some leaves or straw and winter in a sheltered place on the balcony. Mediterranean plants must enter the house during the cold season. There they should get a very bright location and if possible not placed directly over a radiator. A slightly cooler place around 15-18 degrees protects the herbs from infestation with pests. From mid-May, the herb pot may then be put into the open again permanently.
Conclusion
Choosing the right herbs for a balcony is easy. Mediterranean herbs grow best on a sunny south-facing balcony and must be kept dry. Native garden herbs are well preserved on a half-shady east or west balcony and thrive in humus, moist-fresh soil, while on the shady north side feel especially those plants that thrive naturally in forests. With a few exceptions, you can combine all herbs with similar claims.
Video Board: 15 Easiest Vegetables To Grow In Pots For Beginners.