The Content Of The Article:
Fresh herbs are only available for a limited amount of time each year, which is why you should preserve your herbs. Here are 5 ways you can do it.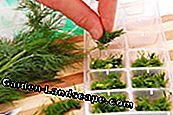 There are several ways to preserve fresh garden herbs for the winter months. To do this, you must harvest most of the garden herbs just before the first frosts, so that they can immediately start fresh again in the spring.
Important:
You should harvest the herbs for preservation whenever possible in the morning, immediately after drying the morning dew, or cut off. This has the advantage that the plant can still regenerate itself throughout the day and the cold that often prevails in the nights during the fall will have little effect on it.
Once you have harvested all the herbs, you can try out the following options for preserving the herbs.
Preserving herbs - 5 possibilities presented
Option 1 - Freezing:
You should freeze all types of herbs with soft leaves, such as parsley, chives, dill, etc. These freshly harvest, wash, dab with kitchen paper a little dry and chop.
" Tip:
However, you should not mince mint to freeze, because then it loses its aroma. Leave mint leaves on the branches and freeze them as a whole in freezer bags.
Of course, you can individually determine the respective portion size of the herb. Ideally, however, are ice cube portions, which can be taken individually. Add the freshly chopped herbs as loosely as possible to an ice cube dish and then top it up with a little water. Put the bowl into the freezer and let the herbs freeze well.
Option 2 - Drying:
A drying of herbs is always recommended when it comes to types of herbs that are later cooked in food, such as. Thyme, rosemary, oregano, marjoram, etc., or find their use in a salad dressing. Only borage is not suitable for drying. You should freeze this herb.

To dry, you need to harvest the herbs as long as possible, wash them off and carefully pat dry with a paper towel. Then you can bundle the herb stems and tie them together with a kitchen twine at the ends.

The bundles of herbs should then always be kept upside down in a warm room that is as dark as possible until they are completely dry after about 2 weeks. After this drying time, remove the bundles and store in an opaque closed container over the winter.
" Tip:
Dried herbs should never be crushed immediately, because they usually completely lose their aroma. A crushing is always done when cooking!
Option 3 - Insert:
Of course, you can also put the herbs in high-quality vinegar or good cooking oil. However, you have to distinguish whether the herbs are to be preserved, or whether vinegar and oil should receive a herbal spice.

For the preservation of herbs in vinegar or oil you should use dried herbs - see process drying. Put them in a closable glass jar and pour only enough oil to cover them. The edible oil used in each case individually changes the typical herbal taste.

On the other hand, if you fill the jar completely with oil and put it on a sunny window for a few days / weeks, you will get an excellent herbal oil for roasting and refining salads. The same effect can be achieved by placing the herbs in vinegar. However, the jars must then be stored in a cool place so that the herbal flavors in the vinegar can pass well.
Option 4 - make pesto:
Some herbs, including basil, are difficult to dry or freeze (turn brown). These can make you very well in the form of pesto over the winter months. Simply proceed as follows:

Wash the basil, pat dry and peel off the leaves. Then fry the pine nuts in the pan, chop the garlic cloves (depending on your taste) and dice the Parmesan cheese. Put everything together with sea salt in a mortar, neatly crush and then put the mass in a small glass. Now fill up with oil until a creamy paste is formed.
Option 5 - make herbal salt: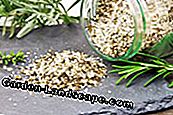 Another variant of herbal preservation is the production of herbal salt dar. Where, again, there are two ways to make the herbs preserved.

You can e.g.wash the fresh herbs, dab briefly, chop finely and fill in re-sealable glasses. Now add salt (7 parts herbs, one part salt). The mixture or the respective type of herbs must be kept cool due to their moisture.

But you can also grate or chop herbs, mix with plenty of salt (mixing ratio 7 parts salt, 1 part herbs) and fill in portions -. in smaller, opaque cardboard boxes or in paper bags.
You might also be interested in:
»Harvest herbs properly
»Plant herbs - That's how it works
»Create herb garden - step by step instructions
Video Board: Olive Oil & Herb.