The Content Of The Article:
Herbs, spices and garden herbs are widely used in our everyday lives. Perhaps the following daily routine will be familiar to you: Drink a strong peppermint tea in the morning, have a rich, well spiced meal at lunchtime and enjoy the home-made herb butter in the evening. Finally, the day fades away perfectly with a light herbal tea. Herbs give our food the necessary spice, are found in numerous teas and are in the form of medicinal herbs now in great demand.
Make tea yourself
It does not always have to be the tea mixture from the supermarket. The ingredients for your tea can be found in the garden.

For example, peppermint, an easy-care and hardy plant, is easy to grow in the garden. Fresh infused peppermint leaves give off a tasty tea.
Create a winter supply: Peppermint leaves can be dried well, so you can enjoy your garden's own garden far away from the garden season.
Also popular is sage, which is nevertheless fresh or dried as a tea ingredient.
Organic is the trend: growing herbs in the garden
Foods with the bio-seal are becoming more and more popular. Anyone who wants to consciously eat, will appreciate the self-cultivation in the garden. Hardly easier to do this - even with little space - in the cultivation of herbs.

Generally: most herbs are completely hardy and hardly require care
Parsley, chives, thyme, rosemary, as well as sage and mint belong in each
Garden. Herbs from your own garden always taste the best. In addition, they are always handy and fresh.
An herb bed and / or a herbal spiral are practical and an eye-catcher in the garden.
Alternatively, herbs can also be used on the windowsill
Enjoy garden herbs in winter: Frozen herbs can also be used well. Fresh parsley from the garden can be kept pre-portioned in the freezer.
If you are interested in medicine, you know how healthy medicinal herbs are. They help to alleviate a variety of ailments and in a very natural way - without any chemicals and harmful side effects.

Even in 60,000-year-old graves, seeds of medicinal herbs were found. Even though people tried to flavor their food with herbs at that time, herbs were usually collected for their medicinal properties and scent.
Most medicinal herbs are easy to grow. Important are the correct time of harvest and the further processing of the herbs.
Schopflavendel - care, cutting and wintering
The Schopflavendel is a popular adornment in every garden. Its aroma is in no way inferior to real lavender, while the flower-like inflorescences provide a special eye-catcher. Nevertheless, the Schopflavendel is an independent plant species, which needs attention especially in the winter in terms of care.
Real laurel - planting, care and propagation
The real laurel, Laurus nobilis, has spread from the Middle East into the Mediterranean to us and Northwest America. As a spice, medicinal and ornamental plant the evergreen real laurel with its dark green shiny leaves also in Germany very popular.
Lovage, plant Maggi's herb - cultivation, care and harvest
Lovage or maggot herb, as the spicy plant is also called, planting is a breeze with the right knowledge. And also for beginners in the garden easily possible. In addition, the herb is an aromatic enrichment for the kitchen and the health.
Edible wild herbs determine: list with 20 herbs
Wild herbs are found everywhere in nature. We do not have to sow them first. Do not toil too hard. Just harvest and enjoy. Sometimes it is the leaves, sometimes the flowers or even the roots, that give our food extra pep.
Brahmi plant, Bacopa monnieri, Small fat leaf - Care of A-Z
Known from the Indian healing arts (Ayurveda), the Kleine Fettblatt is still an insider tip among indoor plants. Long known as aquarium plant, Brahmi is increasingly found on the window sill of the Germans and is due to the unpretentiousness as a particularly easy-care plant.
Irises, irises - plants and care tips
Destroy field horsetail in the lawn and garden
In addition to all its advantages, Acker-horsetail has a dark side that causes hobby gardeners considerable headache. Once horsetail has settled down, it is rare to drive it out completely. However, the prospects of a successful fight are not completely hopeless. Read here how to destroy field horsetail in the lawn and garden.
(Stinkender) hellebore - care, cutting, as a medicinal plant
Stinking hellebore belongs to the buttercup family. He likes calcareous soil, like loam or loess in a loose state. All plant parts are highly toxic, so caution is advised.
Silver thistle plant, Carlina acaulis - care tips
The silver thistle plant or Carlina acaulis, as it is called by its botanical name, is protected in Europe. No wonder, because the decorative thistle is rarely found in nature. One more reason to grow the plant in your own garden. The following care tips reveal what is important.
Field Light Herb (Thlaspi arvense) - Wanted Poster and Care
Ackerhellerkraut is an almost inconspicuous plant, which it has in itself. The plant has been used for centuries against a variety of diseases. And hobby cooks enjoy the delicate leaves of the cruciferous plant in spring. Learn more about the plant and how to cultivate it in the garden.
Star anise plant, cultivate the Illicium verum yourself
Illicium verum, as the true star anise is botanically designated, is especially known from the Christmas bakery. It owes its name to the eight-pointed, star-shaped fruit capsules, which are used whole or ground. Due to lack of hardiness it is cultivated exclusively as a container plant. Who wants to grow it himself should pay attention to fresh seeds.
Collect stinging nettle seeds - all about harvest, drying and effects
Life can be so easy: Bake stinging nettle cake from the stinging nettle seeds and eat on the 1st of January. A good year should follow. The article reveals how to get to nettle seeds and what to do with them and the rest of the plant.

Opium poppy, Papaver somniferum - Can you grow the drug poppy?
The opium poppy, botanically Papaver somniferum, belongs to the poppy family and originates from the Mediterranean area. While the seeds are used as food and for oil production, high levels of alkaloids are found in the plant, especially in the latex. This juice forms the drug opium in dried form. Therefore, the cultivation in Germany requires approval. If and under what circumstances you may grow the opium poppy as a private individual, you will learn in this article.

Blackthorn, Prunus spinosa - Wanted Poster, Care and Harvest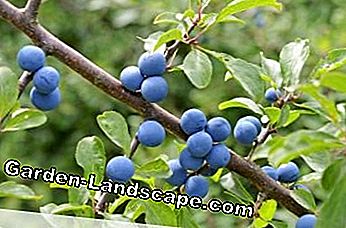 A jewel for the natural garden comes from the outdoors into your green oasis. Blackthorn provides us with tasty fruits, acts as a sight and wind protection and serves birds, insects and other beneficials as a retreat and food source. Find out about the benefits of a Prunus spinosa with tips on care and harvest using the profile.

Wild Mallow, Malva sylvestris - profile and care
The wild mallow captivates as a summer flower dream, valuable kitchen plant, effective herb and natural coloring. In order to cultivate this floral all-rounder in your own garden, the historic Malva sylvestris does not demand much from you. Get to know the frugal cheese poplar based on your profile and explore the uncomplicated care.

Horsetail, fighting Equisetum arvense Vs. herb

Horsetail challenges hobby gardeners like no other plant. Equipped with an unbeatable concept of survival, Equisetum arvense can hardly be driven out of the garden. In contrast, the vascular spore plant has much promised healing powers, prevents and cures dreaded plant diseases. The question arises: fight or cultivate as a medicinal herb? Follow our attempt at an objective approach.

Daphne - care, cutting and augmenting
The true primrose, Primula veris, is called a cowslip and is a classic spring messenger. Their flowering lasts from April to June. With their yolk yellow they are unmistakable. Which site claims the cowslip poses and what you can do with it in the household, hobby gardeners should know.

Planting a flower - Location & heyday of the Iberis amara
Thai basil - location, care and harvest
Basil is more versatile than you might expect. By no means limited to Italian cuisine, Thai basil gives Asian food an inimitable taste. Fresh produce from the own herb garden is considered by real gourmets as the non plus ultra. Familiarize yourself with all important information about location, care and harvest.
1234… 6›"
subcategories
medicinal herbs
Herbs & Culinary Herbs - Preservation and Use
Herbs - cultivation and use
Herbs - garden herbs - spices
Herbal Recipes - From Herb Garden to the Kitchen
Tea - preparation, preparation, recipes
Video Board: Top 6 Struggles of Growing Herbs Indoors (w/ solutions)!!!??? // Garden Answer.