The Content Of The Article:
Send some of your culinary herbs into a deep sleep as soon as they reach the fragrant top form! Preserved in bottles, jars and cans, they wait to be awakened to culinary life in winter.
Harvest herbs properly
In the herb harvest, it depends on the right time. The aroma of herbs such as thyme or sage is most pronounced just before flowering, after which the power of seed formation benefits - at the expense of the essential oils. Oregano and savory are an exception and remain aromatic during flowering. Lemon balm and peppermint, on the other hand, taste rather unpleasant. When harvesting, always cut whole stems from these herbs to a hand's breadth above the ground. This promotes the - again tasty - new shoot. The ideal time of each herb can be found in herbal books.
Ideal for harvesting herbs is a sunny morning as soon as the nocturnal dew has dried. Cut the plants if possible before the midday heat. If you use the herbs fresh in the kitchen, however, you can harvest at any time of the day. When harvesting, use a sharp knife or pair of scissors and cut off enough of the stems to leave about half of the leaves behind - so that the plants can regenerate quickly. An exception is the above-mentioned herbs, which develop an unpleasant taste from the flower, and are stimulated by the more radical cut to the re-emergence.
A sunny, warm morning is ideal for herb picking because then they have the most flavor
Preserve herbs by drying
Drying is the most common method of preserving herbs. Particularly suitable are spice and tea herbs, such as sage, rosemary, thyme or peppermint and lemon verbena. In large-leaved species such as sage and laurel you pick only the leaves and then dried on a Darre. For this purpose, for example, a wooden frame with a fabric of gauze fabric or fine wire mesh is suitable. The stems of small-leaved species are collected into small bundles and hung in an airy place. It should be as dark as possible so that the leaves and stems retain their fresh green color and the natural flavors are not destroyed by intense UV light. The dry leaves should be stripped and stored in dark glass jars or tin cans. Important: Never dry herbs in bright sunlight, in drafts or in the hot oven, as this will destroy the aromatic ingredients.
Tips for preserving herbs
Start photo gallery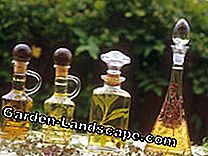 6
Show all
Conserve herbs
To preserve the aroma, do not wash the herbs before drying them if possible. Bundle the shoots to hang on the stems
Large leaves, such as sage, can be threaded onto a wire to dry
As soon as the herbs have dried up, gently brush the leaves of savory, thyme and co. From the stems and fill them into the storage containers
Mediterranean herbs give in high quality olive oil a fine spice for grilled meats, potatoes, tomato sauces or soups
In ice cube containers, herbs can be cut into small pieces and thawed in portions
Grind 100 g of fresh herbs, 100 g of Parmesan and 60 g of roasted pine nuts. Mix with 150 ml of olive oil and a little salt - a pesto is ready. Holds about two weeks!


Freeze or insert herbs
Chives, dill, chervil, basil, parsley and other types with soft leaves and shoots are better for freezing. Wash fresh herbs, pat dry and finely chop on a wooden board. Then pour the chopped herbs in small portions into the compartments of an ice cube container, pour some water and then freeze them immediately. Do not thaw the herbs to use, but add them directly to the food in the frozen ice cube. The frozen ice cubes can be stored for months.
Some herbs like basil, dill, leaf coriander and chervil do not tolerate drying. They can be preserved well in vinegar or oil. Simply cover a few herb stalks in a bottle with olive oil and let stand for two to three weeks. Stir every day and then strain the oil through a coarse mesh cloth.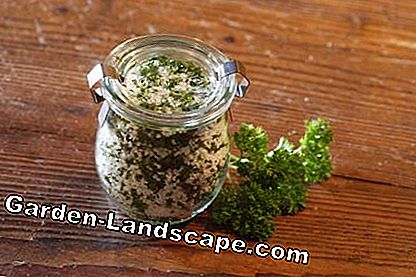 Salt is a very good preservative - especially for fresh herbs. A good mixing ratio is 100 g of coarse salt on 3 tablespoons of crushed herbs
Seasoned Salt
Salt also preserves fresh herbs very well.It inhibits the growth of food spoilage microorganisms. The following applies: a lot of salt and little herb. Dried herbs have a mixing ratio of 1: 1. Simply mortar or mix, mix with salt and fill into small, tight-fitting glasses. Once you reopen it, it smells like summer!
Conserve roots
After digging, the roots are rinsed under running water and dabbed dry and then processed quickly. Remove gnawed and unsightly pieces and cut thick roots and rhizomes (for example, ginger) into pieces or slices before drying. To dry the root pieces are threaded with a darning needle on kitchen yarn or raffia and hung in a shady place. If the roots are easily broken, they are dry.
Make wild garlic pesto yourself
In this video we show you how you can make wild garlic pesto yourself. Have fun with the imitation!
Video Board: Herb Basics: Drying and Preserving Herbs.