The Content Of The Article:
High trunks make for a great change in the potted herb range - especially because there is room at their feet for colorful flowers and other low-growing herbs. In order to enjoy the stems for a long time, it is important to cut them into shape twice a year. After all, rosemary, sage and thyme are woody half-shrubs that, after a cut, only start to grow out of green shoots.
Rosemary is best trimmed after flowering in spring and again in August. In summer, blooming herbs like sage and thyme are cut in March and after flowering. In addition, one should immediately remove from all shoots from the trunk or from the base shoots. The clippings of rosemary and thyme can either be used immediately or dried.
Picture gallery: Kräuterhochstämmchen in best company
Start photo gallery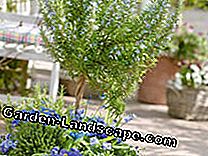 6
Show all
Kräuterhochstämmchen in best company
Wonderfully natural fresh moss graces the pot with the thyme (Thymus vulgaris). If you do not discover one in your own garden, you may even ask the neighbor - and then swap green upholstery for leaflets for seasoning
The twisted trunks of the young rosemary plants are already pretty on their own, but unbeatable in a basket for two - especially in the company of various red geranium blossoms, bright sage leaves and thyme
In the Zinkenopf under blooming rosemary grows a picturesque arrangement of cushion primroses, water-blue horn violets and tender blue stars (Scilla). In between, the leaves of thyme and hanging rosemary create green rest points
A spring greeting from white bellis and horn violets as well as yellow Barbarakraut (Barbarea vulgaris) - also known as winter cress - is ideal for presenting the sage stems in the right light. The edge of the handle basket is embellished by thyme buds
The shrub basil 'African Blue' perches with its beautiful purple flower spikes on pink standing geranium, savory, mint and flowering chives. Tip: The plant, which is not frost-resistant, can be brightly overwintered at 10 to 15 degrees Celsius
White horn violets and gray pots elegantly stage the two laurel high trunks. In the middle of flowering forget-me-nots ensure that they do not seem too strict

Tips for planting
In the planting, it is especially important to have a sufficiently large pot. Well-suited companions are frugal, low herbs such as thyme, dwarf hyssop and creeping ragweed. In addition, seasonal flowers such as horn violets, bellis and primroses, which do not need to be supplied with fertilizer again and again. Who decides in the summer for geraniums or other stronger-consuming pot neighbors, instead of liquid fertilizer targeted fertilizer cones or sticks should use. When watering, make sure that the plants are not wet. Especially the Mediterranean herbs do not like that.
Video Board: 9 Herbs You Can Grow In Water Over And Over Again For Endless Supply.