The Content Of The Article: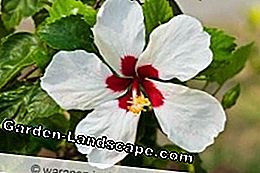 The hibiscus tree with its colorful abundance of flowers requires, especially during the annual cut, a knowledgeable touch. The garden hibiscus can be grown outdoors as a shrub or as a tree. Some hybrids of Hibiscus syriacus were bred as a tree. A rich flowering, in different colors distinguish these hardy varieties. With the right cut at the right time, the garden hibiscus blooms from July to September. In any case, he calls for a sunny location, from April enough water and regular fertilizer for flowering plants.
Recommended varieties
Most hardy hibiscus trees come from the relatively robust and garden hibiscus (Hibiscus syriacus). Some species of H. syriacus are also available as a tribe or half-tribe buy:

Hibiscus syriacus 'Hamabo' - Trunk: A regular perennial with many delicate pink flowers. He is hardy and throws off his leaves in the fall.
Hibiscus syriacus 'Woodbridge' - Trunk: A particularly undemanding, industrious flowering tree, with rich pink and red, unfilled flowers.
Hibiscus syriacus trio-stem hibiscus: A tree with three trunks. A winter garden miracle that blooms in three colors. In red, purple and white, the unfilled flowers shine into September. The tri-stem can grow up to 2 meters high.
Hibiscus syriacus 'Red Heart' -Stamm: Many, white flowers with purple center adorn the crown of this strain breeding in late summer. Red Hart grows quite slowly, is frost hardy and gets along well with a normal, loose garden soil.
Hibiscus syriacus' Blue Chiffon'Strain: Large, delicate purple-blue and filled flowers adorn this, on the trunk, refined species. This strain loves sunny and can tolerate a light winter protection.
maintenance
A good time to set the newly-purchased hibiscus tree outdoors is April. So he has half a year until winter to vigorously root. For the location and the floor, there are the following:

sunny to partially shaded place
sheltered place
Calcareous loamy soil to light, humic soil

no acidic or compacted soil
Use high quality potting soil for the bucket
If possible, do not change the bucket or turn it over during the entire growth period
The relatively robust garden species do not place too great demands on the care. During the entire growing season the garden marshmallow should never completely dry out. Too much dryness makes it susceptible to diseases and pests, especially aphids. It also greatly reduces its flowering in the summer. Already from March, April can be fertilized. Best with a complete fertilizer for flowering plants. The hibiscus in the bucket gets then every two weeks fertilizer with the irrigation water. The tree in the field is fertilized twice, once just before budding, usually in April and once just before flowering in May, June.
cut
Only when everything is working properly during the cut does the hibiscus tree in the garden become a miracle of flowering in the summer. As with almost all trees and shrubs one differentiates the education cut, the maintenance cut and the rejuvenation cut. Basically you can cut twice a year, in spring and autumn. But once a year is enough. In young plants, the upbringing is very important, so it is well branched and receives an attractive shape. Anyone who wants to "transform" a young hibiscus shrub into a tree must take special care of the annual parenting session. In addition, a lot of patience is required in this transformation, because the garden hibiscus grows rather slowly. Tip: Always cut the shoots and branches diagonally and with a sharp, clean tool. The sloping cut surface points downwards for better wound healing.
At a young age, you can cut back vigorously. All branches are cut back to 3-4 buds. If a good main trunk is already visible, you should not cut it further. All lateral shoots are cut back every year except for one eye. Only when the trunk has reached the desired height, you can start to make the crown. For this, the lateral branches are completely removed and cut the strongest branches for the crown except for a few eyes. It can therefore go a few years in the country until you have yourself formed a handsome hibiscus tree.

maintenance

A hibiscus strain is best planted in the spring, because it is still sensitive to frost in the first years.
It grows best in a sunny and sheltered place on a loose ground.
During flowering, it should be watered in prolonged periods of drought, otherwise it may cause it to throw off its buds.
To prevent the roots from drying out, the soil around the trunk can be covered with a layer of mulch.
pruning
A hibiscus tree always forms its flowers only on the new shoots, so it has to be cut back every year.
Here, all branches can be shortened except for a few eyes.
For high trunks, however, make sure that the crown retains its spherical shape.
With the cutting can be waited quietly until spring, because the hibiscus belongs to the plants, which drive out late.
Although its flowers do not have a long shelf life, new ones are formed almost daily from summer to autumn.
overwinter
In the gardens and on the terraces are mainly two hibiscus species, which require a very different care during the winter.

The garden hibiscus (Hibiscus syriacus) is hardy and needs a light protection for the root area only at a young age. For this foliage, mulch or brushwood can be used.
The rose marshmallow (Hibiscus rosa-sinensis) is frost sensitive and should therefore be kept in a bright room where the temperature is around 10 to 15° C. He stays there until the outside temperatures are again permanently above 10° C and is only slightly poured during this time.
A small hibiscus tree for the patio or front yard is usually the Hibiscus syriacus, so he can also spend the winter in the garden. For stems in pots, the tub should be wrapped with an insulating material and stand a bit protected. To protect the roots from the cold from below, the pot can be placed on a polystyrene plate.
Video Board: 92# Hibiscus grow from cutting || chili hibiscus tree care.