The Content Of The Article:
More than 30,000 varieties of roses there are nowadays. The flowers are simple or filled, their scent ranges from a delicate fruity note to an almost stunning perfume and the color variety is almost unmanageable. But how did the rose come to us? And who are they? ancestors our modern breeding roses?
The "Queen of Flowers" - this title was given to the rose by the Greek poetess Sappho in 600 BC. Already at that time the thorny beauty inspired the imagination of the poets. But the wild rose, of which Sappho raved, does not have much in common with today's breeding roses.
THE WILDROSE
The dog rose (Rosa canina) is the most common wild rose in our latitudes

The rose is able to cope with almost any situation in life: it endures bitter cold and heat and feels in the pot on small terraces as well as in the bed in huge parks.
Nevertheless, the wild rose was originally found only in the northern hemisphere. Fossil finds suggest that the primeval rose flowered on Earth 25-30 million years ago. Wild roses are unfilled, flower once a year, have five petals and form rose hips. In Europe, of the 120 known species, there are about 25, in Germany, the dog rose (Rosa canina) is the most common.
KLEOPATRAS ROSES
Cleopatra used rose petals to seduce her lover

The Egyptian queen Cleopatra, whose seductive arts went down in history, also had a weakness for the queen of flowers. In ancient Egypt, too, the rose was dedicated to the goddess of love, in this case Isis. The ruler, notorious for her extravagances, was said to have received her lover Marcus Antonius on the first night of his love in a room that was covered knee-deep with rose petals. He had to wade through a sea of ​​fragrant rose petals before he reached his beloved.
ROSES IN THE MIDDLE AGES
Charlemagne ordered to cultivate roses in monastery gardens

The incredibly lavish handling of the Romans with roses was followed by a time when the rose was valued mainly as a medicinal plant. In 794 Charlemagne wrote an estate ordinance on the cultivation of fruit, vegetable, medicinal and ornamental plants. In this it was said that all courts of the emperor were obliged to grow certain medicinal plants.
Among the most important belonged the Apothekerrose (Rosa gallica 'Officinalis'). From the petals to the rose hips and rosehip seeds to the root of the rose root, the various components of the rose are said to help against inflammation of the mouth, eyes and ears, strengthen the heart, promote digestion and alleviate headache, toothache and stomach ache.
In the middle of the 13th century, Albertus Magnus described in his writings the rose species white rose (Rosa alba), wine rose (Rosa rubiginosa), field rose (Rosa arvensis) and varieties of the dog rose (Rosa canina). He believed that all roses were white before the death of Jesus and only reddened by the blood of Christ.
In Europe, there were mainly three groups of roses at that time: the Gallica, Damascus and Alba roses. They all have a shrubby habit, dull foliage and full flowers. The Damascena roses are said to have been brought by the Crusaders from the Orient, as well as the Apothecary Rose and the Alba Rose 'Maxima' have come on this way to Europe. The latter is also known as the Peasant Rose and was often planted in rural gardens. Their flowers were often used as church and festive decorations.
THE ROSE FEELS COLOR
The pink foetida is more for the eye than the nose

When a yellow rose (Rosa foetida) from Asia was introduced in the 16th century, the rose world was upside down: the color was a sensation. After all, we knew only white or red to pink. Unfortunately, this yellow novelty had an undesirable quality - it stunk. The Latin name reflects this: "foetida" means "the stinking".
Chinese roses are very petite, unfilled and sparsely leafy. Nonetheless, they were of great importance to European breeders. As mentioned earlier, they had a tremendous competitive advantage: they bloom twice a year. This feature should also own new European rose species.
However, it took until the early 19th century, until the Chinese roses claimed their full influence on today's rose breeding. At that time, relatively little, four China roses reached the British mainland: 'Slater's Crimson China' (1792), 'Parson's Pink China' (1793), 'Hume's Blush China' (1809) and Park's Yellow Tea-scented China '(1824).
THE BEGIN OF BREEDING
The variety 'Reine des Centfeuilles' belongs to the centifolia

Even then, the Dutch, who are now famous for their tulips, had a knack for flowers: they crossed wild roses with Damascus roses and used them to develop the centifiliates. The name derives from its abundantly filled flowers: Centifolia stands for "hundred-petalled". Zentifolien were popular not only with rose lovers because of their beguiling fragrance, but also opened up a path into the art through their beauty. So you often discover them on paintings of the 17th and 18th centuries. A mutation of the centifolia caused flower stalks and calyxes to look overgrown with moss - the moss rose (Rosa muscosa) was born.
Start photo gallery
15
Show all
Historic roses (15)
Beetrose 'Hermitage': Hermitage is a seemingly floral Floribundarose with globose, strongly filled flowers in delicate to whitish rosé. It blooms over the summer with beautiful rose tufts. A charming rose of about 0.80 m height. It is ideal for combination and pre-planting with English roses and for tub or bed planting. (Photo: Christian Schultheis)
Portland Rose 'Comte de Chambord': This variety belongs to the very first choice of flowering historical roses! The astonishingly slender, pink bud slowly unfolds into a densely filled blossom with a diameter of more than 8 cm. The petals shimmer like satin in a pure pink and form first a cup, at last they arrange themselves into a shell. Mostly they are in clumps. Ingrown shrubs bloom almost continuously until late autumn. A very strong, pure damask rose perfume completes the beauty of flowers. The growth is rather upright and narrow; the shoots, which are studded with small spines, are about 1.2 m high. The light green foliage is very healthy and the plant is very hardy. (Photo: Christian Schultheis)
Ramblerrose 'White Flight': A very flowering rose with clusters of small, pure white flowers that are slightly filled and appear in June / July. Its growth is dense, it is well-foliated with small, medium-green foliage. (Photo: Christian Schultheis)
Remontantrose 'Souvenir du dr. Jamain ': The wine-red, fragrant roses are well filled, show their golden yellow stamen full-blown. Fragrant. The shrub flowers very rich and a second time in late summer. Their long, stingless shoots can also be tied up as a small climbing can. (Photo: Christian Schultheis)
Rosa alba 'Mme Plantier': flowering blossom creamy white with cream center and green eye. Full blown, the roses are bright white and surrounded by flower tufts with pink-tinted buds. Fragrant, medium-sized and heavily filled. One-time and very rich in tufts blooming. The foliage is small and healthy. Strong overhanging growth, a good 2 m high and at least as wide. Their shoots are stingless, pliable and wonderful to use as a bushy climbing rose. It is connected over 4 m high. Also ideal for rose bows. (Photo: Christian Schultheis)
Rosa bourbonica 'Pure Victoria': The ball-shaped, very densely filled flowers appear throughout the summer. The color is a radiant, silky pink. An intense scent escapes the flower balls. The upright shrub reaches a good one and a half meters in height. The big leaves are unfortunately susceptible to star sooty; Therefore, a carefully prepared soil and a free location where the foliage can dry off is an important preventive measure. The rose also tolerates partial shade. (Photo: Christian Schultheis)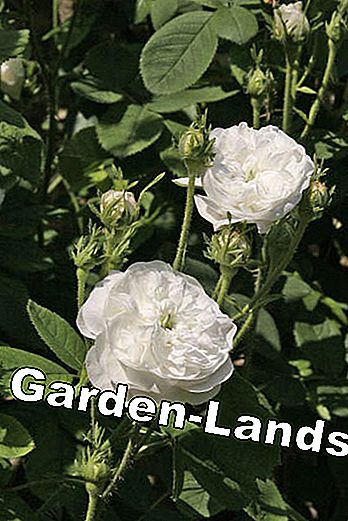 Rosa damaszena 'Mme Hardy': One of the most beautiful white roses. The flowers are pure white, completely filled and show a green jade-eye in their center. The roses smell wonderful and open to large, lush flowering bowls. The shrub has robust, dense foliage in rich green and blooms in June / July. The growth is upright with overhanging flowering branches. (Photo: Christian Schultheis)
Rosa Gallica 'Charles de Mills': The origin of 'Charles de Mills' is uncertain. However, it is certainly an enrichment for any garden with its unmistakable flowers. Their buds are spherical and develop into large, flat, densely filled flower shells in fantastic carmine red with purple to purple shades. The flowers smell good and are often quartered in the middle. They bloom in clumps in June for many weeks. The foliage is dark gray-green, the growth overhanging bushes. (Photo: Christian Schultheis)
Rosa glauca: blossom light red, simple. The plant grows bushy, upright and is very strong growing. She has red foliage. Growth height approx. 2-3 m. (Photo: Christian Schultheis)
Rosa indica fragrans 'Fortune's Double Yellow': A rose that has long been cultivated in China, with filled, loosely shaped, amber-yellow flowers that show shades of orange and red. They smell nice. The rose remodels well, grows long-winded and is most beneficial as a climbing rose. It is hardy only on sheltered and sunny locations and prefers winegrowing climate.(Photo: Christian Schultheis)
Rosa moschata 'Felicia': This Moschata rose fascinates by purely pink flowers, whose petals are golden radiated at the base. So the color looks warm and gentle. The noble and tall, medium-sized, quite weather-resistant flowers are clustered in large clumps and appear continuously throughout the season. Impressive is the pure, rosy-sweet scent! The foliage is relatively resistant and the shoots build up to a balanced bush of well one and a half meters in height and width. (Photo: Christian Schultheis)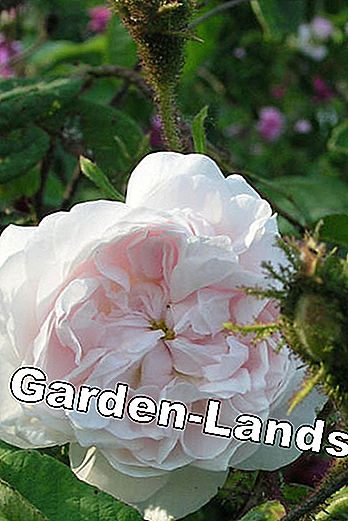 Pink Muscosa 'Shailer's White Moss': Rich flowering, well-mossy rose in bright white, whose strongly scented flowers are filled, flat-shaped and mostly quartered in the middle. The outer petals are tapering. Very fragrant. Strong and bushy with dark green foliage. (Photo: Christian Schultheis)
Rosa noisetteana 'Mme Alfred Carrière': The large, elegant flowers are looser filled and have a light scent. They appear reliably throughout the summer on the long, stingless shoots. Their soft pink color quickly brightens pearlescent to white. The large foliage is dense, robust and stays green for a long time in autumn / winter. The growth is strong with long, sweeping branches, at least 5 m. (Photo: Christian Schultheis)
Rosa pimpinellifolia 'Single Red': The cherry-red petals form a simple shell around the golden yellow stamens. From the outside, the flowers are silvery tinged. The medium-sized flowers appear early in the season. Here it is worthwhile to let rose hips ripen - they appear round and very dark in early autumn. Even the finely divided foliage surprised in autumn with a magnificent autumn color. The spreading shrub is a good one and a half meters high, but sometimes remains much smaller. Winters do not cause any problems for this natural variety - it is really frost hardy. (Photo: Christian Schultheis)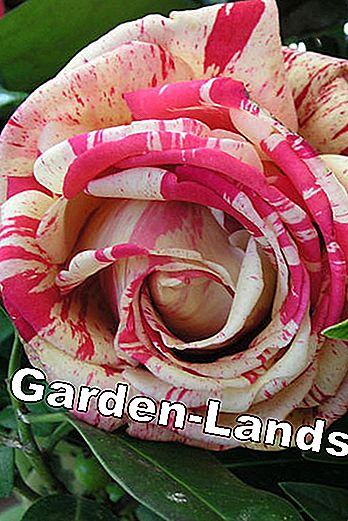 Tea hybrid 'Broceliande': Every flower, every petal is a red and yellow striped unique! The well fragrant flowers are large, nobly formed and appear numerous on the well 130 cm high, sometimes also higher shooting bushes. (Photo: Christian Schultheis)


Video Board: The story of the rose (Heart of my heart) - Barbershop Quartet.