The Content Of The Article:
Summer time is vacation time! With all the anticipation of the deserved summer vacation, the hobby gardener is asking the question: Who cares reliably about the pot and container plants while you are on the move? Those who have a good rapport with their neighbors or friends with a green thumb should seek their help. So that the vacation replacement does not have to stop by every day to pour, some precautions help.
1. Find a shady spot for your plants
Bring your potted plants together in the garden or on the terrace where there is shade - even those plants that prefer to stand in the sun. Because in the shade they need less water and survive two to three weeks absence much better. Shadow donors are trees or pavilions. The latter, however, do not let rain through. A sheltered area is also beneficial in weather events such as thunderstorms and hail, so that the plants are not damaged.
In order to reduce the evaporation in the pots, it already helps to put the potted plants in a shade place
2. Set up irrigation
Before the trip, you should pour your potted plants outdoors again vigorously until the root ball is well moistened. But beware of waterlogging! Those who have no helpers on site should resort to irrigation systems for stays of several weeks. Automatic systems are controlled via a control computer at the tap. From a main tube smaller hoses lead to the plants to supply them with water. Install and test these systems two to three weeks before you go on vacation. This allows you to adjust settings such as irrigation amount and duration.
A simple but effective principle for the supply of potted plants are clay cones, which suck in fresh water from a reservoir in dry conditions and release it evenly to the ground. The plants are watered only when needed - ie dry soil. And the system does not have to be connected to the faucet. If something goes wrong, so the maximum amount of water from the container can leak - this gives a better feeling, if you are not home for several days.
3. Clean flowers
Remove withered flowers and damaged leaves before leaving. When it rains, withered flowers can easily stick together and develop into foci for fungal diseases. With many balcony plants, flowers can be plucked off easily. Marguerites are cut with scissors by about a quarter. With geraniums one wears out the withered pedicels carefully by hand.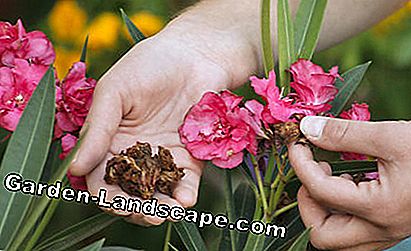 The regular removal of withered flowers prevents Oleander disease
4. Weeding
Pluck out any weeds that sprout in the pots. The high-growth ones could quickly overgrow small potted plants. In addition, they consume water and nutrients that are intended for the actual pot inhabitants.
5. pruning
Cut back on vigorous species like leadwort or gentian shrub, then they will be in shape when you come back.
6. Fertilize
Although most potted plants need a dose of fertilizer every week, it does not matter if they expose two or three times. Fertilize very carefully in the weeks before. So a small nutrient supply builds up in the earth.
7. Plant protection
Just over two weeks before departure, the plants are checked for diseases and pests, so that they can be treated again if necessary. If a pest goes unnoticed, it can otherwise multiply unhindered on vacation.
Video Board: 6 Tips To Keep Your Poinsettias Looking good This Holiday Season.