The Content Of The Article:
use
Santas fit well in the rock garden or in the Mediterranean garden. The plant is also used for the planting of roof gardens and can be cultivated well as a container plant, as it is very drought-tolerant. Red wild tulips, purple bells or blue periwinkle flowers, but also roses are suitable as companion plants. The fresh leaves of the holy herb are often used to season meat, fish and pasta dishes. When dried sorrel works against moths and fruit flies. Fresh holy herb keeps mosquitoes away.
winter protection
Heiligenkraut is perennial and sufficiently frost hardy at suitable locations. In order to protect it from major frost damage, we recommend a winter protection made of pine spruce. In addition, make sure that the location in the bed is as dry as possible, ie a good drainage in the soil.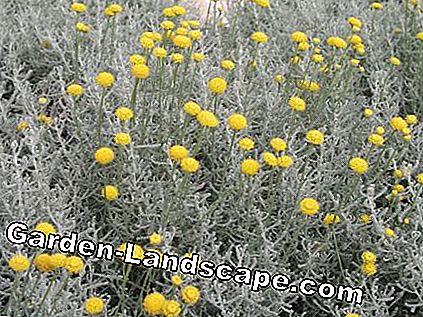 The gray-leaved sativa (Santolina chamaecyparissus) is a semi-shrub with a high ornamental value
further care tips
The nursing effort is very low in holy weed. Since it is used to dry soils, it does not have to be poured. An annual vigorous pruning should be done immediately after flowering to make the plant bushier. Fertilization is not required.
proliferation
The best way to increase sativa by cuttings. For this purpose, 15 to 20 cm long shoot tips are cut in early summer, freed from the foliage below and placed in a partially shaded place in sandy potting soil. Until they have grown, they should be kept evenly moist. Also a sowing is possible.
Diseases and pests
The holy herb protects itself with its essential oils very well against disease and pest infestation and thus keeps away snails.
Video Board: Santolina chamaecyparissus.