The Content Of The Article:
origin
The more than 450 species strong genus Ehrenpreis (Veronica) is, based on their botanical name, also known under the name Veronika. Formerly her own plant family, namely that of Veronicaceae, it has been assigned to the family of plantain plants (Plantaginaceae) for several years. Honorary prizes are mainly found in Europe in rocky hills, boulders, dry grasslands and open shrubs, but also in wet meadows, grasslands or wet marshes you can find some species of perennial. Depending on the species, the easy-care award will flourish from spring into autumn and is wonderfully suited as a cut flower. Because of the enormous color effect, varieties from white to pink and red to deep blue are often offered as seasonal summer plants for tubs and boxes.
Appearance and growth
The different honor prize types can grow between 20 and 200 centimeters. Depending on the species and variety, the leaves may be stalked or short-stalked and are oblong to roundish or linear to broadly lanceolate. Flowering time is usually between July and September in high species and low species between May and August. The deciduous grand prize of honor (Veronica teucrium) grows upright, is horstbildend and reaches a height of 20 to 60 centimeters. The flowers are in elongated grapes, the leaves are oval-shaped and smooth. At 60 to 120 centimeters, the Long-Leafed Honorary Award (Veronica longifolium) grows slightly larger, blooming from July to August in bright white or in bright blue shades. The same colors are worn by the Enzianblättrige Ehrenpreis (Veronica gentianoides), which is up to 60 inches high and flowers from May to June. From June to August, the Spike of Honor (Veronica spicata), available in blue, white, purple, pink and even red.
The Spike of Honor (Veronica spicata) forms tall, richly colored flower candles
Location and ground
The undemanding summer bloomers usually prefer a sunny spot. Depending on the type and variety, the soil requirements may vary. High species usually prefer a fresh to moist, nutrient-rich clay soil. In contrast, low species need a well-drained and dry soil, which may also be sandy or rocky. For example, the approximately 30 centimeter high silver cushion honor award (Veronica spicata 'Silver Carpet') likes to grow on permeable, not too nutrient-rich soils. On the other hand, the dwarfs of the upholstery and gentian prize, which flourished in May, prefer a damp floor. On the other hand, the Bach Prize of Honor (Veronica beccabunga) shows quite different preferences: As its name suggests, the native swamp plant likes to grow on the banks of a stream or on the garden pond in approximately ten centimeters of deep water.
planting
Mid-May is best planting time for honorary prize. Depending on the individual needs of the particular species, either add some compost and horn shavings or you can drain gravel or sand into the planting hole. The planting distance varies from species to species. Information about this is usually the plant label.
The Lower Honorary Prize (Veronica prostrata) forms low, loose tufts and should be planted as groundcover in small groups
care Tips
In principle, Ehrenpreis is one of the most easy-care plants in the garden. High honor prize species require a support and as fertilizer abundant compost in spring and autumn. Cut faded parts regularly for all types. Tip: If you cut back the plant by one third in early summer, you can look forward to a second flower.
Hibernation or winter protection
Ehrenpreis is fully frost hardy and therefore does not require winter protection.
use
If you wanted, you could deny the whole flowering season from April to September only with representatives of the predominantly shining in harmonious blue tones genus. But the best thing about the bee and bumblebee magnets is their quality as a companion to other plants. The beginning of flowering form the upholstered and carpet-like species. Often already in April the light blue candle blossoms of the gentian honorary price appear. It makes an excellent as a bed completion of a spring rebate with Bleeding heart, greenswax and lungwort or as a companion of irises in the cottage garden. Its glossy foliage is, as with many ground covering species, evergreen. Pretty Horste forms the Gamander Ehrenpreis. His predilection for dry, calcareous soils in a sunny location corresponds to places between other steppe plants in stone and gravel gardens.
In general, the small varieties are well suited as a companion of alant, yarrow and weed in stone and heath gardens. They can also be used to perk at the sunny woodland edge.In the rock garden or the Beetrand flourish in May, especially low Veronika species such as Armenian and Low-lying Honorary Prize (Veronica armena and Veronica prostrata). As about 15 centimeters small ground cover in the rock garden is the Gestielte Ehrenpreis (Veronica peduncularis).
Important species and varieties
From the Grand Prize of Honor especially the variety 'bang blue' with bright, unbelievably blue flower color and grass green leaves and also the samenvermehrbare variety 'royal blue' are common. Veronica longifolia 'Schneeriesin' was bred in 1956 by Karl Foerster. It is a proven, about 80 centimeters high variety.
The Grand Prize of Honor (Veronica teucrium) does not live up to its name with a height of 20 to 40 centimeters - it convinces with bright blue spikes of flowers
Veronica longifolia 'Rosa Töne' is with her 80 centimeters a good partner for daylilies, lady's mantle, yarrow or roses. Veronica teucrium is perfect for perennial shrubs on well drained, calcareous clay soils. Veronica longifolia 'Pink Damask' is a beautiful, robust selection of the Dutch landscape architect Piet Oudolf. In bright royal blue flatters 'Royal Candles Glory', a compact variety of the Spike of Honor (Veronica spicata). A blossom firework also kindles the variety 'Heidekind' in midsummer. Candle straight rise to the bright blue flower spikes of the proven long-leaved honorary award 'Blauriesin' on.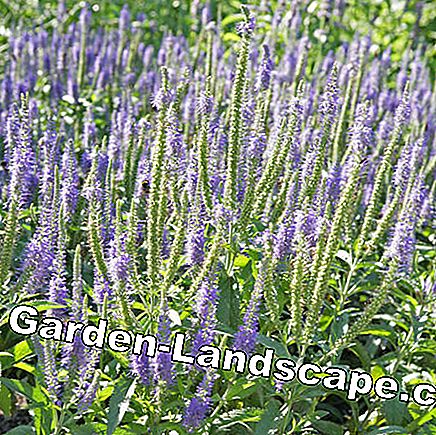 'Blauriesin' is stately 80 to 100 inches high. The Veronica longifolia variety loves a sunny spot
proliferation
High honor prize species are generally propagated by division in the spring. Even low species can best be multiplied by division, but you can also use seedlings for sowing in pure species.
Diseases and pests
All honor prize species are extremely robust and are hardly affected by pests. Occasionally, mildew or leaf spot disease may occur.
Video Board: Speedwell Part 1 - Cutting & Interfacing.