The Content Of The Article:
Although they are usually cheap, but often also in need of major refurbishment: who buys an old house, it often even core. But what does that actually mean?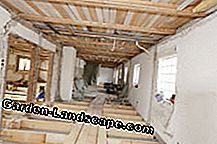 The move to your own home is a big step and much has to be considered in advance. This starts with the search for the right property, goes through the financing and ends with the renovation work and the move-in. Many people like it there comfortably: Preferably, the future new home has just been built or at least freshly renovated and renovated. Then all you have to do is set up your own furniture and start living in your own home.
Some may also want to be involved in the construction of the new house and decide for themselves, which of course they also charge some responsibility. But some people are even happy when they have a lot of work with the new house and can shape and manage themselves.
As a rule, the latter do not opt ​​for a new building or a refurbished property, but rather for a building that has a lot to do - a home improvement paradise. Positive side effect: The need of renovation buildings are usually quite cheap to have. The money thus saved, which is left over for the own handicraft activities, can then be invested at own discretion.
What does "coring" actually mean?
If you really want to start from the beginning with an old building, but do not want to tear it down, you start with gutting. The word "gutting" often falls when it comes to redevelopment, but not everyone knows what to do with this term. So first, there are some questions to be answered:
1. What exactly is gutting?
2. When is guting done?
3. Does the entire building always have to be gutted?
1. What exactly is gutting?
A coring is a partial demolition of a building. Only the facade will last. When gutting not only not load-bearing walls are torn, but also such a bearing type. So you can actually think of a corroding as demolition, in which nothing is left except the outer shell: Doors, windows, false ceilings, floors and various building techniques removed. (Source: bauerhaltung.de)
2. When is guting done?
A gutting is carried out especially if the appearance of a house should be preserved - so it is particularly beautiful or appealing old, rustic, romantic or nostalgic - but the habitable space behind it is no longer usable. For example, gutted houses are often kept in an old style from the outside, while inside the house a modern building can be found.
Who wants to completely renovate his house, therefore, with a coring the foundation stone. But even if it is to be grown on the existing building, gutting can make sense. And of course, if a building is contaminated with pollutants such as asbestos. In that case, the entire building does not necessarily have to be demolished immediately, but the façade can survive if it is not contaminated with pollutants as well.
3. Does the entire building always have to be gutted?
No, it is also possible to core only individual rooms, if the others are still in good repair. However, if you want to completely rehabilitate, is probably synonymous to a complete gutting.
Do it on your own or hire a professional?
Even if you want to do as much as possible in a complete renovation on your own, so it is more than advisable that you get a peeing professional in the house. There are a number of reasons that are both obvious and can not be forgotten:
➤ Risk:
Of course, many feel that getting professionals to do a job becomes more expensive. This may often be the case when painting walls or laying tiles. However, gutting is a task that can quickly become really expensive on your own. Then, if it goes awry - and that can go faster than expected. The cheaper, stress-free and low-risk option is: Be sure to turn on a pro.
And another positive point: Specialist companies also take care of the disposal of the entire rubble. Otherwise, you would have to take care of it yourself and, for example, Search Yellow Pages for corresponding companies.
➤ Devices:
Again, the price plays a role. Hardly anyone will have the appropriate equipment for gutting in his garden shed. These would have to be rented first, consequently also the home improvement with devices of this kind goes neatly into the money.
➤ Experience:
Of course, a professional company also has experience in this area and skilled workers.The workers know what they have to do and are careful with the building - but also work much faster than you could make it as a home improvement hobbyist.
Find the right company
When gutting buildings, it is like many other professional things too. It comes to the question of all questions: How can I find the right company to which I can bring the necessary confidence, and also has no priced utopian ideas? It is best to focus on a company that specializes in a variety of construction jobs. For example, KATI GmbH & Co KG is one such company that offers not only ginning but also other services such as decontamination, disassembly and dismantling. All construction work of KATI GmbH & Co KG at a glance can be found on the homepage of the company. It is therefore advantageous that one and the same company can take on several jobs at the same time, which can not be mastered in a stand-alone activity by a handyman.
➜ In a nutshell:
Anyone who is interested in gutting is really in better hands with professionals, because without the appropriate know-how, it can not only be expensive, but can even damage the building fabric. Passionate do-it-yourselfers therefore do not have to be annoyed because it is well known that there is still more than enough work left at the home that inevitably has to be done.
Video Board: What is CORE BANKING? What does CORE BANKING mean? CORE BANKING meaning & explanation.