The Content Of The Article:
Spice and medicinal herbs delight with their variety of colors the eye, with their fragrance the senses and relieve so many physical ailments with their beneficial active ingredients. As seasoning or decoration of delicious food, they round off the tastiest dishes. No wonder that the trend to grow healthy herbs directly in their own herb garden is becoming more and more popular. This even succeeds in the middle of the city, because fresh herbs also thrive on the balcony. But some rules should be considered when planning and creating a herb garden.
Plan Herb Garden: The herbal selection
When creating a herb garden, several factors play a role in the planning. The first question you have to ask yourself is: Which herbs do I want to plant, and what needs do they have? Because it makes a difference whether you want to grow heat-loving rosemary or water-thirsty watercress. Sage and oregano need a place in the sun and dry soil, while parsley, borage and chives need plenty of water. Coriander and Pimpinelle again prefer calcareous soils. And not all herbs like to stand side by side. For example, peppermint and chamomile are not very well tolerated. Dill and tarragon as well as marjoram and thyme do not like to stand side by side in the bed.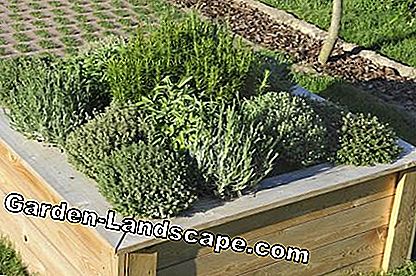 Decorative and snail-free: A half-height herb bed in a wooden frame adorns the lawn
As a rule of thumb, do not mix annual and perennial herbs, but form each group. So make a list of your favorite herbs and their requirements for substrate, space and solar yield. Then you group all the herbs that fit together well (for example oregano, thyme and savory or hyssop with lavender) and finally choose the right location for your herbal bed based on your considerations.
The shape and location of the herb garden
Then you should think about the desired look and the location of the herb garden. If you do not want to plan your own herb garden yourself, you can fall back on tried and tested bedding types. For example, the elegant herbal spirals are popular, in which the herbs are planted helically. You can easily build such a herbal spiral yourself. Or have you ever seen a "herb wheel"? The herbs are distributed in a circular bed as in the spokes of a wheel. You can also combine kitchen and medicinal herbs as a mixed culture with vegetables and other plants, strictly according to farmer's garden type into rectangles or arrange according to the nature of the Far East harmony "Feng Shui".
In the herb wheel, the plants are easily accessible from all sides
If you want to do the planning yourself, you can customize the shape of the herb garden, depending on your personal preference and available space. It is also possible to create the herb garden intuitively, for example, to be inspired by the different colors of the herbs and to combine them with each other according to visual aspects. But note the incompatibilities of the plants with each other, so it does not come to nasty surprises.
Round herbal bed with a dry stone barrier of gray rock stones
Plan your herbal bed only so big that you can handle it not only horticultural, but also culinary and not end up half of the splendor ends up unused on the compost. Small name tags help to keep track of the individual varieties, especially at the time of sowing. Also note that many herbs, such as sage or chives, attract bees and bumblebees during flowering. If you are afraid of the buzzing insects, you should not plant these herbs in the immediate vicinity of the patio or balcony.
The classic: the herbal spiral
A herbal spiral is a real eye-catcher in the garden and a great way to grow many different herbs. For this version of the herb garden, however, you must plan enough space and some working time. A masonry herbal snail, when properly created, is characterized by the fact that one and the same herbal bed fulfills different site requirements by different moisture zones - from humus, moist soil to dry, warm substrate, each level of the spiral provides its own micro-landscape. So every herb gets its optimal planting place and the plant selection is not limited to like-minded people.
Ready-made and planted herbal spiral
Herbs in the raised bed
When planting a herb garden, high beds are an option alongside the low peasant and vegetable garden beds or herbal spirals.Raised beds are particularly suitable for Mediterranean species, as the soil there is a bit drier and warmer than in the normal bed. A raised bed also has the positive characteristic that you can reap comfortably and without bending down and a straight in the nose when you fly by the delicious smell. And best of all: snails have no chance in the raised bed! Hanging plants such as nasturtium are also pleased with the increased planting position from which they can hang their long tendrils. If the raised bed is exclusively intended for planting with herbs, it can be made very narrow, for example along the terrace, and it can be designed as a decorative and fragrant screen element.
Garden can be so beautiful: herbal high bed with clay-colored figures and insect hotel
Small herb garden on the balcony
A herb garden does not need much space. Even on the balcony or on the terrace, it is possible to make quick arrangements of herb pots by skilfully placing the boxes and pots. Determine the correct corner for your herb garden based on the solar yield and create a flower staircase or easel on which you can accommodate several pots or boxes. Hanging teams put Nasturtium and the creeping versions of rosemary and thyme perfectly in scene. The advantage of the pot garden when planning a herb garden is that every plant has its own space. Thus, the individual substrate and watering needs and space requirements can be perfectly addressed, and the different herbs do not get in the way of growth in the way. If a plant enters or is harvested, the entire pot is replaced with a new one quickly.
Space-saving idea for balcony herbs: A wall shelf with pot holders
Create creative herb bed
A herb garden in itself is already a varied, creative garden component. But especially with herbs, it does not always have to be the classic garden form. The half-height, horstigen herbs are ideal for decorative planting, so you can create with them, for example, a living bed surround. Or you use drought-loving herbs for greening dry stone walls. Be creative and plant your herb pots in wooden crates, old barrels or a discarded wheelbarrow (do not forget to take down holes!). Small name plaques made of enamel, wood or slate are not only practical, but also pretty to look at.
What should one pay attention to?
Herbs taste and work especially because of their concentrated ingredients. Therefore, when planting herbs, plan not only the planting, but also the care of the precious ingredients. The herb garden should be as far away from traffic as possible, so that the pollutants of the exhaust gases are not absorbed by the plants. In addition, do not use synthetic herbicides, insecticides or fungicides and only fertilize with organic fertilizer or compost. Herbs are best watered with fresh, low-calorie water. Water from the rain barrel is not suitable for herbs and vegetables, which is consumed raw because of the germ load.
Video Board: How to Plant a Culinary Herb Garden! DIY Kitchen Garden.