The Content Of The Article:
Who wants a rock garden, but has no room for a large garden, can also create a mini rock garden in a shell. We will show you step by step how to do it.
What you need for a mini rock garden
A wide, flat pot or a planter made of clay with a vent hole
expanded clay
Stones or pebbles in different sizes
Potting soil and sand or alternatively herb soil
Rock garden perennials
Step by step: How to create a mini rock garden in the shell
First pour expanded clay into the shell (left) and then mix the soil with a bit of sand (right)
First, cover the vent hole with a stone or pottery shard. Then you can pour expanded clay into a large planter and then put a water-permeable fleece over it. This prevents soil from getting into the expanded clay spheres, ensuring better drainage. The cultivation soil is mixed with a little sand and a thin layer of the "new soil" is spread on the fleece. Be sure to leave some room for the pebbles.
Now crop the perennials and plant them (left). Then the big pebbles can be distributed (right)
In the next step, the perennials are potted. First plant the ribbon flower (Iberis sempervirens 'Snow Surfer') in the middle. Afterwards, lunchtime flower (Delosperma cooperi), rock fat hen (Sedum reflexum 'Angelina') and blue cushion (Aubrieta 'Royal Red') are placed around it. In the meantime make sure that there is still some free space towards the edge. Then you can fill up missing soil and distribute the large pebbles decoratively around the plants.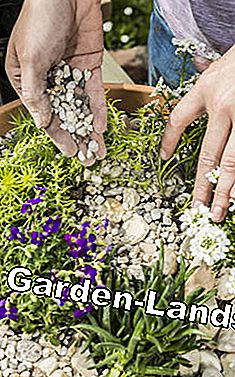 The interstices are filled with grit (left) and the rock garden is ready in miniature format (right)
Finally, chippings are filled in the interstices. Then you should water the perennials vigorously. The finished mini rock garden you only need to water when needed. But always make sure that the plants are not wet. By the way, the perennial shrubs stay outside over the winter and drift off again next spring.
Practice Video: How to create a mini rock garden in the pot
In this video, Karina von Mein shows you how to design a miniature rock garden very easily!
Video Board: Small rock garden ideas.