The Content Of The Article:
Christmas is coming closer and closer and with it the important question: In which colors do I decorate this year? Copper tones are an alternative when it comes to the Christmas decoration. The nuances of color range from a light orange red to iridescent bronze to sparkling gold tones. Candles, small decorative figures, Christmas balls or other vessels - the modern metal colors create a stylish atmosphere. When the first frost falls outside and the snowflakes softly begin to trickle down from the sky, warm, harmonious copper tones create a feel-good spot on the terrace.
In combination with the brown and green tones from nature, the metallic effect looks noble and solemn: Simple, copper bowls filled with twigs and cones, candles attached to stem pieces and cut off apple tree branches with bronze-colored balls set beautiful Accents in the outdoor area. Also copper pots with succulents or winter-planted bowls with clematis tendrils decorate the table.
At this time of year, many cold-resistant plants make their big appearance. Especially holly, bronze sedges, purple bells and milkweed, but also Christmas roses, broom heath and cyclamen are well suited in color for the planting of copper or golden pots and bowls.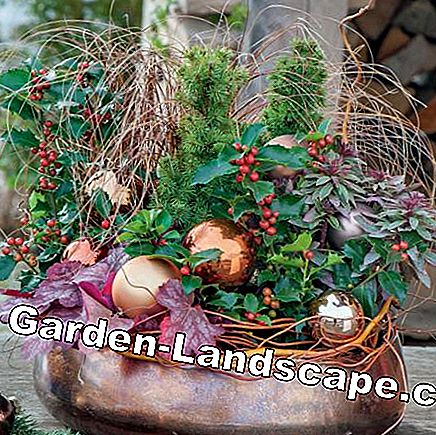 The round bowl is big enough to hold holly, bronze sedge, purple bells, milkweed and sugarloaf spruces along with their culture pots. Since it has no drainage holes, you must place them rain protected and carefully water the plants to avoid waterlogging
Even old wine boxes made of wood are very much in vogue. The rustic wood elements combined with noble gold and the classic red tones, are ideal for the exterior design. Individually designed Christmas wreaths such as fir, pine and book are even more effective with colored tree balls. With self-collected leaves, stems and fruits, which can be hung with golden and bronze-colored decorative elements, can create a special open-space mood. The beautification possibilities for Christmas are manifold. How colorful and sumptuous it may become, you are free - you can let their creativity run wild!
When everything is ready, the newly designed garden room invites you to a hot cup of tea: nestled in a blanket and equipped with a pillow, you can enjoy the cool winter air with friends and family.
Christmas decoration in copper tones
Start photo gallery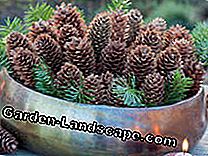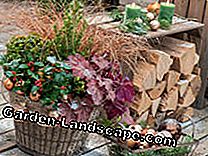 11
Show all
Christmas decoration in copper tones
The pillar candles sit in mason jars and get a charming wrapper with coconut pots, ribbon and small tree pendants. Fir branches and cones make the duo complete, a peanut garland fits the natural look
For this work of art, dry foam foam is filled into the container, wire spruce cones at the bottom and fixed tightly in the plain shell. Add fir branches at the edge
If you suggest a potato basket made of wire with jute, you can plant it directly. In addition to Buch's and Sugarloaf spruce holly with red berries, purple bells with burgundy foliage and the sedge bronze form with stalks in golden copper provide color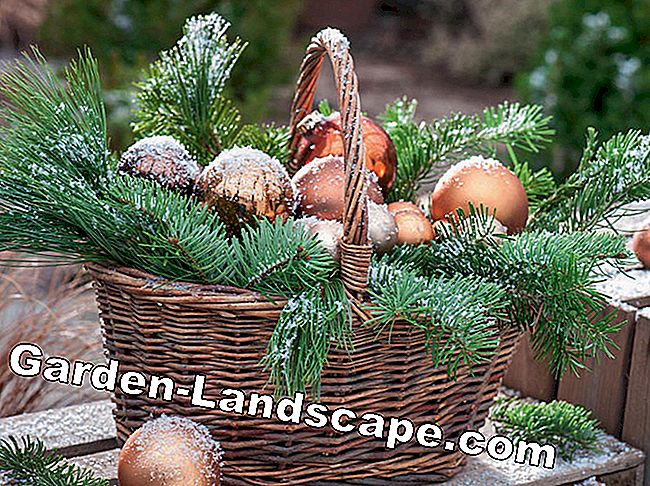 For this eye-catcher you need branches of pine and fir. Simply fill a handle basket made of willow and drape tree balls in different sizes and shades of color on it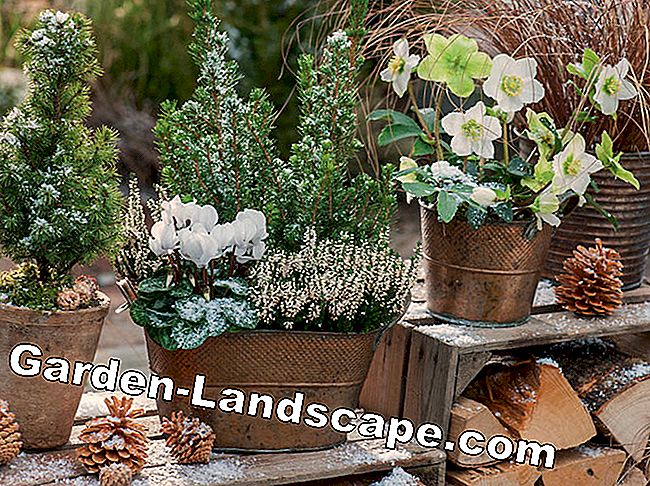 The Christmas rose is the queen among the winter flowering plants, but also the flower buds of the broom heath and cyclamen tolerate light night frosts and look beautiful for a long time. Wine boxes serve the elegant ensemble as a rustic stage and at the same time keep the logs ready for the fire basket
Such a single piece does not need much to make an impact: simply arrange moss in the vintage bowl with a foot and put in bleached pine cones
A pretty idea is a knotty apple tree branch, which you can attach to the pergola and hang with balls - preferably so that even from inside a beautiful picture results
The winter-planted shell is wrapped with a Clematis tendril decorative - a natural detail that forms a charming contrast to the glossy and dull balls. To admire: the winter flowers of Christmas roses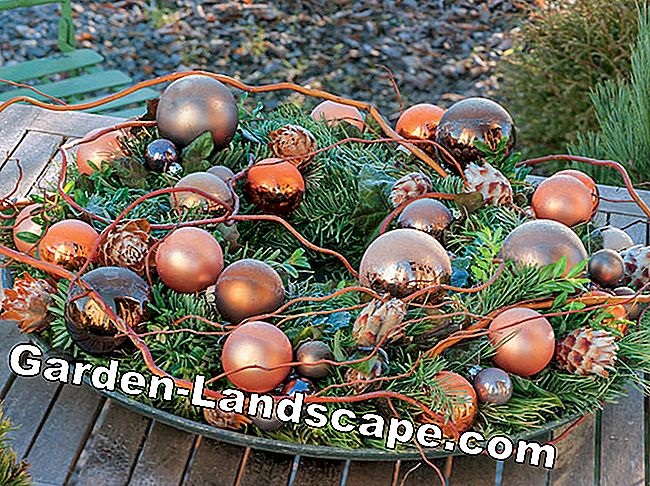 The lush wreath is made of fir, pine and book. With barbell you stick to tree balls of all sizes, flowers of proteas and branches of corkscrew pasture
The mild stonecrop (Sedum sexangulare) forms a snug upholstery in the copper pot. In the garden, succulents are used as easy-care ground cover for sunny rock gardens and masonry crowns. On the tray - festively draped with tree balls and bleached cones - he shows himself from a completely new side
Trunk pieces serve the candles as a holder.To hold them tight, headless nails are punched into the wood. If you heat the upper end of the nail pin, the wax does not break when you put it on. Never leave candles burning unattended!




Video Board: 22 CHRISTMAS DECOR AND GIFT IDEAS WITHOUT GOING BROKE.