The Content Of The Article:
Beyond the garden gate leads a wide strip of grass in the back garden part. Except for the small, crippled fruit tree and the privet hedge there are no plants in this part of the garden. Even the children's swing at the end of the property is not exactly the first choice as an eye-catcher. The narrow strip of land on the house has earned a little more floral decoration - especially since he is also visible from the street.
Suggestion 1: perennial beds instead of lawn green
As the property next to the house is five meters wide, only a narrow, sweeping lawn path is left. The remaining area is prepared so that you can plant it. Through the house wall on one side and the hedge on the other side, the initial situation on the west side seems cramped. The plants are therefore selected so that the overall impression of the beds is bright and cheerful. In addition to yellow flowering perennials such as lady's mantle, elfin flower and the steppe candle shines the white-flowering myrtle-aster 'snow grille' in autumn. Throughout the summer the bed rose 'Cosmos' is blooming. She wears creamy white fragrance blossoms with nostalgic charm.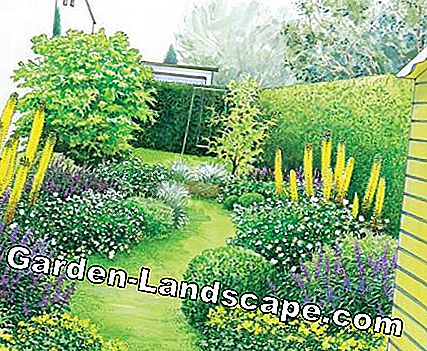 A curved lawn path surrounded by bright perennial beds
An ideal companion is the high catnip, which presents its blue-violet flowers from May to midsummer. The editors in the bed are evergreen bookballs and the wintergreen turf 'Tardiflora'. This only 40 centimeters high variety fits ideally in small gardens. From June their delicate silvery inflorescences appear. Decorative in the back area are also yellow-leaved ornamental shrubs such as the pipe shrub and the sweetgum.
Video Board: Tiny, Urban Front Yard Makeover.